by Daniel Nkado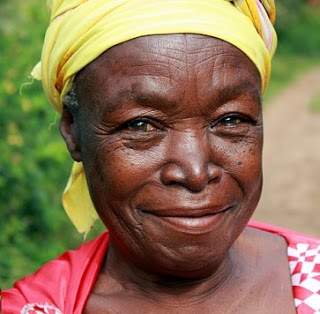 Mama Africa, that's what we call her.
She is dark and round.

I never saw her stand—always sitting on her short chair, by the roadside, fanning her plantain, yam and corn.

She roasts them well and brown.
Her sauce tastes the best. She uses pepper, udah and gongronema.
There must be other things she adds as well—herbs and spices only she knows of.
She smiles whenever we greet her, and says, "Sit, let me come."
We would drop our school bags at a corner and sit on the logs she'd kept, waiting for her to finish.
Sometimes she cuts two of the roasted plantains, other times three, and then some yams and she spoons the sauce over.
"Take," she says, passing the plate. "Eat fast and head home at once."
She smiles again when we say thank you and return her plate.
But she never stands.
Never.
Some say she is too fat to, that her sons bring her to the shed in a wheelbarrow.
Because her skin is very dark, they say she doesn't have her bath all the time.
They laugh and make fun, but I never join them.
I think I like Mama Africa a little more than they do.
Or I just like to think that.
There is that one thing about her that gets you curious and excited at the same time.
It's been so many years now since all that anyway.
Mama Africa is still there, roasting, giving, smiling, and yet never standing.
I hope she does today at least.
For she has to, she must.
I want to see how she'd dance when I give her the key to the car I bought for her.

***


In loving memory of my grandmother, Mama Africa m.