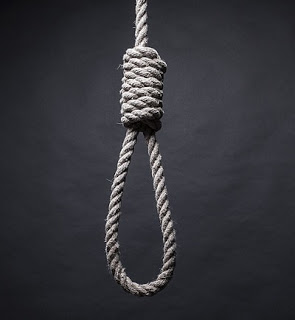 A 30-year-old man, Yusuf Olubu, has committed suicide at Aboru community on the outskirts Lagos metropolis for his inability to meet his financial obligations. Olubu's body was found in an uncompleted building at Acquisition Estate on Sunday morning.

The body was later evacuated by policemen attached to Oke-Odo Police Station. The body, it was learnt, was deposited at the morgue of the Ikeja General Hospital.
This came in less than a week after a 50-year-old man, Chief Ekanem Edet, took his life at Mbiabong Itam in Itu Local Government Area of Akwa Ibom State.
Edet, according to report, left a suicide note blaming President Muhammadu Buhari's policies which reportedly led to the recession for his inability to care for his family.
According to the note, this informed his decision to commit suicide.
However, Olubu, who had a National Diploma in Business Administration from the Moshood Abiola Polytechnic (MAPOLY), Abeokuta, Ogun State, was a commercial motorcyclist until the motorcycle was stolen last week.
This aggravated the man's economic woes, which made him to end his life. Neighbours said Olubu's wife and two children had earlier abandoned the man because he could no longer provide for their needs or pay his rent.
At Aboru, those who knew the victim gathered in groups near his house at 22, Tokyo Street, Edun, to discuss the incident. A neighbour, who gave his name simply as Sheriff, said Olubu was yet to pay fully for the stolen motorcycle, which he bought on instalment.
"Olubu was frustrated. He could not provide for his family because his stolen motorcycle was his source of livelihood. Also, the pressure from the landlord added to his problem.
I still saw him this morning (Sunday)," the neighbour said. A man, who described himself as Olubu's friend, Tosin Shorinmade, said he was shocked.
He said: "Yesterday night (Saturday), we were together after watching the Nigeria-Tanzania match. He was complaining that he had no money. He also said the owner of the stolen motorcycle was harassing him because he was yet to pay up fully. "But I advised him not to work himself up. I told him things would change for the better very soon."
According to his friend, the late Olubu became a commercial motorcyclist because of his inability to secure paid employment. "He committed suicide owing to the present economic hardship.
He told me before his wife left him with his kids that to put food on the table for his family was a big problem. He also said his rent had expired. He was always hiding from his landlord to avoid embarrassment. It is so sad," Shorinmade added.