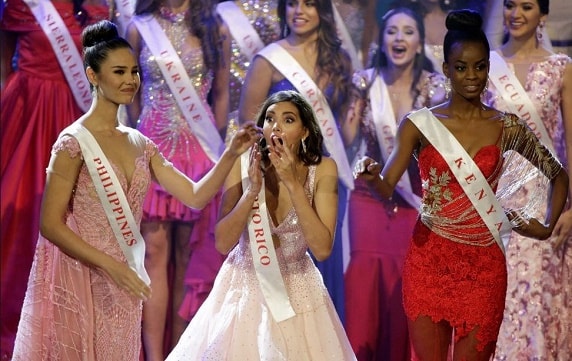 Kenya's Evelyn Njambi Thungu came close to being crowned Miss World as she made the Top 5 list along with fellow competitors from Puerto Rico, Indonesia, the Dominican Republic and Phillipines.

In the end, Miss Puerto Rico, Stephanie Del Valle, emerged winner of the 2016 Miss World beauty pageant which took place on Sunday night at the National Harbour in Maryland.
Second place went to the Dominican Republic's Yaritza Miguelina Reyes Ramírez whiles Natasha Mannuela of Indonesia won third place.
The only African who joined Miss Kenya in the Top 20 list was Miss Ghana. She dropped out as the list was whittled down to 11.
Evelyn at the close of the contest wore a red long dress as she applauded other winners on the night.
The first native African to claim the Miss World title is Agbani Darego of Nigeria, who was crowned in November 2001.
Although past winners such as Penelope Coelen and Anneline Kriel are South African, they are of European descent, and Antigone Costanda, who represented Egypt in 1954 is of Greek heritage.