The 2019 Miss Universe contest ended in a bang with 26-year-old Zozibini Tunzi being crowned the winner on Sunday night.
Miss Tunzi was born in Tsolo, Eastern Cape, South Africa — the third South African national to win the crown.

Here are a few memorable details from the just-concluded "Miss Universe" contest:

1. Zozibini Tunzi's great answer

Every year, the competing girls go through rounds of swimsuit and evening gown struts, but it's mostly the questions that get them more anxious.
This year, Zozibini Tunzi, when given the final chance to explain why she is the right choice for the crown, she gave one of the most impressive answers the Miss Universe stage has ever seen.
Zozibini Tunzi said:
"I grew up in a world where a woman who looks like me — with my kind of skin and my kind of hair — was never considered to be beautiful. I think it is time that that stops today. I want children to look at me and see my face and I want them to see their faces reflected in mine!"
The answer was met with great applause from the audience and from there people already started guessing she was going to win.
2. Another Steve Harvey mix-up
Yes, there was another mix-up and Steve Harvey was involved in it. But it was nothing like the 2015 disaster when he called out the wrong winner.
Harvey hosted the pageant for the fifth time sporting a bedazzled green and gold suit jacket.
He was commenting on a costume from earlier in the week and said Miss Philippines won the National Costume Contest. But the woman standing next to him said she was Miss Malaysia and not Philippines.
"Y'all got to quit doing this to me," Steve joked.
3. Gay contestant!
This year's Miss Universe made history with Miss Myanmar, Swe Zin Htet, who says she's the first openly gay contestant.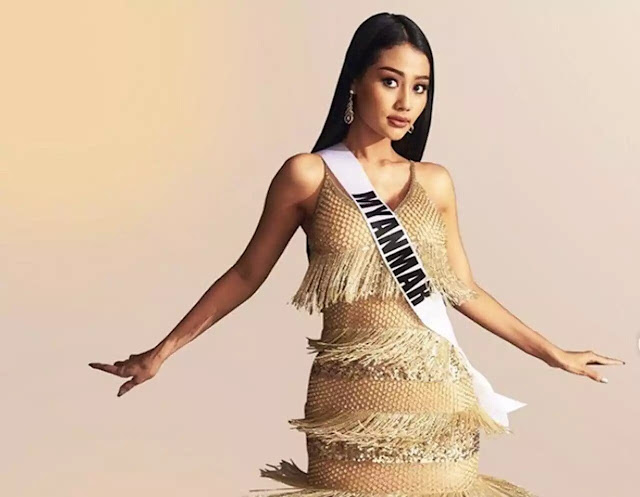 Miss Myanmar, Swe Zin Htet.

4. The massive competition was hosted at Tyler Perry Studios in Atlanta.

Tyler Perry Studios is located southwest of downtown Atlanta on the site of the former Fort McPherson army facility.
The complex features 12 sound stages for rent. In an interview with the AJC, Perry said he at first planned to only open the stages to others when he was finished with all 12 but demand was so great, he began letting outsiders use them more than three years ago.
He hosted the opening gala when the 12th sound stage got finished last month.
He named each sound stage after a legendary African-American filmmaker and/or actor because Perry said he didn't see any of those names on studios in L.A. like Paramount and Disney.

More beautiful photos and profile of Zozibini Tunzi