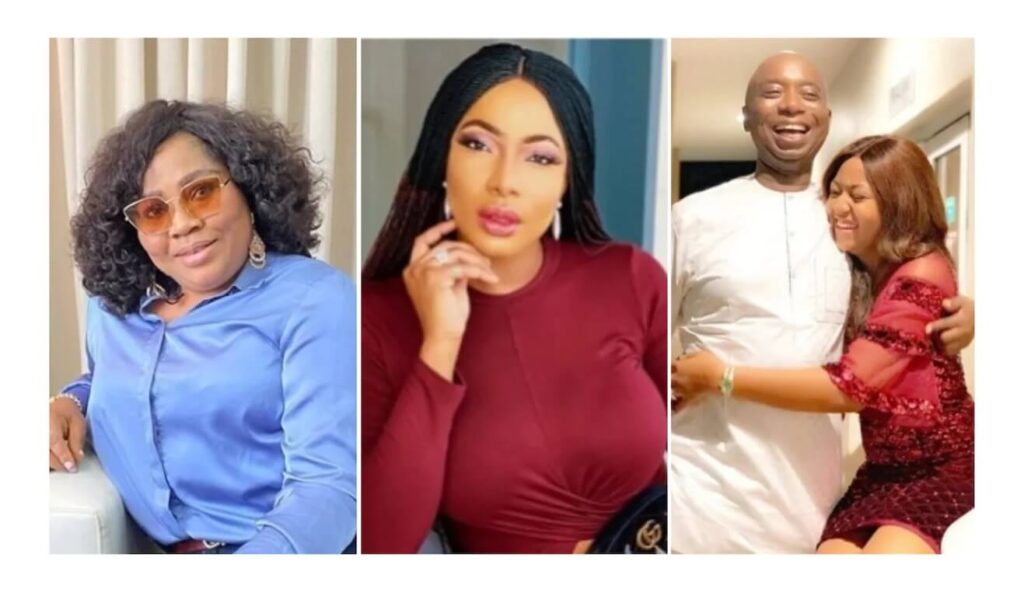 Regina Daniels' mother, Rita, has denied making a video where she allegedly called out actress Chika Ike to leave her daughter's husband alone.
Rita Daniels posted what she described as the screenshot of the original video and said the video going around on social media was doctored. The actress and filmmaker said God will judge those who spoke about her wrongly.
Recall that a supposed video of actress Regina Daniels' mother calling out another actress Chika Ike over her daughter's husband Ned Nwoko recently surfaced online.
The video where Regina Daniels' mother called out Chika Ike was reportedly first shared by a blogger named Ada Nanka. In the video, a voice said to be that of blogger Ada was heard narrating what happened. According to her, Rita Daniels threatened to go spiritual on Chika Ike if she refuses to leave her daughter's husband alone. It is being alleged that Regina Daniels' billionaire husband Ned Nwoko and Chika Ike have been dating before Ned married Regina.
Ada Nanka claimed that actress Chika has resumed her love relationship with Ned Nwoko after the birth of his son with Regina. According to Ada, Regina Daniels' mother has warned Chika to leave her daughter's husband alone otherwise she would use spiritual means to deal with her.
Regina Daniels' mother, Rita Daniels, has denied saying she would fight Chika Ike with spiritual means over her alleged affair with Ned Nwoko. Rita shared a screenshot of what she called the original video and wrote that the narration by blogger Ada Nanka was made-up.
The actress and mother wrote on Instagram:
"May God equip us with wisdom knowledge, understanding and common sense of reasoning with the way we judge people. Let God be my judge and judge those that judge me wrongly…. Happy Sunday fam. God bless you all."