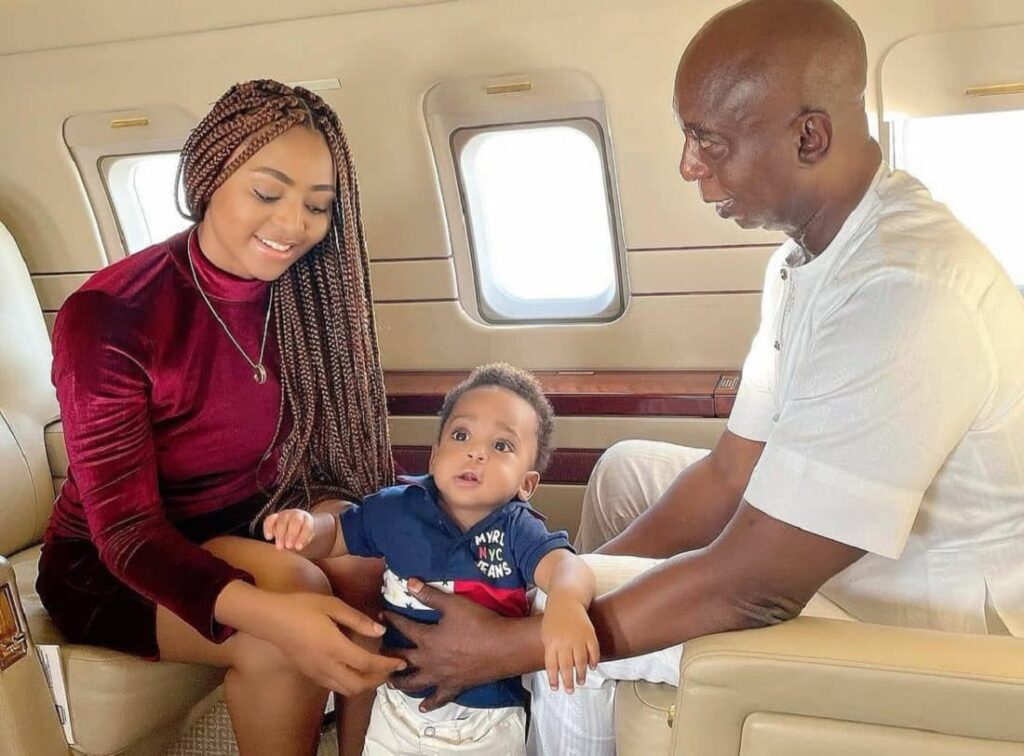 How did Regina Daniels and Ned Nwoko meet?
Regina Daniels, a young Nollywood actress in her 20s, met her 60-year-old politician husband, Ned Nwoko, for the first time in his mansion in Delta State.
Regina Daniels and her mother had gone for a tour in the politician's house in Asaba which is more like a tourist centre.
According to Ned, he saw Regina Daniels on that very day and took much likeness to her. The two lovebirds got married just three weeks after they met. Their union may perhaps be the most accurate picture of love at first sight.
Regina Daniels and Ned Nwoko's engagement, wedding and marriage
Regina Daniels and her husband Ned Nwoko had no publicized or official engagement before they tied the knot in May 2019, barely a month after they met.
According to Ned Nwoko, dating was not a necessity before marriage while he was growing up. The politician believes people fall in love within the marriage, disclosing that he married his first five wives within the same time frame as he met and married Regina.
Ned Nwoko also revealed in an interview that he married Regina Daniels as a virgin, just like his other wives.
Regina Daniels and Ned Nwoko had their traditional wedding on Sunday, May 26, 2019, in Aniocha Local Government Area, Delta State after a quiet traditional introduction held in the bride's family compound in Asaba, Delta State.
Regina Daniels and Ned Nwoko's union stirred a lot of controversies online, mostly because of the age difference between the two (Ned Nwoko is around 40 years older than Regina) and the fact that Ned Nwoko has married five other women before Regina.
However, despite the initial controversies and outrage, Regina Daniels and her husband have continued to grow in love, constantly feeding the media with beautiful scenes of their marital bliss.
Regina Daniels while speaking about her marriage in a chat with OAP, Daddy Freeze said that her husband has barred her from cooking and she calls him 'baby' despite their age difference.
The actress also said her reason for not marrying someone from her age bracket is because she is quite a stubborn person and needed someone older than her to always put her in check.
Regina Daniels and Ned Nwoko marital controversies and rumours
Regina and Ned Nwoko's marriage was quite controversial, especially at the beginning. Rumours had it that Regina's mother, Rita Daniels orchestrated her daughter's marriage to the billionaire politician because of his wealth. The rumours gained more weight when Regina Daniels began flaunting her husband's opulence on social media.
However, Ned Nwoko has debunked such talks, stating that he married Regina based on likeness. The sexagenarian politician said he did not even know Regina is an actress and never watched her film before seeing her in his house in Delta, which was the first time they met.
There was also another rumour of Ned Nwoko marrying a seventh wife on two different occasions sometime last year. This was based on the fact that the billionaire politician had acknowledged the fact that he is from a very polygamous environment and stated that it is possible he would be taking another wife.
Ned Nwoko and Chika Ike rumoured affair
Chika Ike, a Nigerian actress was rumoured of being engaged to Ned Nwoko in September 2020. It was even said that Rita Daniels (Regina Daniels' mother) threatened Chika Ike on video, warning her to stay away from her daughter's husband.
However, both parties debunked the accusations. Chika Ike denied the allegation on her IG page saying she is not getting married to the politician, while Rita posted the original video of the viral video saying it was forged.
Ned Nwoko alleged relationship with Sara
Ned Nwoko was also alleged in November 2020 of taking a Uk-based lady with the name Sara as a new wife. Regina Daniels debunked the news herself this time, stating that Sara was just a friend of hers who came to visit.
Regina Daniels and Ned Nwoko's child
Regina Daniels gave birth to her son, Munir Nwoko on 29th June 2020, two days after she was thrown a surprise baby shower by her friends.
Regina and Ned are always seen doting on their little son. Regina wrote a heartwarming message to celebrate his one-year birthday this year and a lavish party was thrown to celebrate him.