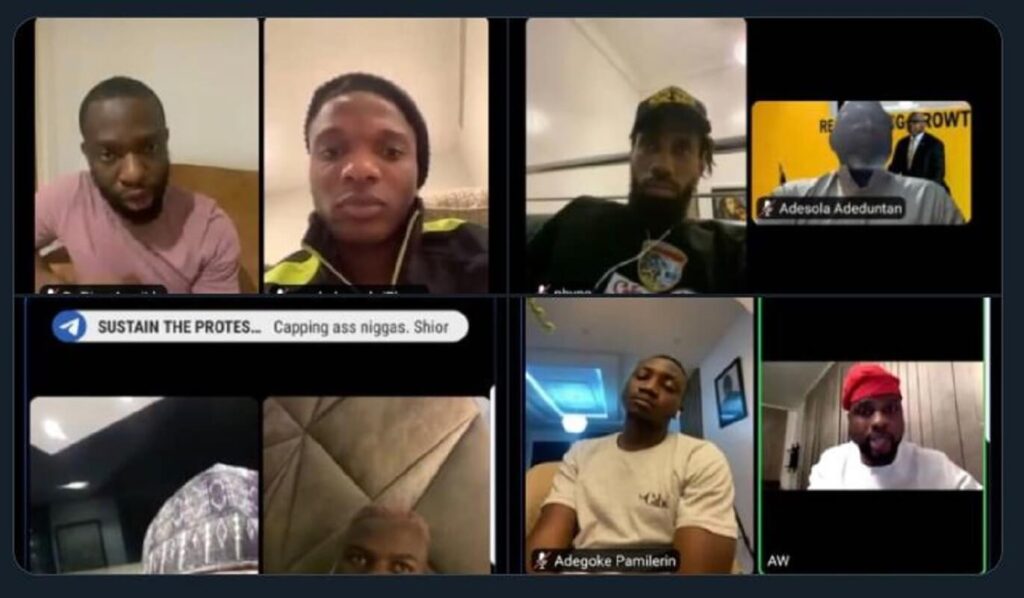 Some notable Nigerians including state governors, billionaires, entertainers and influencers had a secret Zoom meeting Monday night of which the topic of discussion was the current #ENDSARS agitation going on in Nigeria.
The meeting which reportedly lasted over three hours saw the likes of Central Bank of Nigeria (CBN) Governor, Godwin Emefiele, Aliko Dangote, Tony Elumelu, Aisha Yesufu, Ayo Balogun (Wizkid), Folarin Falana (Falz), Adebola Willams (Debola Lagos), Pamilerin, and others in attendance.
The state governors that were part of the meeting included Babajide Sanwo-Olu (Lagos governor), Dapo Abiodun (Ogun), Ifeanyi Okowa (Delta), and Abdulrahman Abdulrazaq (Kwara).
The meeting has generated a lot of controversy on social media with many Nigerians alleging that some Nigerian elites plan to hijack the #ENDSARS movement through the selection of representatives.
Some of the #ENDSARS campaigners on social media have hinted how it is best not to attach faces or representatives to the protests and campaigns as that would easily lead to corruption.
Dipo Awojide (Ogbeni Dipo), who co-led the London #ENDSARS protest and was also part of the Monday night Zoom meeting confirmed the meeting did take place and shared some details about it.
Dipo stated that he and some others were invited to the meeting which lasted from 10 pm to 12:45 am the next morning.
Dipo Awojide said:
"They pleaded with us to either stop the protest or protest peacefully. They promised to 'move mountains' and ACT today. I currently don't have the permission of the 7 people that attended to disclose their identity but I can assure you they are the same people who have been at the forefront in Lagos, Abuja and London."