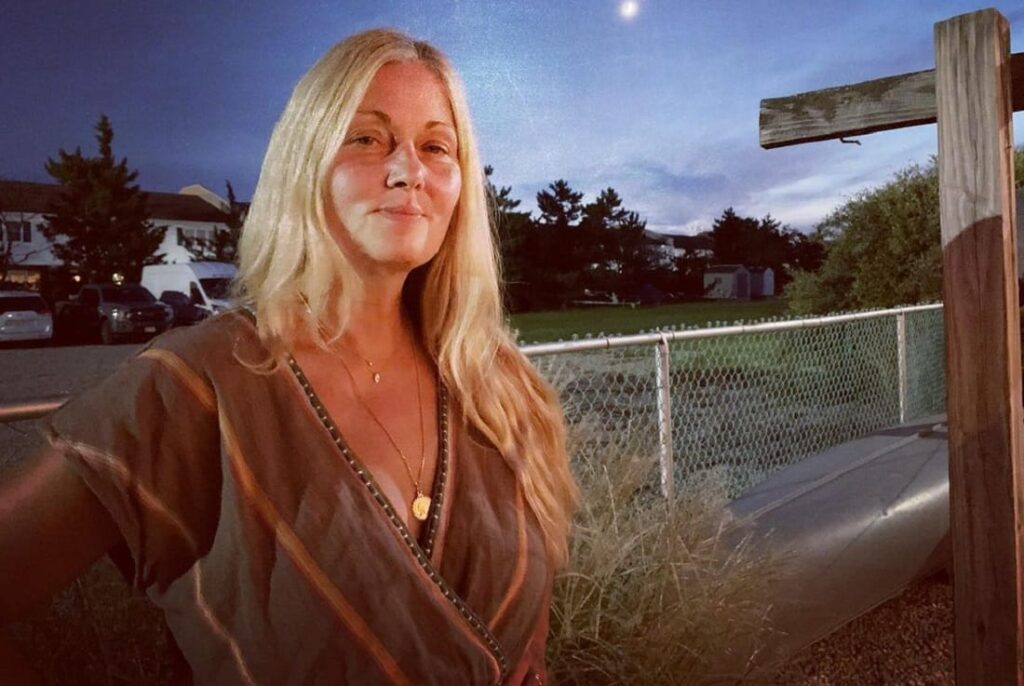 Who is London King?
London King is a former actress and model who is also popular for being the mother of Grammy-nominated singer, Elle King.
London King was formerly married to American actor and Saturday Night Live veteran, Rob Schneider. Their marriage lasted for two years (from 1988 to 1990) and produced a daughter – Elle King. Before that, London King had a son named Noah King from her previous relationship with a man who was never identified.
Full data profile of London King

| | |
| --- | --- |
| Full name | London King |
| Age | 50 years old |
| Date of Birth | September 27, 1971 |
| Gender | Female |
| Sibling | William Scott King |
| Nationality | American |
| Height | 5″9 feet |
| Parents | David King, Paula King |
| Children | Elle King, Noah King |
| Marital Status | Married |
| Husband | Justin Tesa, Rob Schneider (divorced) |
| Career | Doula (labour assistant) |
London King's childhood and education
London King was born on the 27th of September, 1971, in Wellstone, Ohio to parents David and Paula King.
Information about London King's background and education is scarce in the media. It is only known that she grew up in Wellstone, Ohio with her brother named William Scott King and parents.
London King's acting career
London King started her career as a model at a young age. But the dream was cut short due to her first pregnancy at 15.
Many years later, she would go on to land supporting roles in movies like A Better Way to Die (2000), The Calling (2002) and Raw Fish (2001).
London King's first marriage to Rob Schneider
London King gave birth to her firstborn in 1986, a son named Noah King. She was only 15 at the time. Two years after Noah was born, London King met and married actor and comedian, Rob Schneider who was also a former Saturday Night Live cast member, in 1988.
They got married just three days after meeting. The marriage lasted two years, from 1988 to 1990. While married to Rob Schneider, London King gave birth to her second child, Tanner Elle Schneider, now professionally known as Elle King, on July 3, 1989.
London King's second marriage to Justin Tesa
Ten years after her marriage to Rob Schneider ended, London King met and married Justin Tesa. As Elle King's stepfather, Justin Tesa maintained a good relationship with the girl. It was even said that it was Justin Tesa that inspired Elle King's singing after he gifted her the Donnas' CD when she was nine years old.
It wasn't only Elle King's life that was changed by Justin Tesa's presence – her mother, London, was also said to be enjoying a more fulfilling marriage with Justin.
According to reports, London King rekindled her interest in acting shortly after marrying Justin Tesa and would go on to appear in three movies between 2000 to 2002.
London King movies
A Better Way to Die (2000)
Raw Fish (2001)
The Calling (2002)
London King's children
London King is the mother of two lovely children – Noah King (born in 1986) and Elle King (born in 1989).
As a young teenager, London King got into an affair that led to the birth of her first child, Noah King. The father was never identified.
In 1988, London King met Rob Schneider of 'Saturday Night Live' fame in Las Vegas and they got married three days after they met. While they were married, they had London King's second child, Elle King in 1989.
The seemingly fairytale marriage between London King and Rob Schneider was, to the surprise of many, very short-lived and ended after only two years.
London King did not have any more children after she remarried Justin Tesa in 2000.
London King right now and new career as a Doula

In 2003, London King quit her acting career for reasons best known to her and took up a career as a doula. A doula is a trained companion who provides emotional and physical support to women during pregnancy, childbirth and the postpartum period. A doula may also be hired to provide support during non-reproductive events like death.
London King has been working in New York as a doula since 2003, according to multiple reports. She has a website "Pushlove.com" where she posts childbirth advice for women and offers services to women who need labour support.
London King's relationship with Elle King
It is written that London King has a great relationship with her daughter, Elle King. Despite her divorce, London ensured she devoted time to raising her children with everything she had and ultimately showered them with love and attention. Something she was greatly rewarded for with the love shown to her now by her children.
Some reports say it was because of Elle King's love for her mother that she decided to drop her father's name "Schneider" and became widely known as "Elle King". According to sources, Elle King and her mother London frequently spend time together, despite her busy schedule.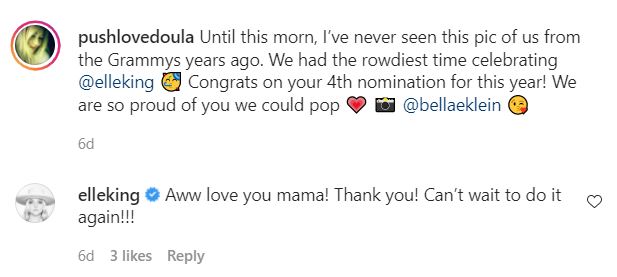 London King's net worth
London King's net worth is currently estimated at $1m. She owes a huge part of her income to her long and successful career as a doula (labour assistant).
London King on social media
London King's Instagram handle is @pushlovedoula. Her Twitter account is @pushlovedoula.