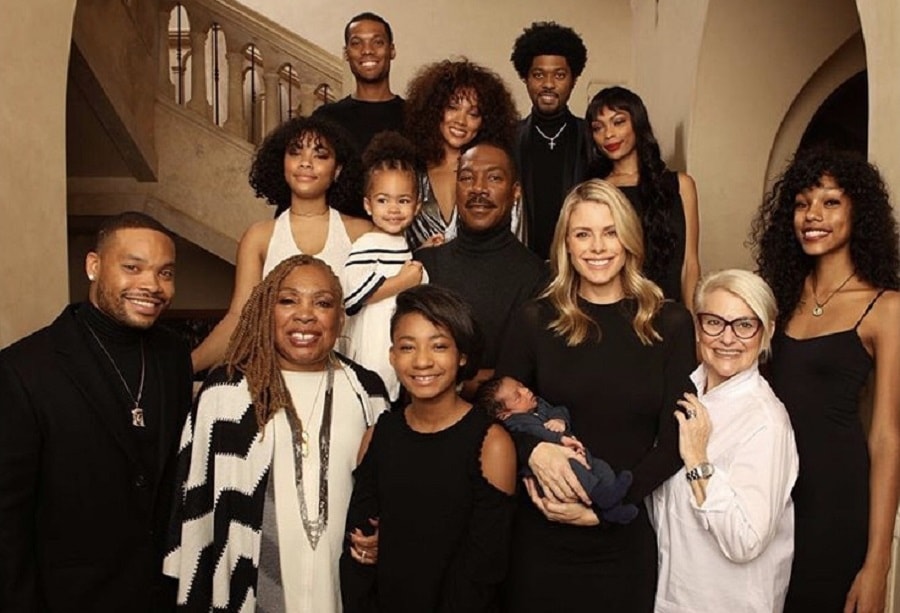 Who is Eddie Murphy?
Eddie Murphy is an American actor, comedian, movie producer, writer, and singer. He is well known for his 1988 comedy movie "Coming To America" which the sequel was released in 2021.
Murphy is also known for his observational stand-up comedy and great impersonation skills as well as his ability to play multiple characters in one movie.
Eddie Murphy was born on April 3, 1961, in Brooklyn, New York. His father, Charles was a New York City Police Officer and amateur comedian, while his mother, Lilian, was a telephone operator. He spent his infant years in the projects of Bushwick but unfortunately, his parents got divorced when he was 3 years old and his father died 5 years later.
The 60-year-old actor began his career as a stand-up comedian during his teenage years. He became a popular cast member of the famous "Saturday Night Live" and went on to star in several box-office hits.
Eddie rose to stardom after starring in the romantic comedy movie "Coming To America" in 1988, alongside Arsenio Hall. A sequel of the movie was released in 2021 with Nigerian singer Davido appearing in one singing scene.
Eddie Murphy is also known for his performances in movies like "The Nutty Professor" (1996), Dr Dolittle" (1998), Dreamgirls (2006), Imagine That (2009), Tower Heist (2011), A Thousand Words (2012), Mr Church (2016), etc.
He also provided the voice of Mushu in "Mulan" (1998) and that of Donkey in the "Shriek" movie series.
Eddie Murphy's marriage and wives
American actor Eddie has been married and divorced twice.
As of the time of writing this report, Eddie Murphy is engaged to Paige Butcher with whom he shares two children.
List of Eddie Murphy's wives
This is the list of women Eddie Murphy has legally married:
Nicole Mitchell (first wife)
Tracey Edmonds (second wife)
As of 2021, Eddie Murphy has only legally married two women although he has been romantically involved with up to ten different women.
List of women Eddie Murphy has reportedly dated
Melanie Brown
Paulette McNeely
Tamara Hood Johnson
Paige Butcher
Lisa Figueroa
Toni Braxton
Halle Berry
Rosci Diaz
Whitney Houston, and
Amber Rose
Eddie Murphy and Paulette McNeely relationship
Actress Paulette McNeely is Eddie Murphy's first publicly known lover. Their relationship was very short-lived and never led to marriage, but they share a son together.
Paulette McNeely is the mother of Eddie Murphy's oldest son – Eric Murphy. She has a reputation for maintaining a low profile and staying away from media attention.
Eddie Murphy and Tamara Hood relationship
Tamara Hood (also known as Tamara Hood Johnson) is another woman Eddie Murphy dated "off the radar". Their relationship, despite being private and very short-lived, produced a son named Christian Murphy.
Eddie Murphy and Lisa Figueroa relationship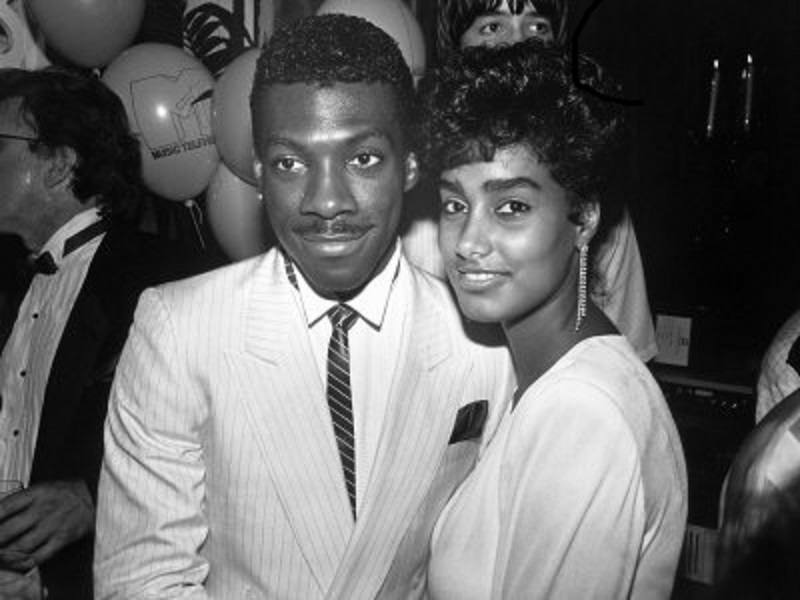 Eddie Murphy and Pueto Rican actress Lisa Figueroa dated from 1984 to 1986. They also got engaged but the relationship sadly ended abruptly.
Eddie Murphy was in high spirits when he confirmed his engagement to Lisa Figueroa to reporters in 1984. He was quoted saying:
"She's a bio major at Adelphi University. Her name's Lisa Figueroa. She's Puerto Rican. We're gonna have spicy black children. And she's got a straight-A average."
As one social media user put it: "Lisa Figueroa was the woman everyone thought was going to be Eddie's partner for life. He looked happiest with her".
Eddie Murphy's first marriage to Nicole Mitchell
Nicole Mitchell is the first legal wife of Eddie Murphy after his short-term relationship with Paulette McNeely and Tamara Hood Johnson ended, each of whom he has a son with.
He got married to Nicole Mitchell in 1993 and they got divorced in 2006, after 13 years of marriage. Mitchell is the woman Eddie Murphy has stayed the longest with.
He also has the highest number of children with her – their union produced a total of five children.
Eddie met Nicole in 1988 at an NACCP Image Awards Show and they began shortly after. The ex-lovers lived together as a couple for almost two years before they finally got married on March 18, 1993.
They tied the nuptial knot at the grand ballroom of the Plaza Hotel in New York City with approximately 5000 guests in attendance. The couple had what seemed like a fairytale marriage up until 2005 when Mitchell filed for divorce, citing "irreconcilable differences".
The divorce was finalized on April 17, 2006, almost a year after she filed for it in August 2005. Though the cause of the divorce is not exactly known, the ex-couple still maintains a cordial relationship for the sake of their 5 children.
Eddie Murphy relationship with Melanie Brown (Mel B)
Eddie Murphy started dating Melanie Brown (Mel B), an ex-Spice Girls member, shortly after his divorce from Nicole Mitchell in 2006.
There are also reports that actor and Mel B had started seeing each other while he was still married to Nicole Mitchell.
However, their relationship never led to marriage. In fact, their affair got messy after Mel B got pregnant and Murphy denied the paternity of the child.
Murphy made it known during an interview with a Dutch reporter, Matthijs Kleyn, in December 2006 that he does not know about the pregnancy and will only take responsibility for the child after a DNA test has been conducted.
However, he was later confirmed as the child's father on June 22, 2007, by Mel B's representatives.
Reports had it that Mel B disclosed that the actor did not seek a relationship with the child. It was later made known in 2010 that Murphy has started familiarizing himself with the child and he has mended the fence between himself and Melanie Brown.
Eddie Murphy's relationship and second marriage to Tracey Edmonds
American businesswoman, Tracey Edmonds is the second woman Eddie Murphy legally married.
Eddie got involved romantically with Tracey Edmond not quite long after he ended things with Mel B. He got married to Tracey Edmonds on January 1, 2008, in a private wedding ceremony on an island at Bora Bora.
Unfortunately, the wedding was dissolved in less than a month as the couple released a public statement on January 16, 2008, to announce the annulment of their union.
According to them, the wedding ceremony was a "symbolic union" but they have decided to remain as friends as it is not necessary to define the relationship further.
Even, the marriage was yet to be recognized in the US as the wedding took place overseas before both parties shared a statement annulling it.
Eddie Murphy's relationship with Paige Butcher
Australian actress and model Paige Butcher is Eddie Murphy's current girlfriend, as of 2021.
Eddie Murphy and Paige Butcher became publicly known lovers in 2018 after they got engaged, though reports had it that they have been dating secretly since 2012.
Their union has produced two children but they are yet to legalize their union.
According to reports gathered by DNB Stories Africa, Paige deactivated all her social media accounts after she started dating the actor. According to her, dating a popular figure like Eddie Murphy is enough fame and media paparazzi for her.
The couple seems to be enjoying every bit of their affair and it is speculated that wedding bells might ring for them soon, considering the love they show each other.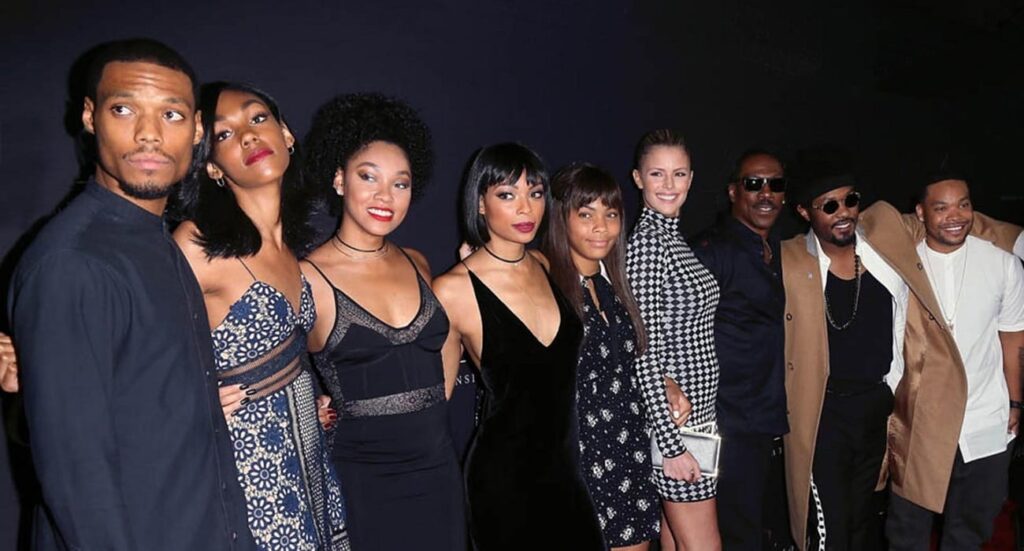 Eddie Murphy's relationship with other women
Eddie Murphy has been romantically involved with other women including the likes of Toni Braxton, Rosci Diaz, Whitney Houston, Halle Berry, and Amber Rose.
His relationships with all these women were very short-lived and he had no child with any of them.
Eddie Murphy and transgender Atisone Seiuli controversy
Murphy was brought under media scrutiny in 1997 after reports emerged that he had intended to pay a transgender sex worker named Atisone Seiuli for sex.
Reports sighted by DNB Stories Africa had it that Seiuli was in his car with him when a police officer stopped him in Santa Monica, California. Though Eddie's publicist, Paul Block denied the allegation, claiming that Eddie was only giving the lady a ride home.
Murphy was not charged with any crime but he was brought into the bad book of the public and he faced a couple of public relations problems for a while after the incident.
List of Eddie Murphy's five baby mamas
This is a list of all the women Eddie Murphy has had a child with:
Nicole Mitchell
Melanie Brown
Paige Butcher
Paulette McNeely
Tamara Hood
Eddie Murphy's children
Eddie Murphy has made it known that he loves children and is good with them.
As of 2021, Eddie Murphy has a total number of 10 children from five different women – 6 daughters and 4 sons plus one grandchild.
He had his first five children with his first wife, Nicole Mitchell. The children are named Bria Murphy, Myles Murphy, Shayne Murphy, Zola Murphy, and Bella Murphy respectively.
His other 5 children are Eric Murphy, Christian Murphy, Angel Iris Murphy Brown, Izzy Oona Murphy, and Max Charles Murphy.
The mothers of these children are Paulette McNeely, Tamara Hood, Melanie Brown, and Paige Butcher.
List of all Eddie Murphy's children
Eric Murphy
Christian Murphy
Bria Murphy
Myles Murphy
Shayne Murphy
Zola Murphy
Bella Murphy
Angel Iris Murphy Brown
Izzy Oona Murphy
Max Charles Murphy
1. Eric Murphy
Eric Murphy is Eddie Murphy's first child and first son. He was born in 1989 by Paulette McNeely. There is not much information about Eric Murphy as he lives a quiet life just like his mother.
However, he attracted attention to himself when he began dating Martin Lawrence's daughter, Jasmin Lawrence in mid-2021.
2. Christian Murphy
Christian Murphy was born in 1990 by Eddie Murphy's ex-girlfriend, Tamara Hood. Not much is known about her as she hated media attention and was rarely photographed.
3. Bria Murphy
Bria Murphy is Eddie Murphy's first daughter and his first child with ex-wife Nicole Mitchell. She was born while her parents were dating.
Bria has followed the path of her father's career as she is also a Hollywood actress. She has starred in several movies including "The Perfect Match" (2016) and "Conflict Of Interest" (2017). She was also the organizer of the Art 4 All exhibition in Los Angeles in 2020.
4. Myles Murphy
Myles Murphy is the second child Nicole Mitchell birthed with Eddie Murphy. He is actually Eddie Murphy's third son as the actor already has two sons from two other women prior to his birth.
Myles was born in 1990, sharing the same birth year with his half-brother, Christian. He had a daughter in 2019 named Evie, making Eddie Murphy a grandpa at age 58.
5. Shayne Murphy
Shayne Murphy is the third child of Nicole Mitchell with Eddie. She was born in 1994 and she also appeared alongside her mother and sister Bria in the reality TV series "Hollywood Exes" in 2014. She is also currently pursuing a career in modelling.
6. Zola Murphy
Zola Murphy is the fourth child of Nicole Mitchell and Eddie Murphy. She was born in 1999.
7. Bella Murphy
Bella Murphy is Eddie and Nicole's last child. She was born in 2002, four years before her parents separated. Bella Murphy is currently pursuing an acting career just like her elder sister Bria.
She gained media attention in 2021 after starring in "Coming 2 America" sequel alongside her dad.
8. Angel Iris Murphy Brown
Angel Iris Murphy is the female child Melanie Brown (Mel B) birthed with Eddie Murphy. She was born on her father's 46th birthday on April 3, 2007. Her birth was quite controversial as her father initially denied his paternity to her and only took responsibility for her years after a DNA test confirmed he is her biological father.
9. Izzy Oona Murphy
Izzy Oona is the first child of Paige Butcher and Eddie Murphy. She was born in May 2016 and is currently 5 years of age, based on the available information on her birth year.
10. Max Charles Murphy
Max Charles is Paige Butcher and Eddie Murphy's second child. He was born on November 30, 2018.
Max's middle name "Charles" was given to him by his father as a tribute to his late brother who died of Leukemia in 2017, a year before the child was born.