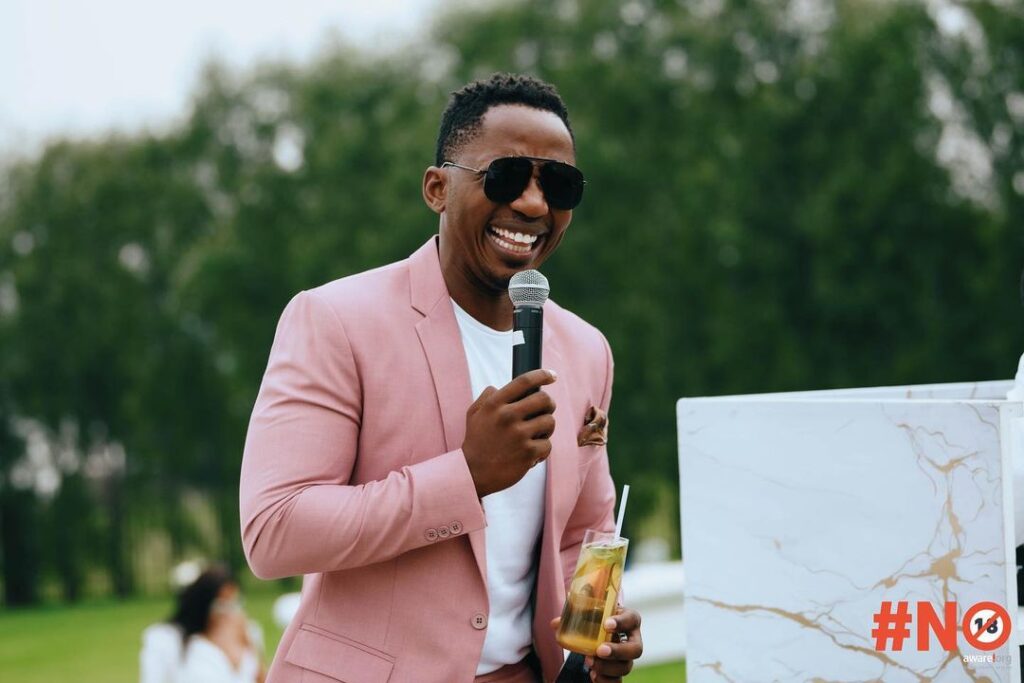 Who is Andile Ncube?
Andile Ncube is a South African radio host, TV personality and businessman. He is well known for hosting the "X-Factor South Africa" talent show in 2014 and for his recent appearance on the new Netflix reality TV show – "Young, Famous and African" (2022).
Andile Ncube was born on October 4, 1981, in Johannesburg, South Africa. He is currently 40 years old, as of March 2021. His passion for media work led him to enrol at Pretoria Technikon (Polytech) to study journalism. He later left Technikon and moved to AFDA – a private higher institution that offers courses in film, TV, and radio broadcasting. He specialized in film and drama.
Ncube started getting media and hosting jobs even before he could finish studying.
Andile Ncube career
Andile Ncube TV career has spanned nearly two decades. His earliest work in TV dates back to 2003. Ncube achieved fame in South Africa for hosting the Mzansi Friday Night Music Show on SABC1's "LIVE". He left the station in 2008, announcing he is moving on to bigger things.
After dropping the hosting gig, he became LIVE's executive producer, overseeing the show's overall production.
In June 2014, Andile Ncube was announced as the host of the South African version of the international reality competition The X Factor, officially called "The X Factor South Africa" which was also broadcast on SABC1.
In 2022, Andile Ncube appeared as one of the cast members of the pan-African lifestyle reality show "Young, Famous and African" which premiered on Netflix on March 18, 2022. As a radio presenter, Ncube currently hosts "Sports Night Live with Andile" on Radio2000ZA.
Andile Ncube Wiki Profile
| | |
| --- | --- |
| Full name | Andile Ncube |
| State of origin | Johannesburg |
| Nationality | South African |
| Date of birth | October 4, 1981 |
| Age | 40 years old |
| Height | 5″9 |
| Occupation | Radio host, TV personality |
| Marital Status | Complicated |
| Net worth | $650,000 (estimated) |
| Alma mater | AFDA (School for the Creative Economy) |
| Instagram | @andilencube |
Andile Ncube Marriage and Wedding
Andile Ncube was previously married to South African model and actress, Ayanda Thabethe. According to reports, Andile Ncube and Ayanda Thabethe got engaged in 2013 and wedded the same year.
The marriage which seemed like the perfect union from the start only lasted for two years. The marriage ended in 2015. While the exact reason for their divorce was not given, there were rumours that Andile was caught cheating.
Andile Ncube's relationships
Andile Ncube has been romantically involved with several South African female celebrities including the likes Katlego Danke, Rosette Mogomotsi, Sebabatso Mothibi, etc.
According to information gathered by DNB Stories Africa, Andile Ncube's affair with South African model Rosette Mogomotsi produced one daughter named Gabriella or Gabbie (@gabbie_nc on Instagram). Ncube's daughter with Mogomotsi is currently nine years old.
Andile Ncube's new relationship with Sebabatso Mothibi
According to reports, Andile Ncube has been in a relationship with his new girlfriend Sebabatso Mothibi since 2019. They welcomed their first child together (a baby boy) in December 2020.
Andile Ncube Children
As of the time of publishing this post, Andile Ncube has two known children – a nine-year-old daughter named Gabriella (Gabbie) he had with his ex-girlfriend Rosette Mogomotsi and another baby boy he welcomed in December 2020 with his new girlfriend, Sebabatso Mothibi.
Andile Ncube announced on Instagram that the name of his son is Langalisabalele emaNcubeni.
Andile Ncube Net Worth
As of 2021, Andile Ncube's net worth is estimated at a little over $650,000.