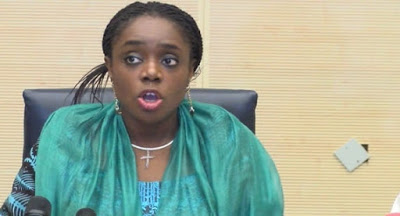 Nigeria's finance minister, Kemi Adeosun has said that there is nothing left for investors in the West, that it is time they came to Africa.

Adeosun stated this on Wednesday night at the World Bank Headquarters in Washington DC, United States.
The silver-tongued finance minister also stressed the importance of infrastructure over expensive consumables.
According to the minister's statement, Nigeria is hungry for infrastructure that can trigger growth and not iPhones and pricey suits that will drive consumption.

Quoting her, Kemi said,
"We don't want investors to come to Africa to sell us iPhones and many expensive suits.
"We want to become productive, so we want this investment to come in form of infrastructure that will enable us to compete and really enable Africans to stay in Africa."
The finance minister's remarks came after the IMF offered a zero interest rate on its lending facilities to Nigeria and other low-income countries that are in dire need of financial support to boost their economies.
Earlier this year, Nigeria's economy plunged into recession, an event threatening to throw the former Africa giant into deep crises.