by Ezeh Michael Ogonna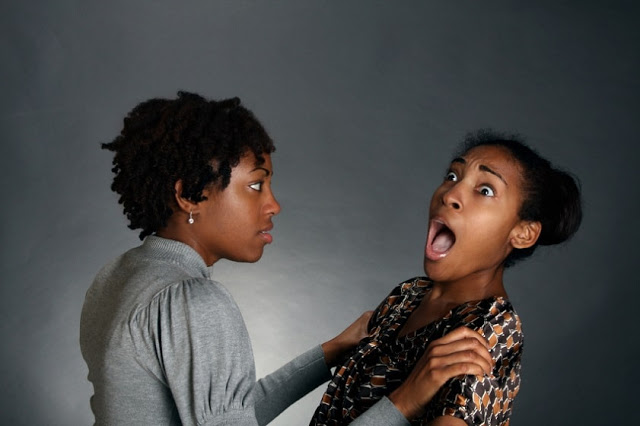 Living in Lagos will teach you two very important life ethics:
First is to never put all your eggs in one basket – the eggs I mean in this particular context include your job.

Almost by default, you don't see a typical Lagosian who lives solely on one job.
The bosses are always throwing tantrums and it takes as little as 'my wife made me angry this morning so you are fired!' to render an innocent employee jobless.
I don't blame them though – they also get to face the headache of the hustle and bustle of Lagos: the stern traffic, the dubious doctors, mechanics and all of them!
The only difference might be just their cars with ACs that still worked and shock absorbers that still know their job.
The second rule you must learn to obey in Lagos is what I call the 'Mind Your Business' rule.
If you don't put all your eggs in one basket and always remember to mind your business at all times, you shall, by all means, live longer in this land of many hassles called Lagos.
Aside from being a practicing engineer, I am also a teacher.
Yes, you can try to imagine the connection.
For an engineer that closes work by 4 pm every weekday, I am highly favoured to have all the evening to myself and my side hustles.
Immediately it was 4 pm that Wednesday, I zoomed off to my second duty post, partly for the love I have for the kids I teach, and the other part from the need to finish early enough, beat the traffic and be home before 9 pm.
I love teaching but the extra bucks I make is also something worth to consider.
I need the extra cash – Nigeria is very hard, even harder right now that a new wave of change is blowing through everybody's inner underpants.
It was around 6:30 pm that Uncle Me was headed homeward.
Only Heaven knows why I chose the second bus that pulled ahead of me over the first.
Lest I forget, as much as you can, please never judge a book by its cover in Lagos.
'As much as you can', I said, for how best do we explain the strange head turns and heart jumps men get at the mere sight of a well-endowed lady, or the rate at which Lagos ladies jump into G-wagons at the simplest 'Hellos' even if it's Oga's driver behind the wheels?
This might offer some explanation as to my choice of bus that particular evening – it just looked better than the other.
5 minutes into the journey I noticed my eyes were hurting as if covered with smoke.
Aahh aahn! This fine bus has a leaking exhaust and I happen to be in the back seat!
I would have opted to go down, had the conductor not collected the 100 naira fare the very moment I sat down.
Perfect set up; experience must have taught him.
I kept my cool while trying to cover my nose with a hanky. The bus was full except for one seat space—if these much number of persons are enduring it, I thought, why shouldn't I?
Besides, we are Nigerians, taught from birth to always endure.
The best we can do is to complain…verbally, or even now in this new age, virtually!
Moments later, just as the traffic light turned green the two beautiful girls – one dark and the other darker – sitting in the third row of the bus started humming a song.
No! I screamed in my head. Not under this heat and teary eyes.
To add salt to injury, the humming soon turned to voicing, and from there to loud singing.
Now I was really pissed like many others in the bus, I could tell.
The darker girl seems to be in lead, obviously some church chorister who got fired from the church choir because she got pregnant while still single or did something worse.
"I want to part—" she said as she raised the next song: 'O ni se iyanu!'
She went ahead and instructed her accomplice on what voice note to use and how.
At this point I was certain it was not just me, many others in the bus must have gotten to their breaking points too, but who will snap the band?
Many thanks to the few 'picks and drops' and the conductor's screaming of each bus stop which somehow managed to distract us from the hellish performance of the two-women-gang bus choir.
More luck our way, the lead singer's phone started to vibrate and ring, causing her to stop singing and check the phone.
"Yes dear, I am at Sangotedo now," she said into the phone. "It's just the holdup; the traffic is too much!"— Obviously a response to the much-predicted question, "Where are you now?"
At first, I was confused I had to look through the window to be double sure where I was.
I must not have been alone in this, as it was very clear we were still at Lekki Phase 1.
How then on God's green earth have we reached Sangotedo already?
Yes, the trendiest lies are told over the phone, I know, but not from someone that has spent the last 10 minutes disquieting us with deeply emotional worship songs.
She dropped the call and a short silence followed, as if she, too, had gotten herself confused.
Then she nudged her friend, "Ehen, remind me that worship song we were singing just now."
The next second they were back again to their "O ni se iyanu", this time a little bit louder than before.
'Hmmm all this lie lie church people are all the same, driver abeg stop me at Eleganza!' cried the lady sitting right beside them at the extreme left.
The initial comment wouldn't have been a problem as the driver was already finding his way towards the right side of the lane so she can alight but the devil is highly predictable in his ways.
As she stood up to come down as the driver was slowing down towards Eleganza Bus Stop, she mistakenly or should I say intentionally (I really can't tell) stepped on Miss Darker's leg.
What followed was a war of slap and pull!
Miss Darker slapped her on the shoulder and pulled her backward, causing her light blouse to tear at the collar.
"Idiot! Why did you march me and can't even say sorry?!"
The 'even say sorry' part was barely out of her mouth when Miss Eleganza flung her palm to Miss Darker's head, knocking off her wig in the process.
More slaps and pulls followed, till the man between them held Miss Darker from hitting back and the conductor grabbed Miss Eleganza from the front.
Well, you can hold a lady's hand or shoulder but definitely not her mouth!
"Witch!" Miss Darker cursed.
"Lie lie! Pretender! Imbecile!" she got in return from Miss Eleganza.
"See you! Prostitute wearing short skirt like ashawo! Ashawo kobo kobo!" Miss Darker fired back.
"Ashawo Guest House!"
The war of words continued while I tried to digest Miss Darker's second comeback and struggles as she seemed to be losing the battle of words. It seemed her dropped wig had gone off with a part of her brain because was barely making sense now.
At this moment Miss Eleganza realized the driver was way past her bus stop.
"Driver! Stop me at Ilaje jor! No mind this werey!"
She jumped down the bus and thundered a goodbye 'Idiot! Useless girl, na that God wey you dey insult with your songs go punish you!'
As if the mute button was undone, most passengers joined their preferred party, offering judgements and bits of advice.
Unfortunately, Miss Eleganza was no longer there to hear all the brotherly and sisterly moral instructions that flew around the bus from all angles.
I alighted at Ajah market.
As I sat in the 'Keke' headed to my house, I replayed the whole scene in my head.
It struck me again as a reminder this time that stopping at Ilaje and going home in a torn blouse was never part of Miss Eleganza's plan for that day.
If only she had minded her business…
I have long learned to manage the events that come with going back home after work at night, trying as much as possible to never to put all my eggs in one basket and to always mind my business.
***
Story written by Ezeh Michael Ogonna, edited by Daniel Nkado.
***
Ezeh Michael Ogonna hails from Ebonyi State.
He studied Mechanical Engineering at the Federal University of Technology Owerri.
He has much love for the beauty of literary works and art.