by Staff writer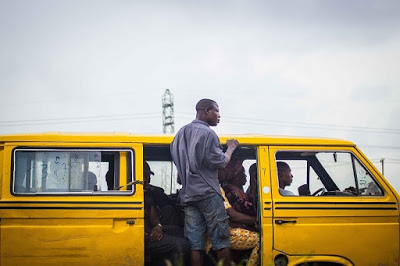 "One Chance" is the name of a popular type of robbery in Lagos, where unsuspecting passengers are robbed in commercial buses called Danfo.

One Chance robbers operate in gangs.
Usually, the driver of the bus and some passengers will be members.
Members pretend to be genuine passengers as the buses go round looking for victims.
They do not pick more than one or two victims at a time. They assess potential victims from the way they are dressed. Expensive-looking people are preferred. At times, too, the gang will be working based of prior information, whereby they head for specific targets. A common example is someone coming from the bank after having withdrawn some cash.
Once they have their victims, they drive them to a remote place, where they are threatened with guns, cutlass, charms or other dangerous weap­ons and then dispossess them of their money, phones, and other valu­ables.
Sometimes after dispossessing the unsuspecting passengers of their valuables, they push them out of the moving vehicle; if they are kind enough, they stop for their victim to alight before they zoom off.
***
Two members of a One Chance gang, Ubuke Michael, 26, and Obinna Okoro, 24, arrested a few months ago in the Gbagada area of Lagos narrated how they had stopped and picked up two passengers going to Alaba International Market and Ladipo Spare Parts Market to buy goods.
Ubuke, the leader of the gang, said he invited the bus driver and his conductor to join his group in the One Chance operation.
Ubuke said the bus driver and his conductor were already familiar with the operation. He claimed he has so many commercial buses that he can call for operation at any time.
"I call them to join me at a particular location," Ubuke said.
"The driver and conductor do their normal work, while we collect the belongings of the passengers.
"Afterwards, we drop them off and then pass the items we collected to the driver to hold."
When asked how they choose their victims, Ubuke said one of the people they robbed had come out of a bank before boarding their bus, while the other simply had bulging pockets.
"We were about to collect their belongings when we were arrested," he said.
"We do not normally carry more than two passengers during operations. Whatever we make we share with the driver and the conductor, but our share is normally more than theirs."
***
One Chance gangs mostly operate during the early hours in the morn­ing and late in the evening.
However, with the advent of bank automated teller machine (ATM), which helps to reduce the volume of cash people carry on them, the gangs have devised new methods of robbing unsuspecting passengers.
They have realized that some people have their ATM cards in their bags or wallets, so, instead of robbing a passenger that falls prey to them and allow him or her to go, they search the passengers, take their ATM cards, take them to a particular location and hold them hostage and then demand for their ATM card PIN.
Woe betide such victim if he or she should play smart by giving a wrong password — they may not to come out of the place alive.
Having disclosed the security code, one of the gang members would rush to the bank to empty the victim's account. They would thereafter blindfold the victim and drop him or her on the way and zoom off.
In one particularly sad One Chance operation that happened around Bariga sometime, the victim was dropped off a moving vehicle and he sustained life-threatening injuries.
***

As with all aspects of the country, One Chance robbery has also been affected by the current economic recession. Tales tell how the robbers have grown more desperate and are becoming deadlier, even with the recent improvements in security.

One of six One Chance robbers arrested by operatives of the Rapid Response Squad, RRS, in Lagos, on June 26, described how the economic situation in the country has affected their 'business.'
The man, Adeleke Rasaq, 24, who was arrested alongside his gang member, Lucky John, 22, in the Abule-Egba area of Lagos said they do not make much money from One Chance operations now as they used to in the past.
The arrested Adeleke, who resigned as a factory worker to join the One Chance robbery gang, said: "We do not make much money like before. The present economic condition in the country has greatly affected One Chance business. We have not been able to make much money— everywhere is dry."
Corroborating Adeleke's confession, his gang member said: "We have not made much money since Monday (the prior week).
"We have been sharing N20,000, N30,000 and N40,000. This is unlike before. When I operate alone, I could make close to N150,000 daily. Now, business is so difficult."
He said he teamed up with Rasaq because pocket-picking was no longer easy in Lagos.
"When you work alone, you might not make much. It has not been easy working independently lately. So we have to team up to make more money to survive.
"Both of us live in Badagry. Every day, we come to Abule Egba, Agege, Fagba, Egbeda to operate. As soon as we make enough money, we would retire for the day."
Explaining how he joined the robbery syndicate, Adeleke said:
"I resigned from the company I worked for when I noticed that a lot of my friends in Ajegunle, who were doing this kind of hustling were living better than companies' chief executives.
"Every guy does this in Ajegunle. We do not see it as a crime: it is called hustling."
Adeleke also said he has been with the gang for six years before he was eventually arrested.
***
Biodun Ahmed, a One Chance robbery victim narrated how he had board­ed a 'One chance' bus.
According to him, there were about eight pas­sengers already in the 14-seater bus. To him, he felt the bus would soon be full, but the driver didn't wait for more passen­gers before it took off.
"I wanted to sit by the door side, but the conductor told me that it was his seat, so I had to go back and sit between two 'passengers'.
"I knew that danger lurked around when instead of the bus to descend at Anthony to face Ojuelegba, it accelerated towards Oshodi, and when I wanted to ask where we were headed, one of the gang members whom I thought was my co-passenger, barked at me to shut up or he would shut it for me.
"They took me to a particular place that I cannot locate and they searched my bag and took my wal­let and brought out my three ATM cards. They also took my phone, and scrolled through the mes­sages to know the alerts for finan­cial transactions that I had made.
"Thereafter, they asked me to write down the password of each of the ATM cards. The one with gun turned, shook his head and warned that if I tried to prove that I was a smart guy that my family would not even see my corpse.
"I cooperated with them. One of them dashed out to the bank and in less than an hour he came back. They had emptied my three ac­counts in different banks.
"They blindfolded me and dropped me between Sanya and Coker on Oshodi-Apapa Express­way. They didn't return the ATM cards, but gave me my bag."
According to Ahmed, it was a good Nigerian who cared to listen to his plight that gave him N500, which he used to pay for his fare back home.
When he went to the banks to block his ATM transactions, he realized that the gang had emp­tied all his accounts. One of the accounts, he said, had over N100, 000 in it.
***
Ngozi Uchendu, a trader living in the Ojo area of lagos, described how she had left home early in the morning to board a bus going to Seme Border, en route Cotonou — where she buys the second-hand clothes (okirika) she sells.
By the time they got to Iya Era on Badagry expressway, instead of continuing with the straight journey, the driver turned and followed Ilogbo road, which leads to Alaba International market.
Somewhere along the Ilogbo road, the driver turned to a destina­tion she said she couldn't remem­ber, and they started searching them.
Ngozi said since the ATM became the safest mode of mov­ing cash, she had also opened an account with Ecobank and when­ever she goes to Cotonou she would make withdrawals there to pay for her goods.
That day, fate dealt a blow on her as the robbers took her ATM card and threatened to kill her if she didn't provide the correct PIN.
"I was scared," she said, "and out of fear I couldn't remember my PIN, and one of the gang members had already gone out with the card to the bank when I remembered that the PIN wasn't correct. I had to tell them the correct number and they phoned the young man who was almost at the bank. I didn't go free; this mistake resulted in a slap across my face that almost blinded me.
"When the young man returned, the smiles on his face showed that he was successful, and they told me to enter the bus and they dropped me along the Ilogbo road. That was how the N125, 000 I was trading with vanished.
"It was the goodwill I had established with my customers in Cotonou that helped me to start business again, as they asked me to carry bales of wears on credit."
***
The experience of a female jour­nalist working with TVC in Lagos, Toyin Ibrahim, also comes fresh to mind.
According to her, she'd boarded a bus on her way to work on March 9, at about 5:30 a.m. with four other commuters at the Ketu Bridge heading towards the Berger-Ma­godo axis of the Lagos-Ibadan Ex­pressway.
The bandits, who were also on board the vehicle, robbed her and the other commuters of their be­longings, assaulting them in the process.
The victim said the robbers at­tacked them barely two minutes after boarding the bus, collecting their phones and cash, adding that they were also taken to an ATM, where their cards were used to withdraw money under duress.
"It was a 14-seater bus," Toyin said. "I wanted to sit at the second seat at the back of the driver's seat, but the conduc­tor said that was his seat so I had to go to the last seat. I and four other people were victims.
"Two minutes after the vehicle took off, one of the robbers began to hit me. He asked for my ATM PIN but I gave him a wrong number.
"When the vehicle pulled over at a nearby ATM, they tried the num­bers and discovered that the pin was a fake one, so they descended on me, hitting and booting me with their heavy shoes.
"They were stepping and march­ing me very hard. They tried to rape me. I would have died if they had succeeded in raping me."