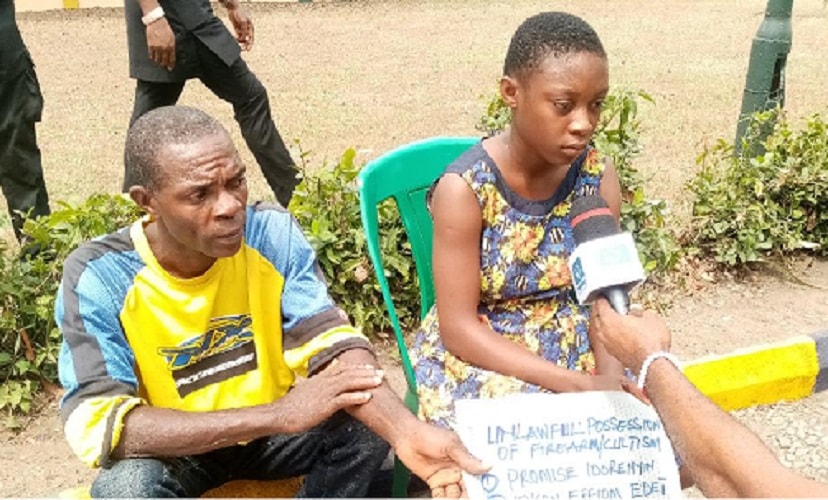 More details have emerged about Promise Idorenyin, the 17-year-old girl caught with a gun in her school.
Promise Idorenyin, an SS2 student of Community Secondary School, Ikot Ewa in Cross River State, was paraded on Friday, February 19, for bringing a gun to school.
Her boyfriend, a married man named Okon Effiom Edet, who allegedly gave her the gun was also paraded by the police.
Promise Idorenyin has confessed she is a cultist and said she is a member of a female cult group called Sky Queens Confraternity. She, however, said she is just an ordinary member of the cult and does not hold any important position.
It was earlier reported that Promise Idorenyin had come to school to shoot her teacher who disciplined her and asked her to cut her coloured hair.
The gun, a locally made double-barrel pistol, was discovered in Promise Idorenyin's schoolbag by the principal of the school.
Promise has said that she did not bring the gun to school to shoot her teacher as is being reported in the media. According to her, she brought the gun to school to show her friends.
The 17-year-old girl maintained she is in good terms with all her teachers. She, however, admitted that one of her teachers who is also the vice-principal of the school had asked her to dye her hair back to black after she coloured it last year December.
Promise Idorenyin and her boyfriend, Mr Okon Edet, who is a 38-year-old father of six, has reportedly been seeing for months.
Mr Okon Edet confirmed he was in a romantic relationship with Promise and was already "doing small things on her head", planning to marry her. Mr Okon Edet said the girl's family knows him as Promise's husband-to-be.
Mr Okon Edet, however, denied giving Promise the gun. According to him, she took it by herself from where he kept it under the bed.
The state commissioner of police said that the girl has confessed that it was her boyfriend that gave the gun to her. The girl said that her boyfriend gave her the gun to go and repair, but she decided to take it to school to show her friends.