by Staff writer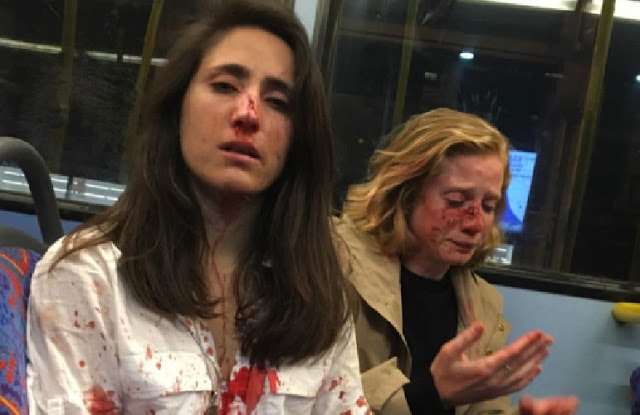 Two lesbian women had been left seriously beaten and bloodied in a London night bus for refusing to kiss men.
One of the women, Melania Geymonat, shared a photograph of herself and her girlfriend Chris covered in blood after they were set upon by a group of four men in the early hours of May 30.

The couple were on night bus in north London heading home from a date when the incident took place.
"We must have kissed or something because these guys came after us," Geymonat wrote on Facebook on Wednesday (June 5).
"I don't remember if they were already there or if they got on after us.
"They started behaving like hooligans, demanding that we kissed so they could enjoy watching, calling us 'lesbians' and describing sexual positions."

Geymonat said that she and her girlfriend tried to appease the men with jokes.

"The next thing I know is that Chris is in the middle of the bus fighting with them," she wrote.

"On an impulse, I went over there only to find her face bleeding and three of them beating her up. The next thing I know is I'm being punched.

Geymonat, whose Facebook profile shows her working as airline cabin crew, said that she has been unable to return to work since the incident which has left her with a suspected broken nose.

"What upsets me the most is that violence has become a common thing," Geymonat wrote.

"I'm tired of being taken as a sexual object, of finding out that these situations are usual, of gay friends who were beaten up just because.

"We have to endure verbal harassment and chauvinist, misogynistic and homophobic violence because when you stand up for yourself s**t like this happens."

The Metropolitan Police confirmed that both women were taken to hospital, where they were treated for facial injuries.