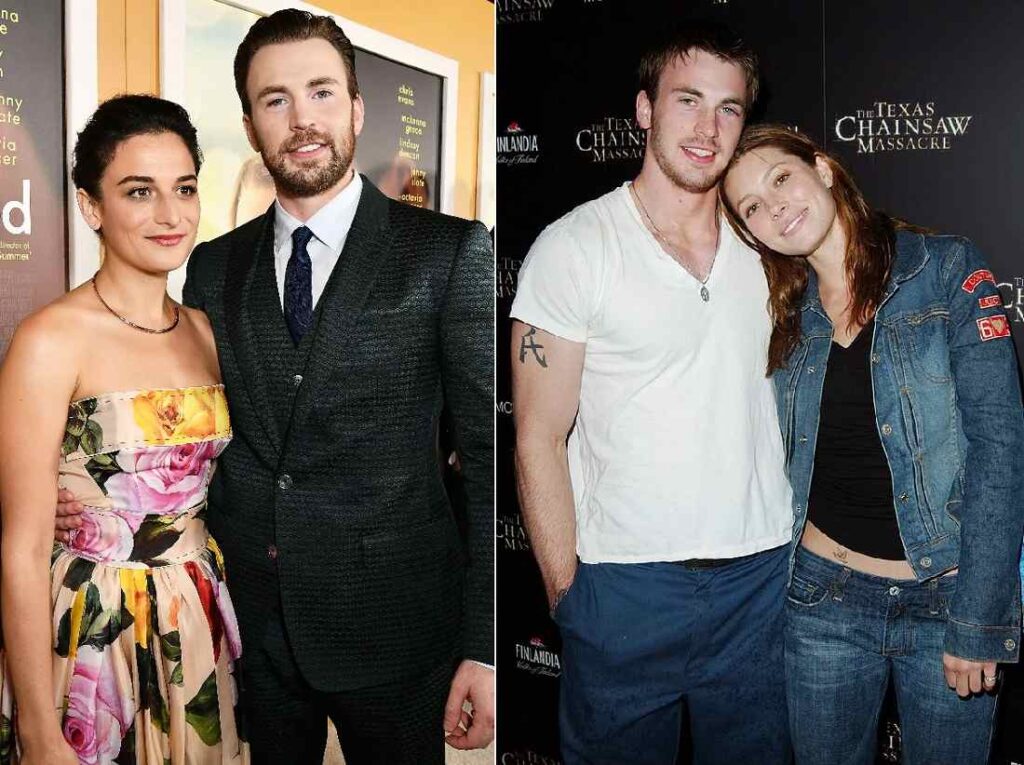 Who is Chris Evans?
Chris Evans is a famous American actor, film director, and producer. He is best known for his roles as 'Steve Rogers' AKA 'Captain America' in Marvel Cinematic Universe (MCU) films. Evans had an interest in acting at a young age. He got his first movie role in the 1997 educational movie 'Biodiversity: Wild About Life!' when he was only 16. Since then, Chris Evans has gone on to enjoy a flourishing acting carer, starring in many successful movies and TV shows – including the 2019 mystery film "Knives Out."
Chris Evans' full name is Christopher Robert Evans. The Marvel actor was born on June 13, 1981, in Boston, Massachusetts, US. Evans is 41 years old as of September 2022. Chris Evans is one of the highest-paid actors globally thanks to his earnings from Marvel Studios. Notably, he earned a whopping sum of $15 million for his role in "Avengers: Endgame." As of 2022, Evans' net worth is roughly $80 million.
Chris Evans' parents
Chris Evans was born to his parents: G Robert Evans III (father) and Lisa – née Capuano (mother). Evans' parents hooked up in the 1970s. At the time, Robert was a dentistry student while Lisa was a dancer. Evans' parents married in 1977 and had 4 children together.
After spending over a decade in Boston, Robert and Lisa moved to Sudbury in 1992. There, the couple raised their 4 kids. Sadly, in 1999, after 22 years of marriage, Evans' parents divorced.
About Chris Evans' father – G. Robert Evans III
Chris Evans' father, G. Robert 'Bob' Evans III is an American biological dentist. Robert has English, Welsh, German, and Scottish roots. Evans' father earned a Bachelor's degree in Biology in 1975. Then he moved to Tufts University where he bagged a doctorate in Medical Dentistry. After his marriage with Lisa ended in 1999, he married his business partner Jean Nordin-Evans. Together, they founded Groton Wellness Center, a holistic centre based in Massachusetts. The relationship between Chris and his father seems to be cordial even though the actor barely talks about Robert.
About Chris Evans' mother – Lisa Capuano
Chris Evans' mother Lisa Capuano is a former actress, dancer, and artistic director. Mama Chris has both Irish and Italian roots. She is the sister of former US Congressman, Mike Capuano.
Chris Evans and his mom share a beautiful bond. The 41-year-old actor recounted telling his mother about losing his virginity as a teenager. Also, Lisa has always supported Evans' acting career. For instance, she urged him to accept the "Captain America" role after he initially rejected it.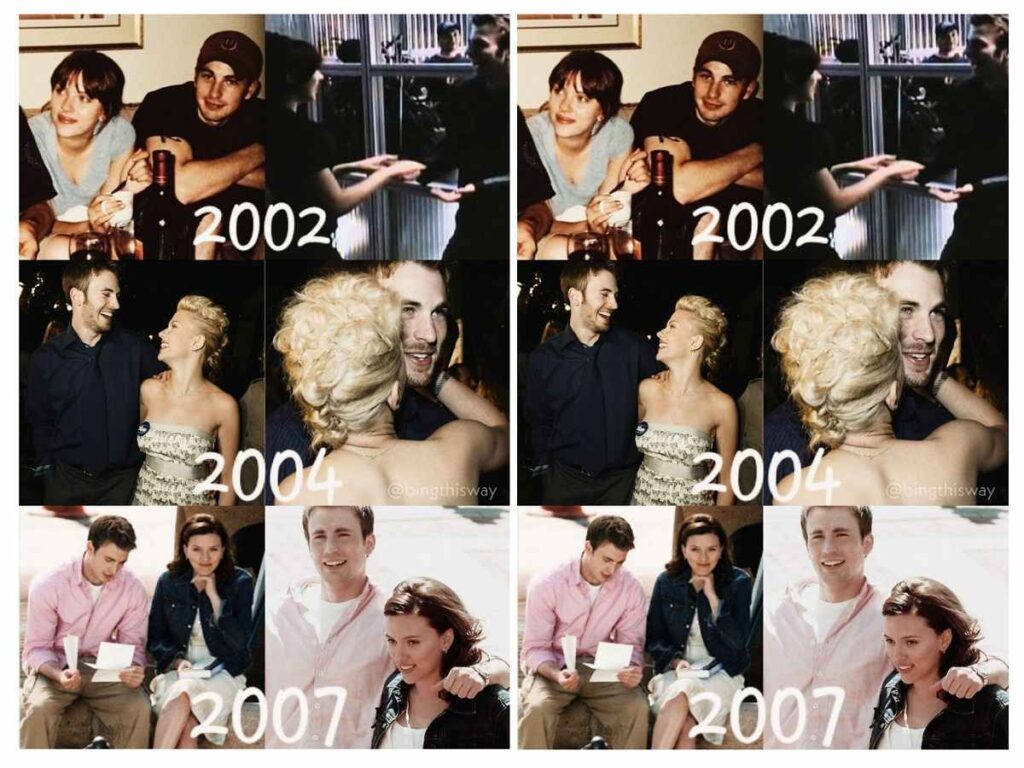 Chris Evans' siblings
Chris Evans has three siblings – two sisters and one brother. The names of Chris Evans' siblings are Carly Evans, Shanna Enman Evans and Scott Evans.
a. Carly Evans
Carly Evans is Chris Evans' older sister and the first child of their parents. Carly's full name is Carolyn Evans. Captain America's older sister was born on September 15, 1978. She is 44 years old as of September 2022. Carly is an actress although she is not as popular as her brother. She is known for her role in the TV series "The Bill."
b. Scott Evans
Scott Evans is Chris Evans' gay younger brother. Born on September 21, 1983, Scott is 39 years old as of September 2022. Scott is Chris Evans' only brother. He is also an actor. He is best known for his role in the TV series "One Life to Live." Scott came out as gay at the age of 19. And he famously dated advertising executive Zach Volin for 2 years.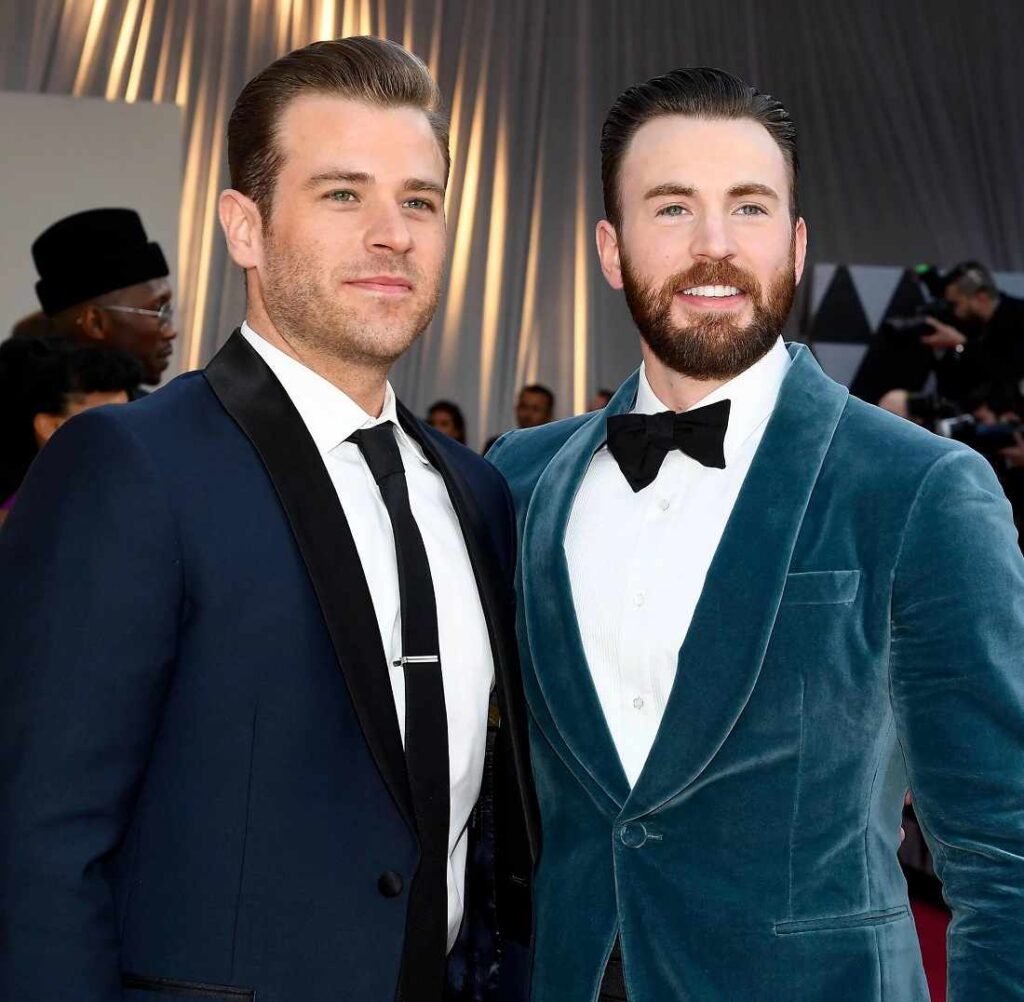 c. Shanna Enman Evans
Shanna Evans is Chris Evans' second sister and youngest sibling. According to some reports, Shanna was adopted by the Evans family many years ago. Shanna Enman is the most private of the Evans siblings. She currently works as a teacher assistant at Lincoln-Sudbury Regional High School. In April 2022, she married her husband Graham Enman and her celebrity siblings were in full attendance.
Chris Evans' marriage and wedding
As of September 2022, Chris Evans is not married and does not have a wife. In fact, Evans has never been married (as of the time of writing). According to reports sighted by DNB Stories Africa, the "Captain America" star has plans to marry in the future.
Chris Evans hinted in an interview in 2019:
'I want a wife… I want to carve pumpkins and decorate Christmas trees…'
While Chris Evans is not married yet, he has dated some of the hottest female celebrities in America and beyond. Most notably, he dated actress Jessica Biel for many years. In fact, the ex-lovers planned to get married at some point. But sadly, their relationship crashed in 2006 after being together for about 5 years.
Also, Chris Evans and actress Jenny Slate famously dated on and off for years. But since their highly publicized relationship ended in 2018, Evans has kept his love life private. However, fresh reports have been linking him to Portuguese actress Alba Baptista since 2021.
List of Chris Evans' girlfriends
Marvel actor Chris Evans has an interesting dating history. Over the years, Evans has been romantically linked with over 17 female celebrities, most of them actresses. Perhaps, this is what comes with being the Captain of America.
List of women Chris Evans has allegedly dated or hooked up with:
Kate Bosworth and Chris Evans hooked up in 2000 after they met on a movie set.
Jessica Biel and Chris Evans were in a relationship from 2001 to 2006.
Emmy Rossum and Chris Evans had a fling in 2007.
Christina Ricci and Chris Evans reportedly dated for a few months. Ricci and Evans attended the 2007 Met Gala as a couple.
Minka Kelly and Chris Evans hooked up first in 2007. Then in 2012, they were back together only to break up a few months later.
Kristin Cavallari and Chris Evans hooked up around 2008, reports say. However, Kristin denied dating Evans, insisting that they were just friends.
Vida Guerra and Chris Evans sparked dating rumours in 2008.
Amy Smart and Chris Evans also sparked dating rumours after they were seen leaving a club together in 2010.
Ashley Greene and Chris Evans were together as a couple at an event in 2011.
Dianna Agron and Chris Evans reportedly hooked up briefly in 2011.
Sandra Bullock joked about being married to Chris Evans in an interview although it is still uncertain if they had an affair.
Lily Collins and Chris Evans dated in 2015, reports say.
Jenny Slate and Chris Evans were in an on-and-off relationship between 2015 and 2018.
Lily James and Chris Evans were sighted at a cozy park date in 2020. This sparked rumours of a possible romance between them.
Selena Gomez and Chris Evans sparked dating rumours in 2021 after Chris followed Gomez on Instagram. Meanwhile, they are yet to address the dating rumours.
Shakira and Chris Evans were romantically linked days after the singer's split from her ex-husband. However, it is unlikely that they dated because Chris Evans claims he is yet to meet Shakira.
Alba Baptista is reportedly Chris Evans' new girlfriend.
About Chris Evans' ex-girlfriend – Jessica Biel
Chris Evans' ex-girlfriend Jessica Biel is an American actress and model. She is best known for her role as "Duchess Sophie" in the 2006 movie "The Illusionist". Jessica Biel was born on March 3, 1982. She is 40 years old as of September 2022. Biel is now married to singer Justin Timberlake and her full name is Jessica Claire Timberlake Biel.
Chris Evans and Jessica Biel's relationship began in 2001. They were all over movie premieres, holding hands and serving "couple goals." The former Hollywood power couple even featured in two movies together. In fact, Biel and Evans were so in love that they talked about getting married and starting a family. But sadly, they ended their romance after dating for about 5 years without tying the knot.
Few months after their split, Biel began dating Justin Timberlake. Justin and Jessica got engaged 4 years later and had their wedding in 2012. Chris Evans, on the other hand, didn't give up on love either. Reports were linking him with actress Minka Kelly following his split from Biel.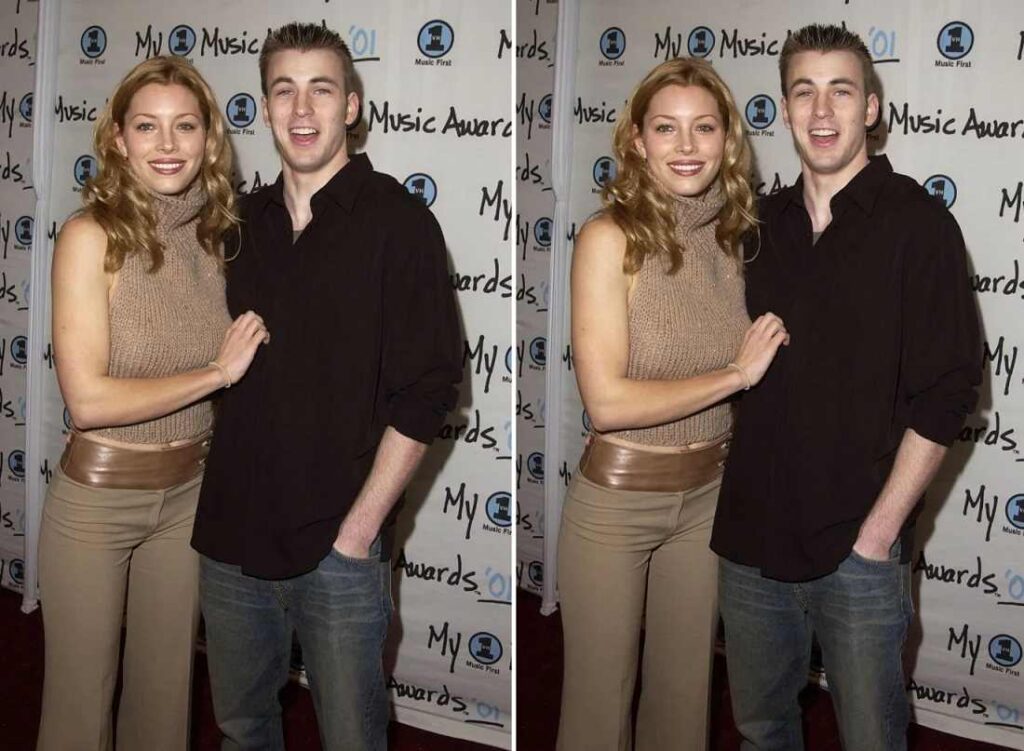 About Chris Evans' and Jenny Slate's relationship
Chris Evans' ex-girlfriend Jenny Slate is an American actress and a stand-up comedian. Jenny is famous for her role in the sitcom "Parks and Recreation." Born on March 25, 1982, Slate is 40 years old as of September 2022.
Evans and Slate first met in 2015 on the set of the movie "Gifted." The actress was married at the time to her now-estranged husband, Dean Fleischer-Camp. Chris and Jenny Slate started as friends and then moved to become lovers. They made their dating official when they appeared as a couple at a movie premiere in July 2016. But sadly, they broke up in February 2017 after dating for barely a year.
Jenny Slate hinted in an interview that Evans' popularity as "Captain America" might have led to their split. In November 2017, Slate and Chris Evans came back together as lovers, only to finally break up four months later. Three years down the line, reports were linking Evans with Lily James. Jenny, on the other hand, began dating painter Ben Shattuck. They married in December 2021 and currently have a daughter.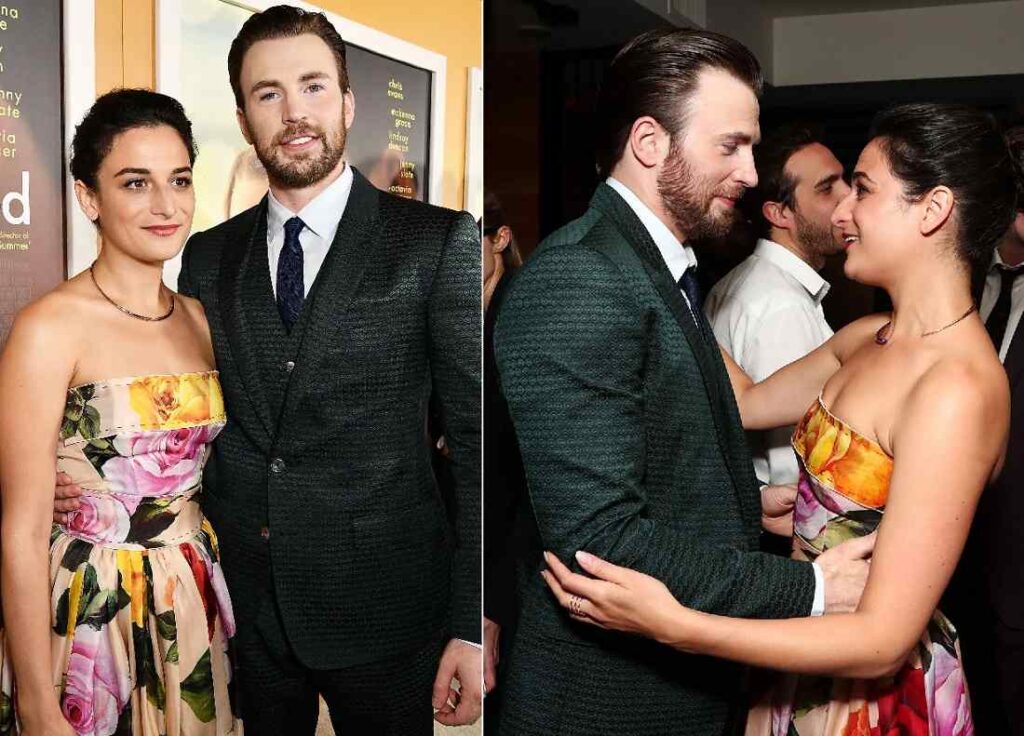 About Chris Evans and Elizabeth Olsen's relationship
Actress Elizabeth Olsen and Chris Evans were more than just marvel co-stars. The amazing actors were also neighbours who share a fine friendship. However, Olsen and Evans haven't been so close lately. While the Marvel actress admits that she still likes Chris, she stated in an interview that they "just don't hang out anymore". Most likely, the Marvel stars have grown apart as friends.
About Chris Evans and Scarlett Johansson's relationship
Scarlett Johansson and Chris Evans have been friends for many years. According to some reports, they are probably childhood friends. The duo has continued to fuel dating rumours due to their closeness and the chemistry they share both on and off-screen. However, Johansson and Evans insist that they are just friends. Johansson has been married to comedian Colin Jost (her third husband) since 2020.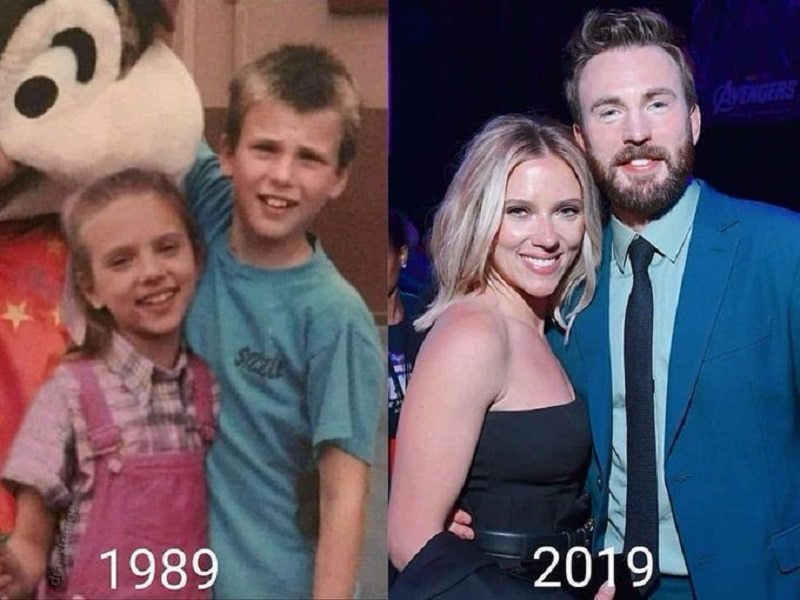 About Chris Evans' rumoured new girlfriend – Alba Baptista
Chris Evans is reportedly dating Portuguese actress Alba Baptista as of 2022. After Chris Evans and Jenny Slate's relationship ended in 2018, Evans has tried to keep his love life private.
Alba Baptista is a Portuguese actress popularly known for her role in the Netflix series "Warrior Nun". Baptista was born on July 10, 1997, to a Portuguese mother and a Brazilian father. Chris Evans' rumoured new girlfriend is 25 years old as of September 2022.
Rumours of Alba Baptista being the new woman in Captain America's life started spreading in 2020 after Evans followed the actress on Instagram. Fast forward to early 2022, there were reports that Chris Evans visited Baptista's hometown (Lisbon). As of the time of writing, neither Evans nor Alba has addressed the dating speculations.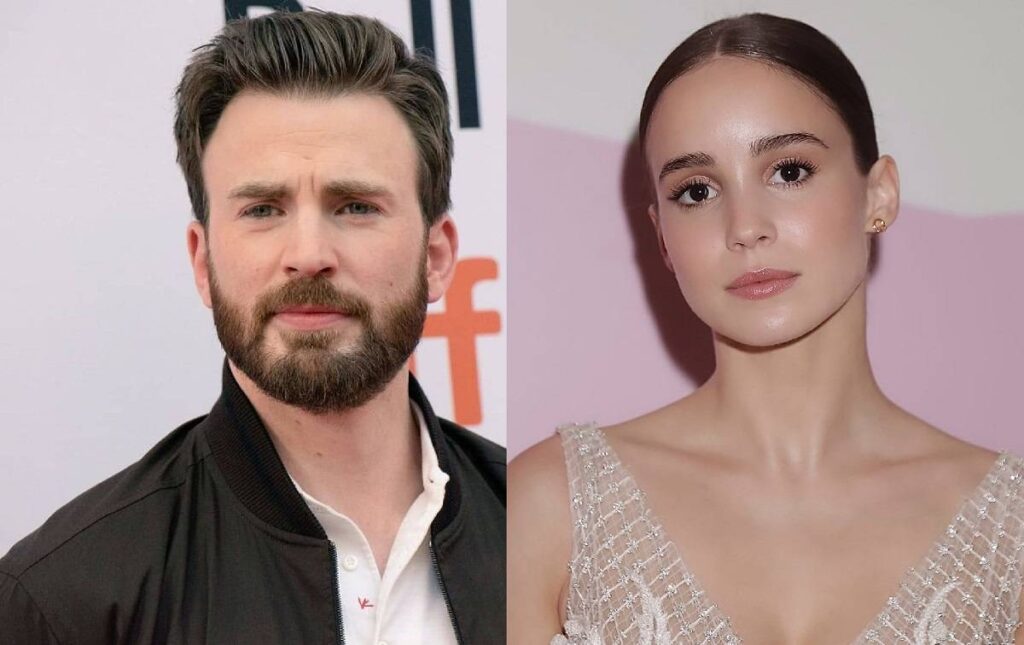 Chris Evans' children
As of September 2022, Hollywood actor Chris Evans is not yet a father and does not have any kids yet – even though he has been linked with over a dozen women.
However, Evans has stated that he intends to have children in the future.
Evans told Men's Journal:
'I really want kids. Yeah, I do'
He added:
But it has to be the right time.'
It's most likely that Evans wants a wife first before having children.