by Staff writer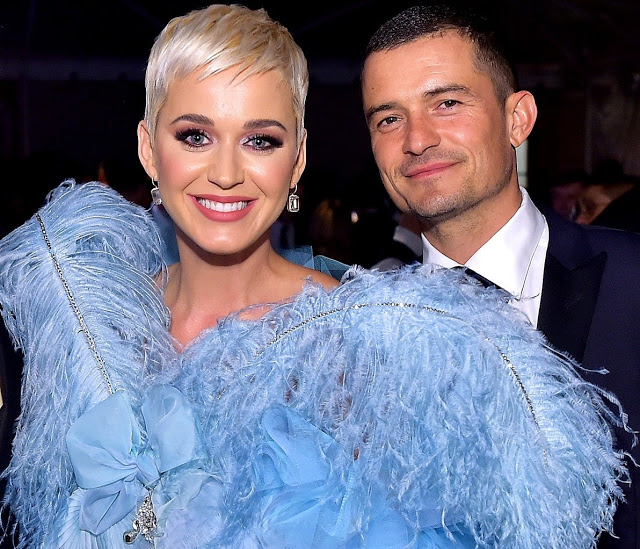 Talk about announcing it in style, American singer Katy Perry just released a complete music video to confirm all the pregnancy rumours that's been swirling around since an image of her appearing to cover a pregnancy bump with her handbag emerged online.

The video also seems to confirm Perry's wedding plans with fiance, Orlando Bloom. The two previously married love birds started dating in 2016.

They reportedly split after
10 months
before coming back together in early 2018. Katy Perry, 35, was seen at the end of the music video for "Never Worn White" cradling her baby bump while wearing a white dress.

Part of the song lyrics goes:

"No, I've never worn white
But I'm standin' here tonight
'Cause I really wanna say "I do"
I do"

Before Katy and Bloom met, she was married to English comedian Russell Brand for around 14 months.
Bloom, on the other hand, was married to model Miranda Kerr from 2010 to 2013. The pair share a son, Flynn, who was born in 2011.


The pop star told her Twitter fans: "Omg so glad I don't have to suck it in anymore. Or carry around a big purse lol."

Perry and Bloom got engaged on Valentine's Day and it will be the second marriages for both.

Perry revealed on "Jimmy Kimmel Live" how Bloom popped the question on a helicopter ride from Los Angeles.

"I thought we were going to go see some art after dinner, but we pulled up to a helicopter," Perry said. "But it was really sweet."

According to Perry, things didn't go as planned during the proposal.

"Actually, the funny part is we had champagne in the helicopter and the box was in his pocket and he had written down everything he wanted to say in a note to divert. He was going to pull it out while I'm reading it, so I'm reading it but I'm hearing the champagne is like broken, the bottle's everywhere. I'm still looking at the note but he's pulling out this box that's too big for his coat pocket and it rips his coat pocket and his elbow goes into the champagne."