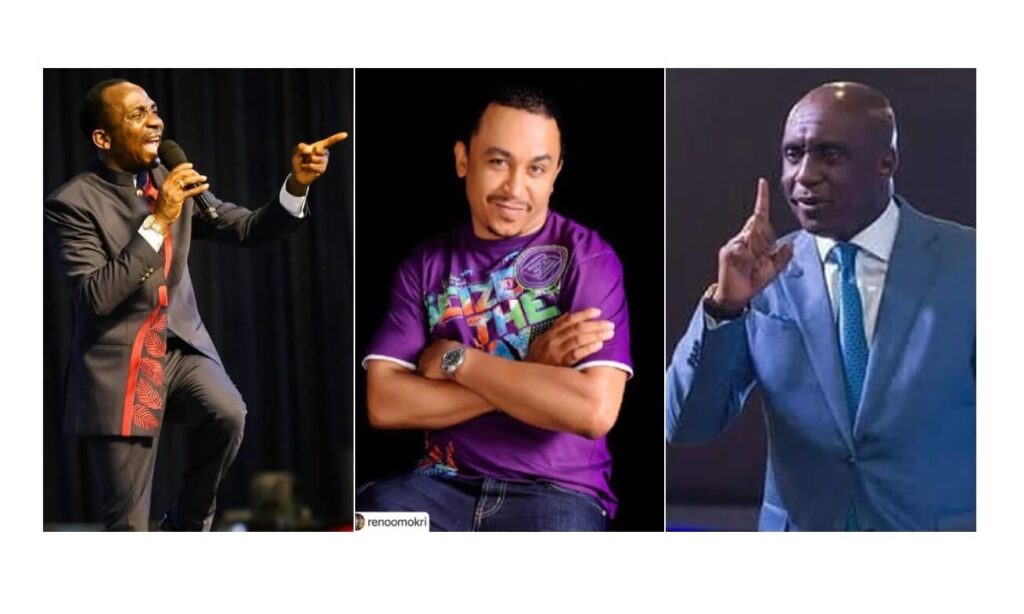 Pastor Paul Enenche of Dunamis International Gospel Centre has joined fellow cleric David Ibiyeomie in attacking OAP and media personality, Daddy Freeze.
Daddy Freeze who is known for criticizing pastors over some of their actions online had earlier described Bishop David Oyedepo of Living Faith Church as a "baldheaded fowl" in a video that trended online. Freeze made the video in disagreement to Oyedepo's earlier statement about the submissiveness of women in marriage.
Reacting to the video, Pastor David Ibiyeomie who is the founder and senior pastor of Salvation Ministries lambasted Daddy Freeze during a church service, calling him a bastard who has no father.
Pastor Ibiyeomie told Daddy Freeze he would soon meet his end if he continues to attack Oyedepo and other clergymen.
Joining in the attack of Daddy Freeze, Pastor Paul Enenche who heads the Dunamis International Gospel Centre described Daddy Freeze as a mad dog suffering from bipolar disease.
In a video that has since gone viral on social media, Pastor Enenche told Daddy Freeze that the title of a bastard fits him well, adding that he has not been behaving like someone who grew in a home.
Paul Enenche asked Daddy Freeze:
"When last did you behave like someone who grew in a home? When last did you behave like someone whose father gave any morals? When last did you behave like somebody who knows culture? What did your father teach you growing up? What did you learn as a child? And here you are, wifeless, jobless, can't keep a wife, can't keep a job and you're commenting on marriage with someone who has been successfully married for close to 40 years."
The so-called 'man of God' added that Daddy Freeze is cursed.
"You are already a cursed man. A cursed man by bankruptcy, by everything around you but you better repent now. However, Jehovah whom you have stood against will deal with you and your lineage," the pastor raged.