Written by Mercy Olatunji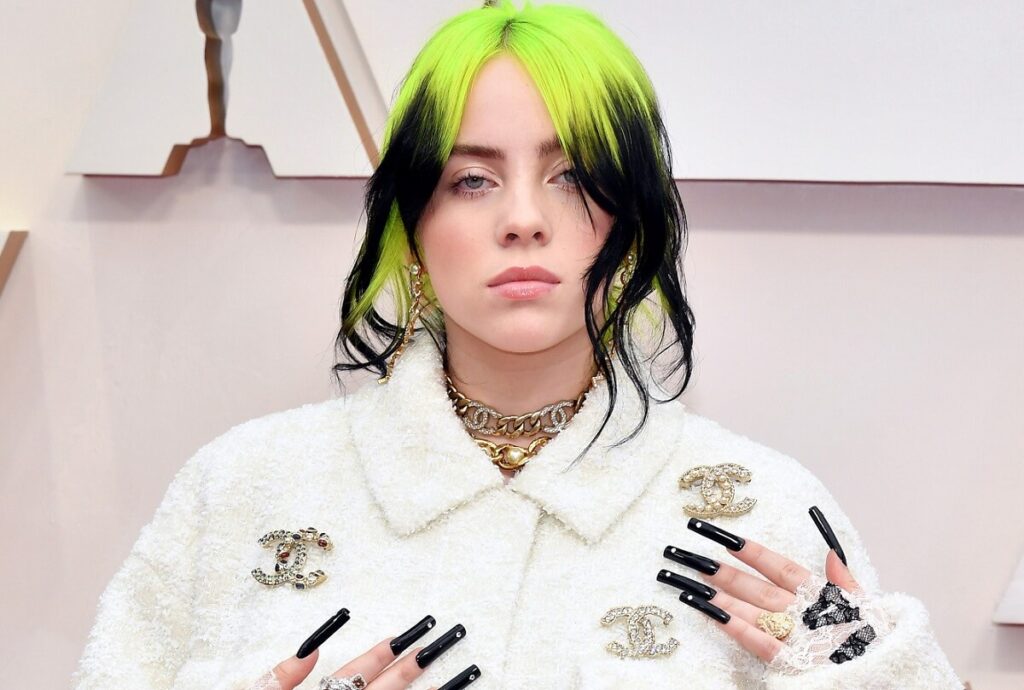 Who is Billie Eilish?
Billie Eilish is an American singer and songwriter known for her unique style of manoeuvring the dark pop genre. The Grammy award-winning singer is also known for her eccentric fashion style – colourful hair, gaudy jewellery, long acrylic nails and baggy clothing.
According to Eilish, her reason for her choice of fashion was to prevent popular representation by her body structure. In a Calvin Klein ad, she said "Nobody can have an opinion because they haven't seen what's underneath. Nobody can be like, 'she's slim-thick,' 'she's not slim-thick,' 'she's got a flat ass,' 'she's got a fat ass.' No one can say any of that because they don't know."
Full data profile of American singer, Billie Eilish
| | |
| --- | --- |
| Full name | Billie Eilish Pirate Baird O'Connell |
| Age | 18 years old |
| Birthday | 18th December 2001 |
| Gender | Female |
| State of origin | Los Angeles |
| Nationality | British/Irish American |
| Parents | Maggie Baird and Patrick O'Connell |
| Height | 5″6 |
| Marital status | Single |
| Career | Songwriter and artist |
Billie Eilish's rise to fame
Billie Eilish became a globally recognised name in 2015 when she uploaded a track titled "Oceans Eyes" on the online music platform SoundCloud. It was a song written by her brother Finneas O'Connell and later released by the Interscope Records subsidiary Darkroom.
Billie Eilish released her second single Bellyache in 2017 which also became a successful hit.
In 2019, Billie Eilish released her first studio album, When We All Fall Asleep, Where Do We Go?. It ranked top on the Billboard 200 album chart and ranked number one in the United Kingdom, Canada, and Australian album charts.
Billie Eilish has since grown into a multiple award-winning artist of her era, bagging numerous awards including five Grammy Awards, two American Music Awards, two MTV Europe Music Awards, three MTV Video Music Awards, two Guinness World Records, one NRJ Music Award, one Brit Award, and three Billboard Music Awards.
Billie Eilish's income sources and how she makes money
Billie Eilish's major source of income is direct from income streams, album sales and annual tours. According to RIAA, Billie Eilish has made $40 million in a digital single which is even more than Cardi B, Sam Smith, and the world's favourite band, The Chainsmokers all together.
Brand Endorsement
Early in her career journey, Billie Eilish landed an endorsement contract with Adobe Creative Cloud. The deal included a series of Adobe-friendly advertisements and a social media art competition featuring Billie Eilish.
Billie Eilish is also a major brand ambassador for Calvin Klein alongside other celebrities such as Noah Centineo, Shawn Mendes and Chika Oranika.
In early July 2019, Billie Eilish landed a lucrative clothing line endorsement deal with a Los Angeles-based clothing company known as Freak City.
Merchandise sales
Besides singing and endorsement deals, Billie Eilish also earns from personal investments. She owns a clothing line known as Blohsh, which deals in neon-lighted beanies, hoodies and pillowcases. Billie Eilish has her roll of stores headquartered in Camden, London.
Billie Eilish's net worth 2019
According to Forbes, Billie Eilish earned over $6 million in 2019 alone.
Billie Eilish's net worth 2020 – Verified by Forbes
Billie Eilish's net worth in 2020 has more than tripled. Based on information verified by Forbes, Billie Eilish's current net worth is estimated at $53 million with half of the earnings made from her Apple documentary film and the other half from music sales.
Billie Eilish's house
Despite all her accolades and earnings, Billie Eilish still prefers to stay at her family home – a 1,208 square foot family home in the Highland Park neighbourhood of Los Angeles, California. Billie Eilish's personal house was blurred on Google Maps after a stalking incident was reported early last year.
Billie Eilish's cars
Billie Eilish drives some top-of-the-range cars, including a Mclaren that's estimated to cost around $160,000 and a Dodge Challenger that's roughly worth $30,000.
Billie Eilish's brother
Billie Eilish's brother, Finneas O'Connell, has been very instrumental to the success of her music career. He is the writer of most of her songs and also stands in as her producer. Although Finneas is consistently present in his sister's works, he has also built a successful career as an actor in the entertainment world too. He starred as Alistair in the popular musical TV series, Glee (2009), Spencer in Bad Teacher (2011) and Shane in Life Inside Out (2013).
Billie Eilish's parents
Billie Eilish's mother is Maggie Baird, a teacher, actress, and screenwriter and her father is Patrick O'Connell, a construction worker who worked part-time as an actor.
Billie Eilish's father Patrick O'Connell featured in Iron Man (2008). Both her parents are also musicians under the radar.