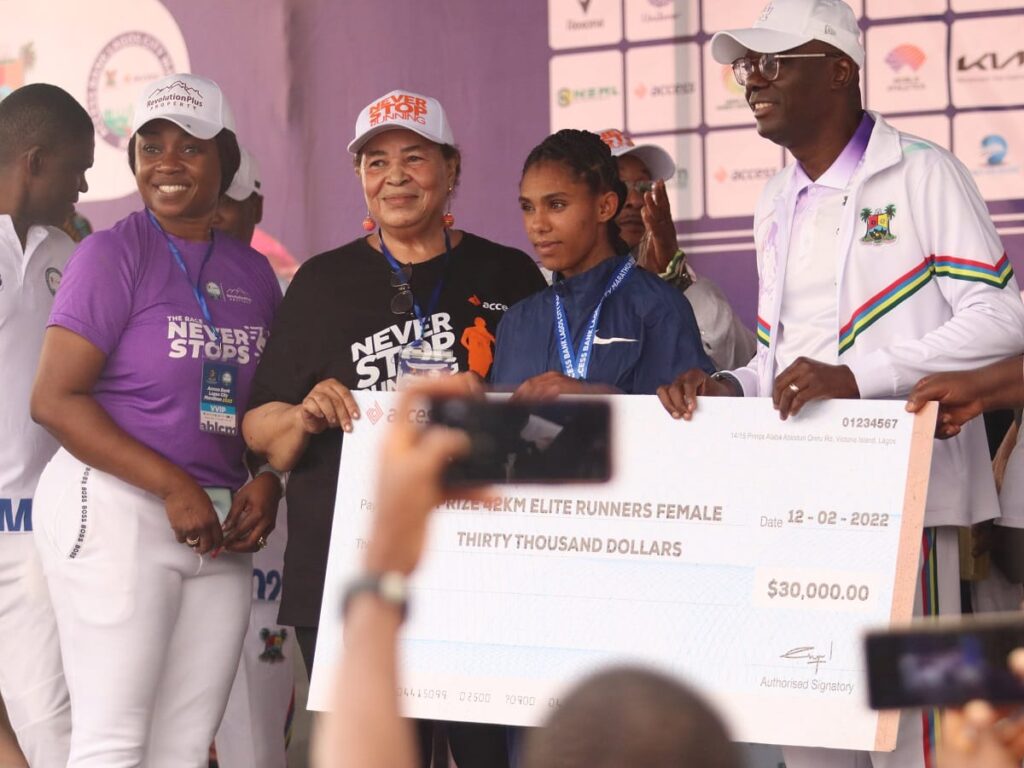 The 7th edition of the Access Bank Lagos City Marathon stayed true to its billing and remained one of the city's great spectacles.
On February 12th 2022, the Centre of Excellence once again welcomed athletes of all ages and skill levels to partake in any of three races on offer: the 10KM physical race starting at Grace Gardens Event Place in Lekki Phase 1, a 10KM virtual race for overseas participants who registered through the FiNerge app, and the granddaddy of them all – the 42KM physical race that kicked off at the National Stadium in Surulere.
The marathon's organizers took several measures to ensure the safety of both the runners and the spectators. One could even say the 2022 marathon was a far cry from last year's race – which only featured a field of 300 contestants due to COVID protocols.
This year's field had over 30,000 runners. As they all made their way to the finish line at Eko Atlantic, spectators cheered them on with each stride. Frontrunners and laggards alike got to experience the warmth that Lagosians are so well-known for. In the end, an Ethiopian duo emerged as winners.
Ulfata Gelata, last year's runner-up, posted a time of 2 hours, 11 minutes, and 54 seconds – narrowly missing the course record. In the women's category, Dagne Siranesh Yirga crossed the finish line in 2 hours, 33 minutes, and 50 seconds – making it the second time an Ethiopian captured both titles in the same year.
Although Nigeria has a long way to go before it can challenge distance-running powerhouses like Kenya and Ethiopia, Access Bank made a point of rewarding and celebrating our local athletes. Shehu Muazu and Fadekemi Olukemi had the fastest times among Nigerian runners and won N1 million apiece.
Several dignitaries were on hand to watch the race – former NBA star Olumide Oyedeji, Edo State Deputy Governor Philip Shaibu and Lagos State Governor Babajide Sanwo-Olu, to name a few.
At the finish line, athletes were treated to an equally star-studded lineup of musicians – Zlatan Ibile and Teni the Entertainer graced the stage to cap off Lagos' most anticipated race in style.