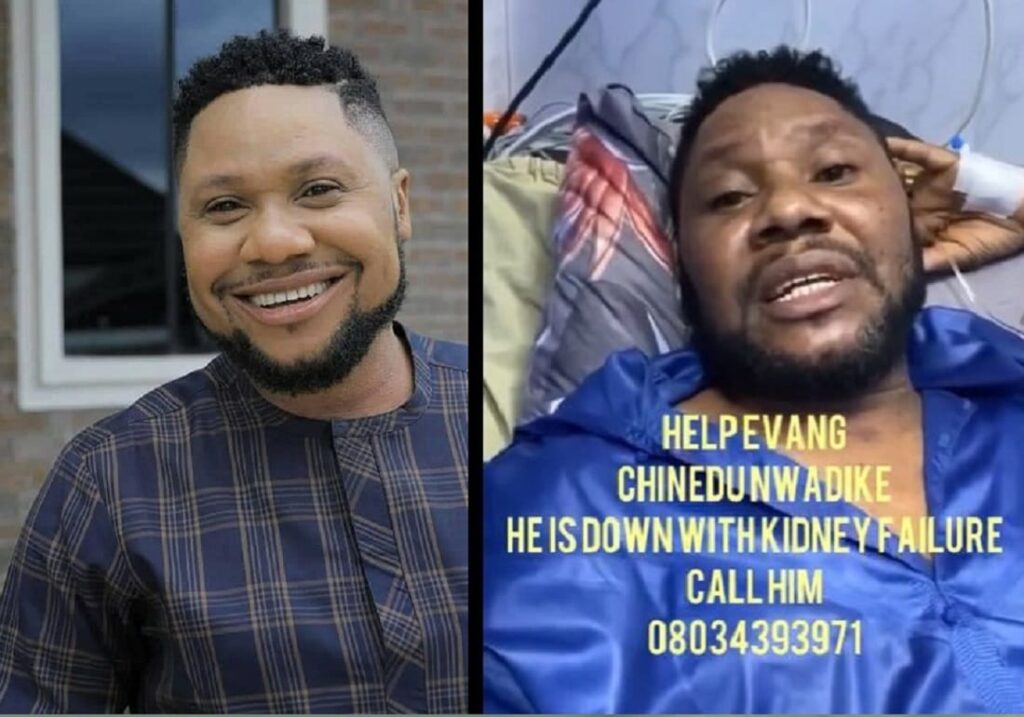 Popular gospel singer Prince Chinedu Nwadike has been down with kidney disease for some months now.
According to information gathered by DNB Stories Africa, the 38-year-old singer is currently admitted at the Zenith Medical and Kidney Centre in Abuja where he is being treated for a kidney ailment and internal bleeding.
Nwadike already disclosed that E-Money gave him N250,000 upon his arrival to Abuja that has sustained him for a while.
Watch the video of Chinedu Nwadike asking for help HERE.
In the video where he asked for help, Chinedu Nwadike said:
I am calling for help from Nigerians. All the Igbo sons and daughters, Nigerians at large. I am right here now at Zenith Medical Center, Abuja. Urgent money is needed. I am calling on E-money, Obi Cubana, Senator Rochas Okorocha, Governor Hope Uzodimma. I am calling on all that matters in Igbo land. I may not remember all your names. All of you who have good human hearts. Anyidon, I am begging you to champion this. We need funds.

Luckily today as I arrive at the Abuja airport, E-Money gave me 250,000 Naira and that is actually what sustained me. Not just the kidney problem, I am bleeding inside. I don't want to die. I don't want to lose my children, they are too tender. I don't want to leave them behind. Save and help me in any way you can.
Chinedu Nwadike: Native doctor controversy
After the ailing gospel singer and evangelist cried out for help, popular Anambra native doctor Akwa Okuko reached out to him and donated the sum of N1 million to support his treatment.
While many Nigerians and fans of the artiste praised the native doctor for his kindness and generosity, some very religious persons also criticised Nwadike for accepting help from a native doctor.
Here is a video of a pastor criticizing Chinedu Nwadike for accepting a donation from Akwa Okuko. The said pastor also criticized Nwadike for bringing his problem to social media. The pastor called Chinedu Nwadike "a disgrace to the body of Christ" and "an antichrist" and rained curses on him and anybody willing to help him, to the dismay of social media users.
According to the angry pastor, Chinedu Nwadike should have privately sought help from pastors instead of begging money from "unbelievers" on social media or waited for the prayer Father Mbaka prayed on his head to take effect.
Watch the full video HERE.
Chinedu Nwadike Biography – Who is Prince Chinedu Nwadike?
Chinedu Nwadike is a popular Igbo gospel musician known for his many songs, including his "Oku Gbajie Aka Ji Ngozim" medley.
He has been married to his wife, Sorochi Dora Nwadike for nearly 10 years. They wedded in August 2012 and share two children together. The couple initially had three kids but their last born died in 2020.