Igbo language is one of the three major languages spoken in Nigeria. It is the language of the Igbo people of southeastern Nigeria, spoken in seven Nigerian states – Enugu, Ebonyi, Imo, Abia, Anambra, Rivers, and Delta, totalling over 40 million speakers.
Igbo language has over 30 dialects spoken in different communities across Igboland, however Standard Igbo is the form of Igbo language widely recognised and used formally in spoken and written Igbo.
Learning Igbo Language as a beginner
What is the best way to learn Ìgbò language as a beginner? Many learn Igbo language by listening to and observing native speakers. This works, however, many people who learn Igbo language this way are unable to read or write Igbo language, and are usually at a loss when faced with Igbo language in the written form.
Some people learn Igbo language in class: in school, private Igbo lessons, or group lessons organised by Igbo organisations. Does learning Igbo in class work? Yes, but results are dependent on factors like the teacher, class size, curriculum, etc. Also, people who learn this way may be exposed only to the 'formal' aspects of the language, and may experience difficulties understanding the language in the form it is used every day.
What then is the best way to learn Igbo language? Learning Igbo language online has proven to be one of the fastest and most efficient ways of mastering the Igbo language. Learning Igbo online is both flexible and cost-effective, without any drop in success. According to expert Igbo language teacher and translator Onyinye Ibelegbu known as NwaadaIgbo, the easiest way for a beginner to master the Igbo language is by taking "structured online classes with experienced native speakers". This way, no aspect of learning suffers. One acquires proficiency in the equally important aspects of reading, writing and speaking Igbo.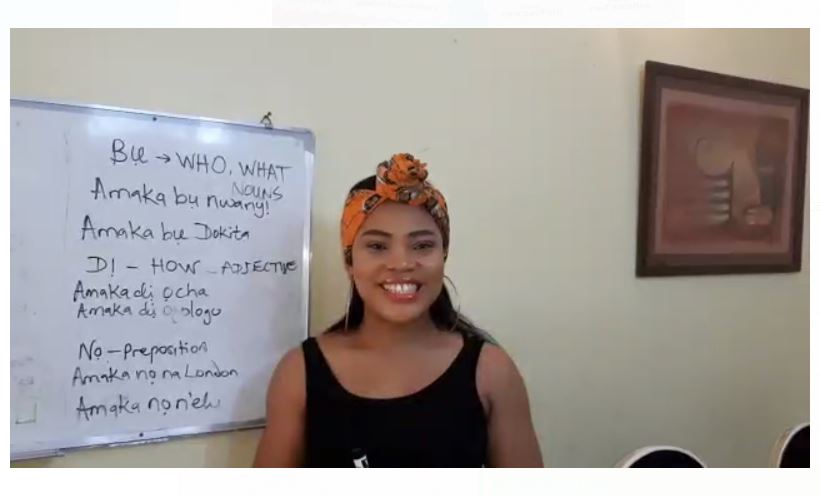 Onyinye Ibelegbu also posts daily tips on Igbo language learning through her page on Instagram @nwaadaigbo. Driven by her desire to make Igbo language learning available to all, especially to Igbos in the diaspora, she developed the Complete Ìgbò Course on Udemy – a course rated by Udemy as a best seller. The persistent requests for a resource that teaches Igbo language in a detailed and concise manner led to the birth of the Complete Guide to Igbo Language – a textbook available on Amazon. Her one-on-one sessions for individuals and groups spanning over 3 years of Igbo language coaching and 186 clients from over 4 continents have been described as fun, engaging and detailed.
Yvonne in New York, USA says this about the Complete Ìgbò Course on Udemy: "I met Onyinye through a friend of mine via Instagram. I have been wanting to learn Igbo for as long as I can remember but had not encountered anyone who has experience teaching Igbo that was easily available. Onyinye has been a great instructor to work with. Her process for learning the basics is very effective and we were able to set up a schedule within a day. She is very patient and easy to talk to. She also is very creative and makes learning enjoyable. I have finished my introductory course within a few months and I am excited to continue my learning with Onyinye and other Igbo speakers."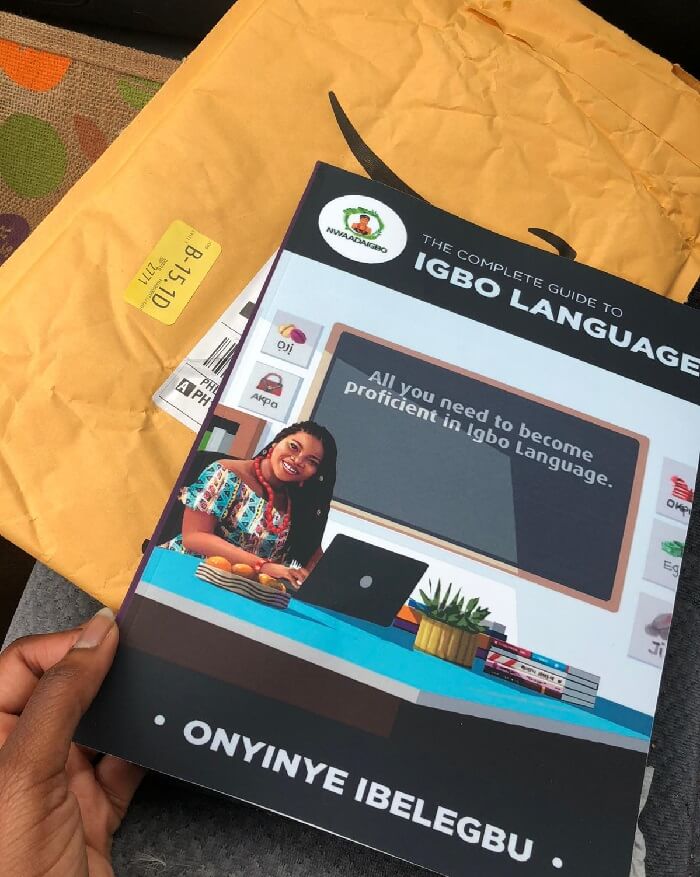 Peju in Lagos Nigeria says: "I am a Yoruba woman married to an Igbo man and have been trying to learn Igbo FOREVER. Last year, it became really important that I do it. I tried to use resources online but none worked for me. Until my sister-in-law told me about NwaadaIgbo on Instagram. That was it o!!! Our lessons are pretty cool and her notes are helpful. She also pointed me to free online resources that were actually helpful. I am still learning to be a fluent speaker but I am well on my way and loving it too. Chukwu gọzie gi enyi m."
Uche, the President of Igbo Youth Ireland says: "We had Onyinye take a 6-week session for our members. The classes were very interactive and helpful. Everyone bonded with her and she made Igbo so easy".
There are a good number of resources online offering Igbo language lessons. YouTube videos, websites and a few apps all provide information on vocabulary and aspects of the Igbo culture such as greetings, food and festivals. If you are looking to learn Igbo language effectively, you should consider resources that help with the essentials: Igbo Pronunciation, Vocabulary and Sentence Formation. Your tutor should also be able to provide a structured curriculum that includes these essentials.
A major benefit of learning Igbo language online is that it affords the learner more flexibility. Your tutor can structure your lesson based on your availability and convenience, that way you can have your classes without major changes to your schedule. Online Igbo courses are time and cost-effective, offering more benefits at the same or less cost than physical classes. What's more, having a tutor comes with a great advantage: accountability. You get the necessary push, encouragement and focused attention to achieve your learning goals.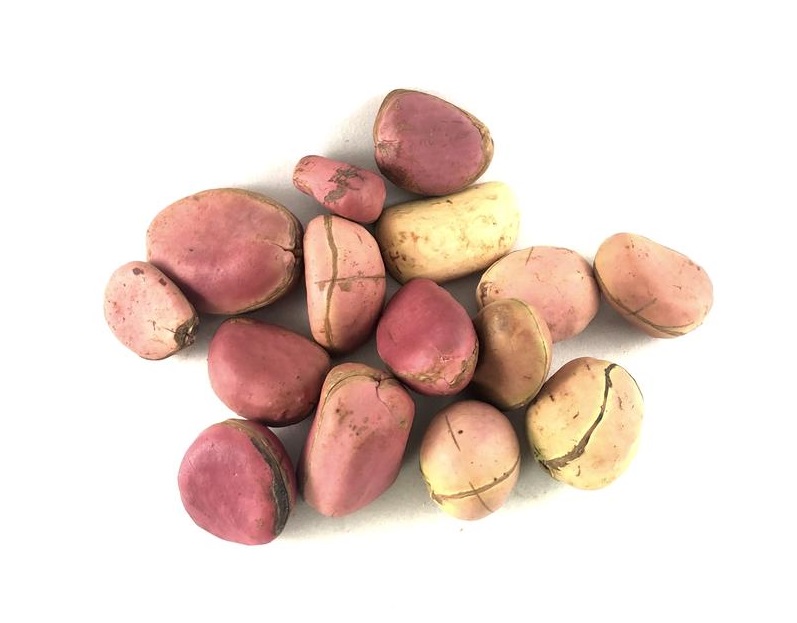 Online Igbo Language Learning
The best aspect of being taught Igbo language by an expert is that they can assess your level of proficiency and tailor your lessons accordingly. It might not make sense to jump into the more complex aspects of the Igbo language (e.g. use of proverbs and idioms – ilu na akpaalaokwu) without first learning the basics – the Igbo alphabets, Igbo parts of speech, sentence formation and everyday Igbo vocabulary. It is recommended that you approach your Igbo language learning in a structured manner.
How long does it take a beginner to learn the Igbo language?
The length of time it takes to learn the Igbo language would depend on a number of factors such as your previous and current exposure to the language, length of time committed to learning and practice, how experienced your tutor is and your knowledge of other languages. Generally, a beginner undertaking up to two and a half hours of Igbo classes per week combined with personal study and practice would be able to express themselves in Igbo language within a month of learning. The more time devoted to learning, the better the results.
You should note that perfecting a language is a journey that requires time and commitment. However, you do not need to be perfect to communicate effectively in a language. For example, a 4-year-old English boy and an English lawyer both communicate effectively in English, but at different levels of proficiency. Higher levels of proficiency take longer: except you want to become an Igbo professor, you will be just fine. Note also, the difference between proficiency and fluency. Proficiency is shown by large vocabulary, a strong grasp of grammar, advanced reading level, etc. Fluency is basically the speed or smoothness with which a language comes out of your mouth. One can be proficient yet have low fluency (slowness in producing speech or impeded pronunciation). It is also possible to be fluent but not proficient. For instance, being able to speak Ìgbò but completely unable to read or write it.
Practical online course for Igbo language learners
There are several Igbo language websites and instructors available online. Based on glowing reviews from learners within and outside Nigeria, the Complete Ìgbò Course on Udemy is highly recommended.
Nwada Onyinye Ibelegbu provides a very detailed but simplified online Igbo language course that is ideal for beginners and intermediate level learners.
The Complete Igbo Course on Udemy provides guidance on all 4 components of Igbo language learning: Listening, Speaking, Reading and Writing Igbo.
The course begins with a foundation lecture on the Igbo alphabets and guides you through tones and vowel sounds to lay a foundation for your pronunciation. It then takes you onwards to parts of speech and Igbo sentence formation ensuring that you emerge as a confident speaker at the end of your study.
Practice exercises are included in each lesson with the answers to these exercises added as an extra resource to the course. What's more, you will find printable flashcards summarizing the key points at the end of each section.
The Complete Guide to Igbo Language on Amazon is the detailed Igbo textbook, best recommended as a text to the course. It provides more examples, explanatory footnotes and more practice exercises to aid your understanding.
The Complete Igbo Course can be purchased on Udemy via this link. To order the Complete Guide to Igbo Language textbook on Amazon, visit here. To know more about Onyinye Ibelegbu, visit her website here, and her Instagram page here.
You can also contact Onyinye directly to book one-on-one Igbo sessions and take advantage of mouthwatering discount and bundle deals via email at nwadaiigbo@gmail.com, and on WhatsApp at +2348082040414.