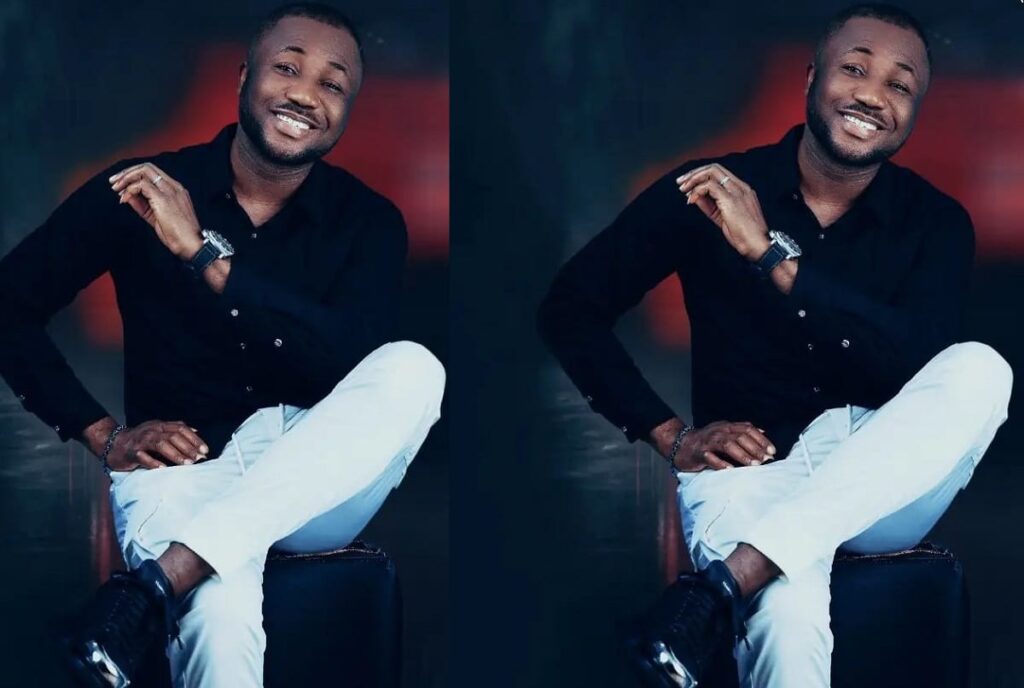 Who is Gozie Okeke?
Prince Gozie Okeke is a Nigerian gospel musician and record producer.
Gozie Okeke is known for singing gospel songs in Igbo. Some of his hit songs include "Gozie Nnem" and "Akanchawa", which he collaborated with his wife, Njideka Okeke, to perform.
Gozie Okeke Wiki Profile
| | |
| --- | --- |
| Full Name | Princess Gozie Okeke |
| State of Origin | Anambra State |
| Age | 43 years old |
| Date of Birth | May 24, 1978 |
| Marital Status | Married |
| Wife | Princess Njideka Okeke |
| Height | 5″9 feet |
| Alma matter | N/A |
| Career | Gospel musician, music producer |
| Instagram | @princegozie_okeke |
Gozie Okeke childhood and education
Gozie Okeke is a native of Nnobi town in Anambra state. He relocated from his hometown where he was born to Onitsha in his early adulthood years to set up his music studio. Gozie has lived in Onitsha for a long time.
His first music studio (GozMok) was located in Onitsha. Not much is known about Gozie Okeke's parents and siblings and the exact schools he attended.
According to reports gathered by DNB Stories Africa, the singer stopped his education at the secondary school level and did not attend a university. Another proof that you can still achieve success without a university degree.
Gozie Okeke career
Gozie Okeke discovered his singing talent at a tender age. Before he relocated to Onitsha to set up his studio, he performed with a local gospel band at weddings, funerals and other big occasions.
His first gospel album found instant success among lovers of Igbo gospel music. He is known for his many hit gospel songs including "Gozie Nnem" and "Akanchawa".
List of Prince Gozie Okeke songs:
You Go Make Am
Wasted Years (Cheta Mu)
Onwegi Nke Nwere Isi
Nnem Oma
Ikem
Ike Nke Pentecost
Igosiwom Na Idi Ebube
I Will Go Back To My Father (Cry For Mercy Vol 3)
Hosanna Diri (3AM Worship)
Gozie Nnem
Eh Yahweh
Akanchawa
Achuzinam
Coronavirus
Gozie Okeke marriage and wife
Gozie Okeke got married to his wife, Njideka Okeke, in 2000. They released a joint album to mark the beginning of their union. Gozie is often credited for nurturing and bringing up his wife in the art of making music.
Gozie Okeke: Separation and alleged divorce from wife
Gozie Okeke and his wife went their separate ways around 2010. The exact reason for the separation is not known but there were rumours that his wife left him following the gay rumours that trailed the musician at that time.
During their separation, the singer released an album where he subtly addressed the homosexuality allegations and his separation from his wife. Fans of the singer criticized him over some of the tracks in the album, especially the track titled "Delilah" where it appeared he was dissing his wife in the lyrics.
At the time of their separation, Gozie Okeke's wife, Njideka Okeke, who is also a gospel singer, left gospel music and became an actress.
Gozie Okeke: Reconciliation with his wife
Luckily, Gozie Okeke and his wife reconciled in 2014, after four years of living apart. Not surprisingly, he released another album to celebrate their reunion.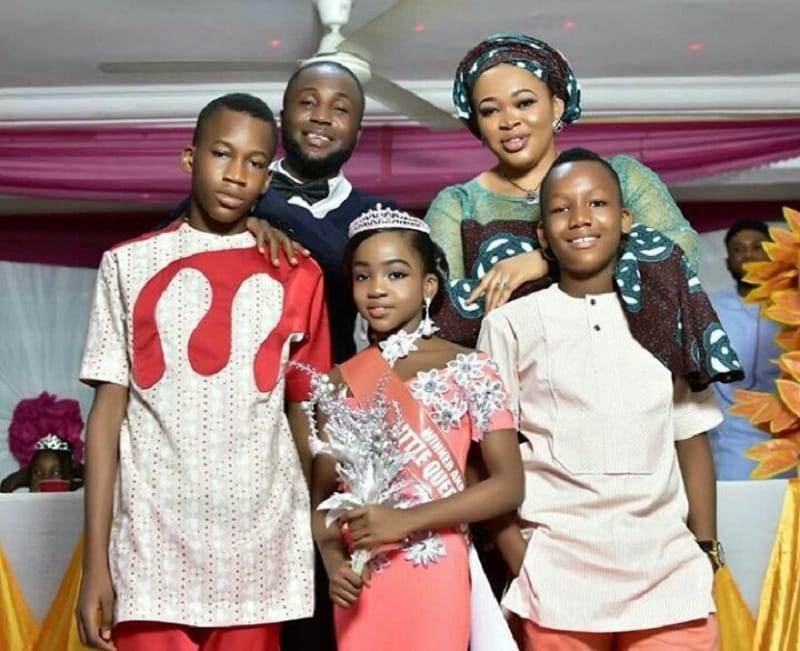 Gozie Okeke gay rumours
Gozie Okeke has suffered strong allegations of being gay in the media. The singer was at the centre of a heated Facebook controversy in 2010 over rumours that he is a homosexual. The reports got more intense after one Onitsha-based publication called "3rd Eye Magazine" published that the singer had raped a man into a coma in a hotel in Onitsha.
Gozie Okeke strongly refuted all these allegations. He also addressed the controversy in his album titled "What A World (Uwa Die Egwu)".
Gozie Okeke children
Gozie Okeke and his wife Njideka Okeke have three beautiful children together – 2 boys and a girl.
Gozie Okeke accident
Gozie Okeke was involved in a ghastly road accident in 2021 which left him confined to a wheelchair for months.
According to reports gathered by DNB Stories Africa, Gozie Okeke was involved in two road accidents in the year 2021 alone. The first one happened in February 2021 but was not as serious as the second one that occurred in August of the same year.
A video of the injured singer performing in a wheelchair made rounds on social media. Luckily, the singer has recovered from the two accidents.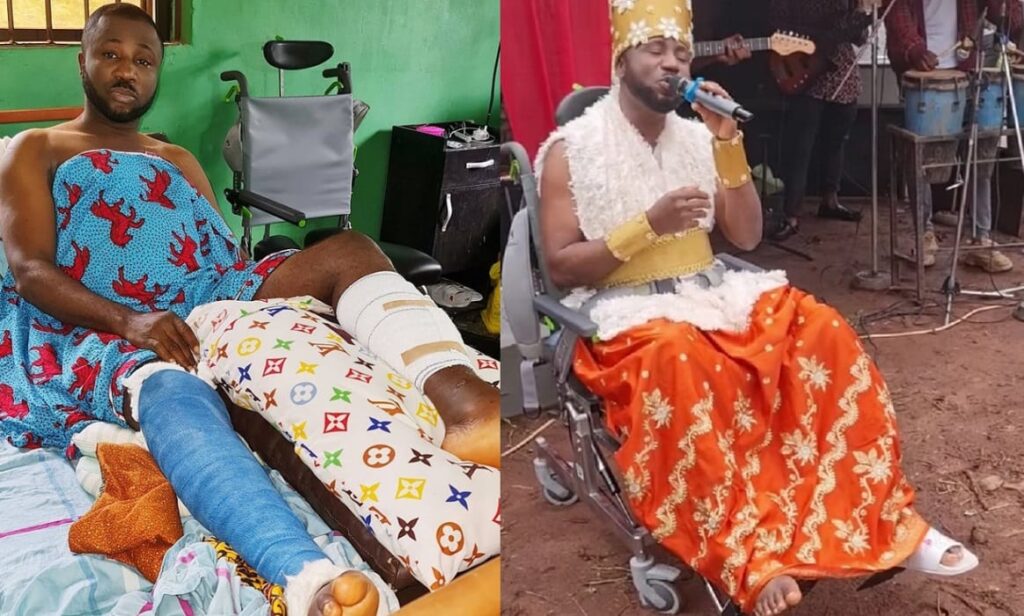 Gozie Okeke net worth
Gozie Okeke's net worth is currently estimated at N120 million, as of 2021. A large chunk of his wealth went into his treatments and he was also not able to work fully during the period he was sick.
Gozie Okeke on social media
Gozie Okeke's Instagram handle is @princegozie_okeke. His Facebook page is Prince Gozie Okeke.