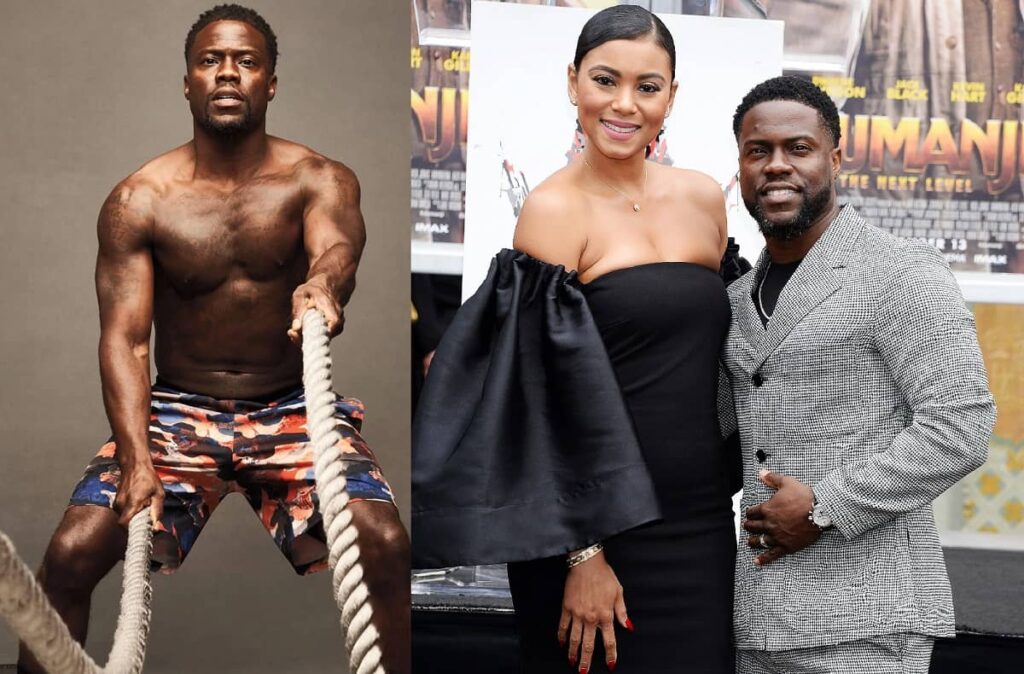 Who is Kevin Hart?
Kevin Hart is an American comedian, actor, movie producer, and television and media personality. He is well known for his performances in movies like "Jumanji: Welcome To The Jungle", "Think Like A Lady, Act Like A Man", "Wedding Ringer" and many others. He is also the host of the show "Celebrity Game Face" which started in 2020 and has aired for two seasons on the E! Network.
Kevin Hart's full name is Kevin Darnell Hart. He was born on July 6, 1979, in Philadelphia, Pennsylvania, United States. He is 42 years of May 2022. Kevin Hart was raised in a single-parent household by his mother Nancy Hart who worked at the University of Pennsylvania as a system analyst for the Office of Student Registration and Financial Services.
Unfortunately, his mother passed away in 2007. Kevin Hart's father was a cocaine addict who spent most of his years in jail. This ugly situation prompted Kevin to use humour as a way to get past his troubled family life.
Kevin Hart's marriage and wedding
Kevin Hart has been married twice. As of the time of publishing this article, Kevin Hart is happily married to his second wife, Eniko Hart. The couple has been married since 2016 and their union is blessed with two children. According to information gathered by DNB Stories Africa, Kevin Hart was previously married to his ex-wife Torrei Hart. The marriage lasted for seven years and produced two children before it crashed.
About Kevin Hart's current wife – Eniko Hart
Eniko Hart (née Parrish) is the current wife of actor and comedian Kevin Hart. She was born in Baltimore, the United States on August 18, 1984. She is 37 years old as of May 2022. She is of Afro-Jamaican and Asian descent, and her nationality is American. Eniko Hart came into the limelight as a result of her relationship with the famous actor. She also appeared on the BET Show "Rip The Runway" which first aired in 2013. The show was hosted by popular American actress and songwriter, Kelly Rowland and it focused on music and fashion.
How Kevin Hart and his second wife Eniko Hart met
According to some online reports, Kevin Hart and Eniko met in 2009 and made their first public appearance in 2011. This was after Kevin finalized his divorce from his first wife, Torrei Hart. On August 18, 2014, which happened to be Eniko's 30th birthday, he proposed.
Two years after their engagement, the couple got married on August 13, 2016, in Santa Barbara, California. They had their first child in 2017, and a month later after the birth of their child, Kevin publicly admitted to cheating on Eniko while she was pregnant. However, they reconciled and had their second child in September 2020.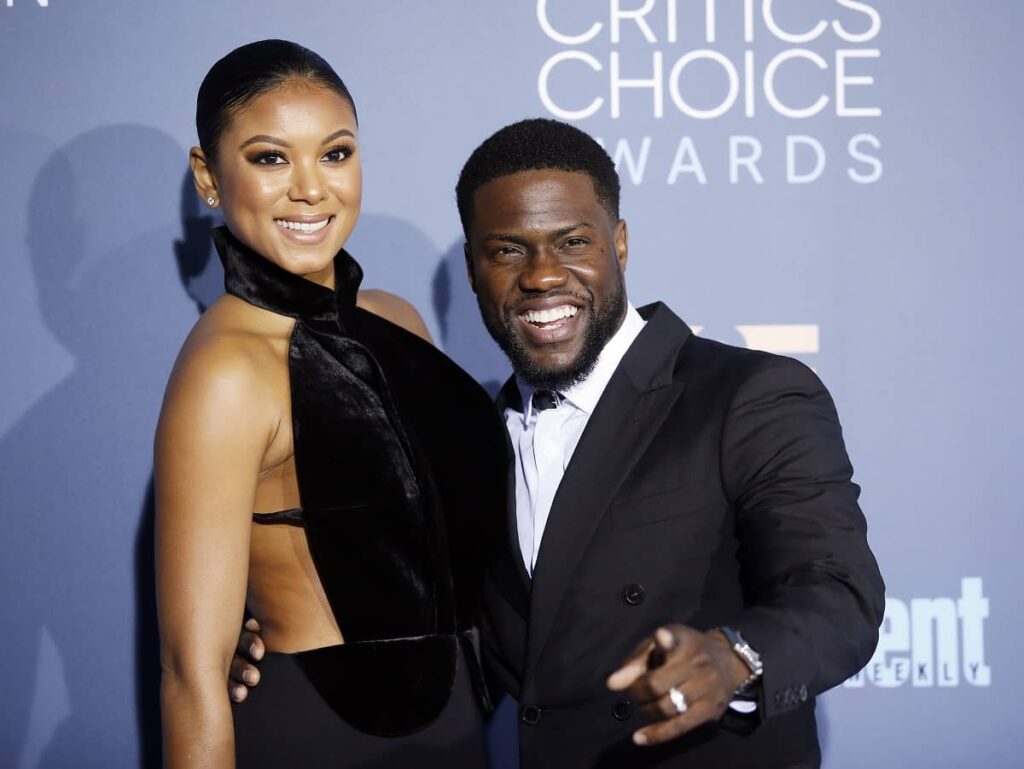 About Kevin Hart's marriage with ex-wife, Torrei Hart
Torrei Hart is Kevin Hart's ex-wife. She is an American actress, comedienne, producer, and TV personality. She has appeared in movies like "Super Turnt", "Alien Reign Of Man", "Perfectly Single" and "Workout Room".
Torrei was born on February 28, 1978, in Philadelphia, Pennsylvania. She is 44 years old as of May 2022. Kevin and Torrei met at the community college of Philadelphia when they were both 19 and 20 years respectively. According to Torrei, they both shared a passion for comedy, and in a bid to support their dreams, they dropped out of college together to pursue their entertainment careers. They relocated to Los Angeles and got married in 2003. They had their first child in 2005.
According to information gathered by DNB Stories Africa, the marriage crashed in 2010, after seven years. Kevin Hart filed for divorce in 2011, citing irreconcilable differences. The divorce was however finalized in November 2011.
According to online reports, Torrei Hart played a major role in trying to get Kevin's career off the ground, and when he finally found fame, Torrei started feeling left out and this was when they started growing apart.
Torrei Hart also revealed that Kevin was unfaithful to her with his current wife, Eniko Hart. She also revealed that the divorce led her down a dark path which made her battle with suicidal thoughts shortly after their split. After finalizing their divorce, Torrei reportedly received a sum of $175,000 and was granted custody of their children. Kevin Hart was also put on $19,785 monthly child support payments. It is however surprising that Torrei still kept her ex-husband's last name. According to her, Kevin never asked for his name back and above all, her kids don't want her to have a change of name.
Kevin Hart's children
As of the time of publishing this article, (May 2022), Kevin Hart is the proud father of four children – two of which were given birth to by his ex-wife Torrei Hart, and the other two by his current wife, Eniko Hart.
His first child, Heaven Leigh Hart whom the actor welcomed with his ex-wife, Torrei Hart was born on March 22, 2005. She is 17 years old as of May 2022.
His second child, Hendrix Hart whom he also welcomed with Torrei was born on October 8, 2007. He is 14 years old as of May 2022.
Kevin Hart welcomed his third and fourth child with his current wife, Eniko Hart. Their names are Kenzo and Kaori Hart. Kenzo Hart was born on November 21, 2017. He is 4 years old as of May 2022. Kaori was born on September 29, 2020. She is a year old as of May 2022.
List of Kevin Hart's children and their mothers
Kevin Harts children
Gender
Mother
Age
(as of May 2022)
1
Heaven Leigh Hart
Female
Torrei Hart
17 years old
2
Hendrix Hart
Male
Torrei Hart
14 years old
3
Kenzo Hart
Male
Eniko Hart
4 years old
4
Kaori Hart
Female
Eniko Hart
1 year old
Kevin Hart's cheating scandal with Montia Sabbag
Kevin Hart was reported to have cheated on his second wife, Eniko with American actress and model, Montia Sabbag during a trip to Las Vegas in 2017. It was reported that their sexual encounter was recorded in a video and was later released in a bid to extort the actor for millions of dollars.
At first, Montia publicly denied that she was not the one that released the video, and then, later on, she sued Kevin Hart for $60 million, insisting that he and his friend planned to hide the camera to record the video.
According to Eniko Hart, it was awful discovering how her husband had cheated. At that time, she was pregnant with Kenzo, and she described how she was torn between worrying about the baby and trying to be strong. Initially, Kevin Hart denied the rumours of his cheating scandal, but after a few months, he publicly admitted to it in a video he posted on Instagram alongside the caption that says,

I'm sending so many apologies to my wife and kids. I gotta do better and I will. I am not so perfect and have never claimed to be. I love you all.

The actor also went on to praise his wife, referring to her as the strongest person in the world.