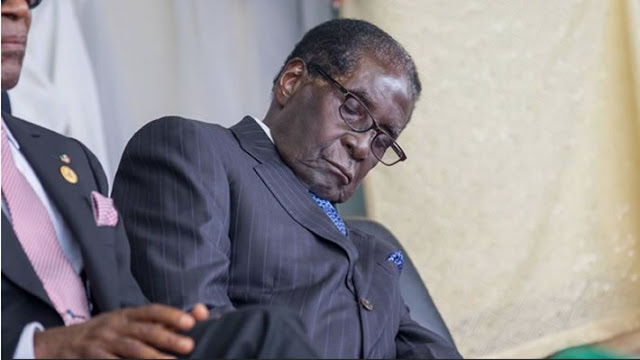 Zimbabwean President Robert Mugabe was confirmed on Saturday as his party's sole candidate for the next presidential election in 2018, when he will be 94.

Supporters at a party conference sang a song titled "Mugabe should rule until eternity" as the veteran leader rose to give a speech in which he called for an end to infighting within the ruling ZANU-PF over his eventual successor.
"We came with our problems, which we heard. We also came knowing we had differences. We agreed our differences should end and fighting should stop," said Mugabe, who has faced unprecedented protests this year.
Mugabe, the only ruler that the southern African nation has known since independence from Britain in 1980, has come under pressure from a deteriorating economy, corruption and cash shortages that have seen the central bank introducing a new "bond note" currency in November.
In July, he was deserted by some of his once stalwart supporters, war veterans that have backed him in previous elections.
Still, Mugabe retains unrivalled support in ZANU-PF, which is grappling with factional fights as party officials maneuver for advantage in a post-Mugabe era.
ZANU-PF's various entities, including the youth and women's wings, confirmed him as the sole candidate to contest the 2018 election at the end of a two-day conference on Saturday, which was held in Masvingo town, 300 km (186 miles) south of the capital, Harare.
That means potential successors who wish to challenge Mugabe for the leadership of the party would have to wait for the 2019 party congress when ZANU-PF chooses its leaders.
There are two camps vying to succeed Mugabe, with one with faction supporting Vice President Emmerson Mnangagwa while another backs first lady Grace Mugabe.
In one of its resolutions, the ZANU-PF Youth League said presidential term limits should be abolished and Mugabe should be declared life president.
Under the constitution adopted in 2013, Mugabe can only serve one final term.
Political analysts say Mugabe runs an effective patronage system that rewards supporters and punishes those who seek to challenge his rule, as happened to his former vice president of 10 years Joice Mujuru in 2014.
***
Credit: Reuters