by Damilare Shittu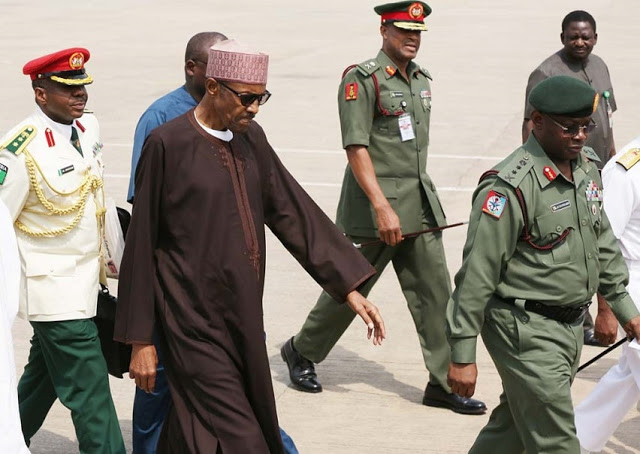 Before Muhammadu Buhari even decided to contest for the position of Nigeria's president, many Nigerians were fed up with the morally bereft and economically clueless policies of the previous government.
Former president Jonathan in spite of his seeming humility and apparent interest in the welfare of the country, was perceived by most people as a weak leader who by his sheer ineptitude encouraged his cabinet members to steal the country blind and profit from the misery of citizens.

It is on record that former president Jonathan presided over the most-divided country since the civil war. Having come to power himself riding on the goodwill of most Nigerians, (he was seen as a victim of power play by a sit-tight cabal led at the time by the First Lady of Nigeria when Jonathan was Vice President).
He was pushed to irrelevance and never had the authority accorded his position even when former president Yar'Adua was incapacitated and unable to lead the country. It was alarming that he became snobbish to the plight of Nigerians while further eroding the middle-class with his outrageous policies which only worked to make the rich, richer and the poor, poorer.
The ex president whose campaign resonated with most Nigerians who saw him as typifying the true Nigerian story (someone who made it against all odds), saw his popularity plummet sharply.
It wasn't long before Nigerians saw that Jonathan was not the president needed for the country and the opposition party milked the situation by spreading propaganda while at the same time constantly painting Jonathan as a corrupt and weak president who could do nothing about the dreaded terrorist group, Boko Haram and had no ideas to take the country to prosperity.
The Nigeria media and US government of former president Barack Obama were believed to be on the side of the opposition. That administration didn't help matters when there was no official word from the government until many days after young secondary school girls were kidnapped from their boarding school in Chibok, a small town in the North-Eastern state of Borno, even after many local and international media agencies were broadcasting the unfortunate incident.
This cemented perception toward the then president as insensitive. Many groups including another ex president cum political god-father of Jonathan became highly critical.
Fast forward to May 2015 and a new president was sworn in. President Buhari, a no-nonsense ex-military dictator who was known for his anti-corruption stance promised to wipe out Boko Haram and corruption from existence and people believed him — or maybe it didn't matter if he spoke convincingly or not, since Jonathan has become so unpopular anyway.
He was not going to get re-elected no matter who the opposition candidate was. Buhari, the same man who had lost three previous elections suddenly became the best man for the job.
His record of varying human rights abuses and double standards didn't matter anymore.
The opposition party with the media on their side did an excellent job of selling the idea that this previously-believed intolerant religious extremist who took ideas from no one was the president Nigeria needed at the time.
Pastors who had spent years painting him as someone to be avoided openly campaigned for his election and it was not a surprise that he won by a landslide.
Unfortunately, just like former president Goodluck Jonathan, president Buhari was not thoroughly prepared to be president.
Perhaps, just like Jonathan, he also only had good intentions but no plan and no sense of direction whatsoever.
He took many months to name his cabinet members and further polarized the country when he picked mostly Northern Moslem men to head political positions.
The hypocrisy came to fore when many of the people appointed got embroiled in one case of corrupt enrichment or the other while the president turned a blind eye.
Even though the narrative by this administration is that the previous government wrecked the country so badly it would take years to get back on track, there are no indications to point that we are heading toward that path even though there are recorded victories against Boko Haram in some parts of the country.
A significant population of the kidnapped school girls are yet to be rescued and we are in a recession with no evident plan to get out. Not one person arrested by the anti corruption agency (EFCC) has been sentenced and some of the suspected people are still serving in same Buhari's administration.
There is a lot flip-flopping on policies that it leaves people curious as to the competence of the president and his economic team. Even the First Lady openly criticized the actions of her husband.
If there's an election today, I wouldn't vote for President Buhari.
But it doesn't stop there, I'm not voting for any candidate for that matter. I believe they are all the same and no matter the good intentions they appear to have, they easily get drawn into the web of lies and corruption, selfishness and deceit when they get into office.
Many of the people who back candidates financially themselves have stolen public money and the president's hands are tied so he's unable to prosecute them.
The system is designed to enable corrupt officials enrich themselves without implication and until that is corrected, it doesn't matter who our next president is!


***


Damilare Shittu is a Nigerian by birth and a global citizen by affiliation.