by Staff writer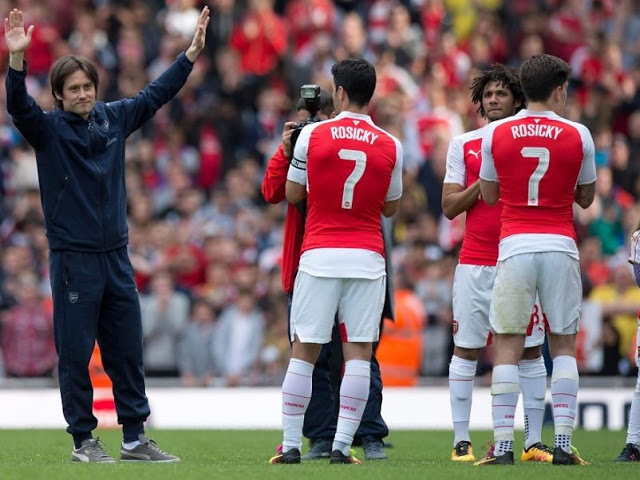 The meme below telling a story of one Arsenal player named David Dicks has been circulating round the web since the early 2000s: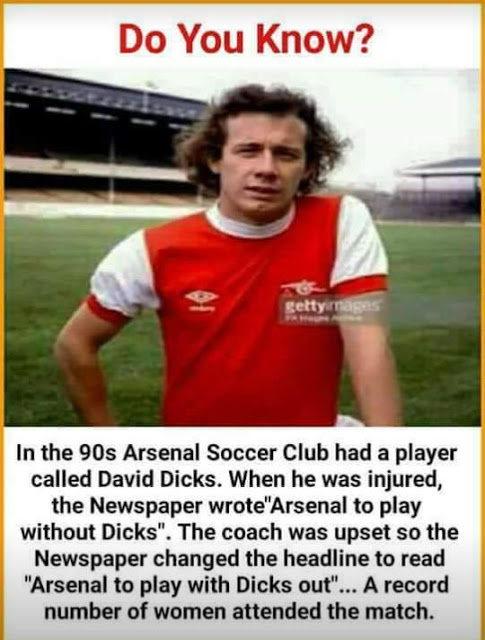 However funny the meme is though, it probably isn't TRUE.
First, no info about a David Dicks known to have played for Arsenal exists anywhere.
The only David Dicks we could find out about is 39-year-old Australian sailor who became the youngest person to sail non-stop and solo around the world.
Another David Dick who was an Australian rules footballer never played for Arsenal before his death in 1982 (the funny event in the meme is said to have occurred in the 90s).
Also, in some other memes with just the same story, "David Dicks" is replaced by "Newton Dicks", who again could not be confirmed as an Arsenal football player.
So the meme story, like many of its kind, is certainly false news.
Update: Further investigation has revealed there was actually an Arsenal player named John Dick who joined the club in 1898.
John Dick's profile on Arsenal.com reads: "Although goal scoring was not his forte, John [Dick] grabbed a brace in the Gunners' 12-0 victory over Loughborough on March 12, 1900, which remains Arsenal's biggest home league win. During the 1904/05 season, John became one of the first Arsenal players to reach 200 games for the Club, and also enjoyed a stint as captain. In total he played 284 games, scoring 13 goals, in his 14-year spell before moving to Prague to begin his coaching career."
We yet cannot confirm if John Dick was the Arsenal player that inspired the memes or his name was just a mix up with David Dicks.

Click below to read more about this topic:




Arsenal FC and Its Fans

London-based football club, Arsenal, has developed a strong following since its founding in 1886.

Since the 1980s, Arsenal's fans have often been referred to as Gooners, a derivation from the team's nickname, the "Gunners".

The club and its fans have regularly been featured in portrayals of football in British culture. A 2005 report estimated Arsenal's global fanbase at 27 million, the third-largest in the world.

A September 2011 report estimated Arsenal's fanbase at 100 million worldwide, still making them the third-largest team in terms of supporters. The club is also noted for constant, dissatisfied criticism of the team by many of its own supporters, even at times of success.