by Staff writer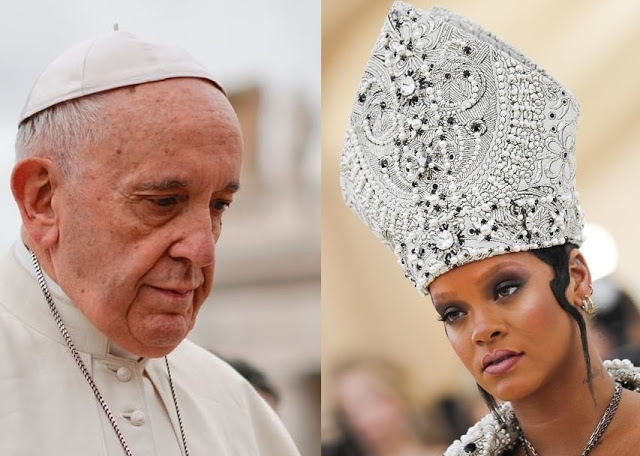 Since the 2018 Met Gala theme was unveiled, there's been a lot of speculations about how the Vatican was not in support of it.
There is even a viral fake tweet by the Pope admonishing Rihanna for her Pope-inspired Met Gala costume.

Speaking about the rumors, editor-in-chief of Vogue Magazine and chairwoman of the Met Gala Anna Wintour revealed they worked closely with the Vatican to ensure the event was a success.

During an appearance on The Late Show with Stephen Colbert, Wintour said organisers collaborated with the Catholic church in order to make the theme of the exhibition as authentic as possible.

Wintour also revealed one of the biggest worries she had was the seating arrangement.

According to the 68-year-old fashion journalist, many of the starlets who attend the gala night every year often express their displeasure over who've they've been allocated to sit with.

The "Heavenly Bodies: Fashion and the Catholic Imagination" theme of this year's Met Gala has been widely discussed, with some critics denouncing it as "religious appropriation".

However, Wintour assured Colbert that she hasn't personally received any backlash in regard to the use of Catholic iconography throughout the exhibition and ensembles worn by the guests.

"We worked very closely with the Vatican through the whole process and Cardinal Dolan, as I believe you know was one of our guests of honour at the dinner," Wintour told Colbert.

Cardinal Timothy Michael Dolan is currently the Archbishop of New York and previously served as the president of the United States Conference of Catholic Bishops.
The Archbishop said he 'didn't see anything sacrilegious' in the Met Gala's Catholic theme.

Father James Martin, a Jesuit priest and editor-at-large of Jesuit magazine America, also advised on the exhibition and attended the Met Gala wearing his traditional vestment.
Wintour stated that Father Martin's choice of clothing was her favourite male outfit of the night, as many guests mistakenly assumed that he had decided to dress as a "sexy priest" for the fashion extravaganza.
The magazine editor also praised "Pope Rihanna" for her attire, saying that she "nailed" her costume, and commended Amal Clooney for her red carpet dress, created by British designer Richard Quinn, and the stained glass-inspired Tom Ford dress that she wore later on in the evening.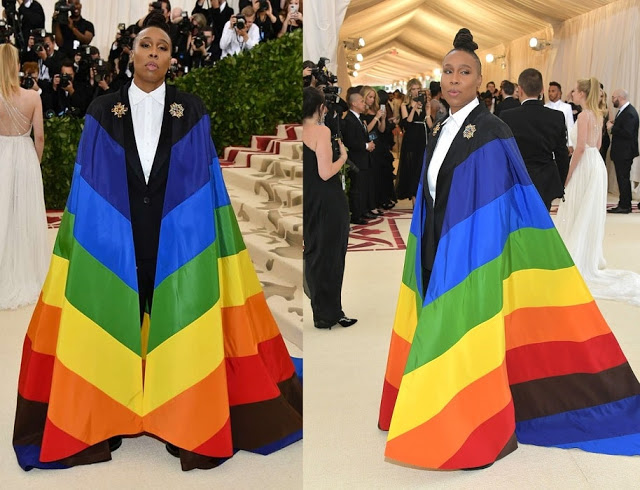 Lena Waithe at the 2018 Met Gala

The outfit worn by Lena Waithe, which Colbert described as a "political statement", received rapturous applause from the talk show audience for its inclusion of the LGBT+ rainbow flag.