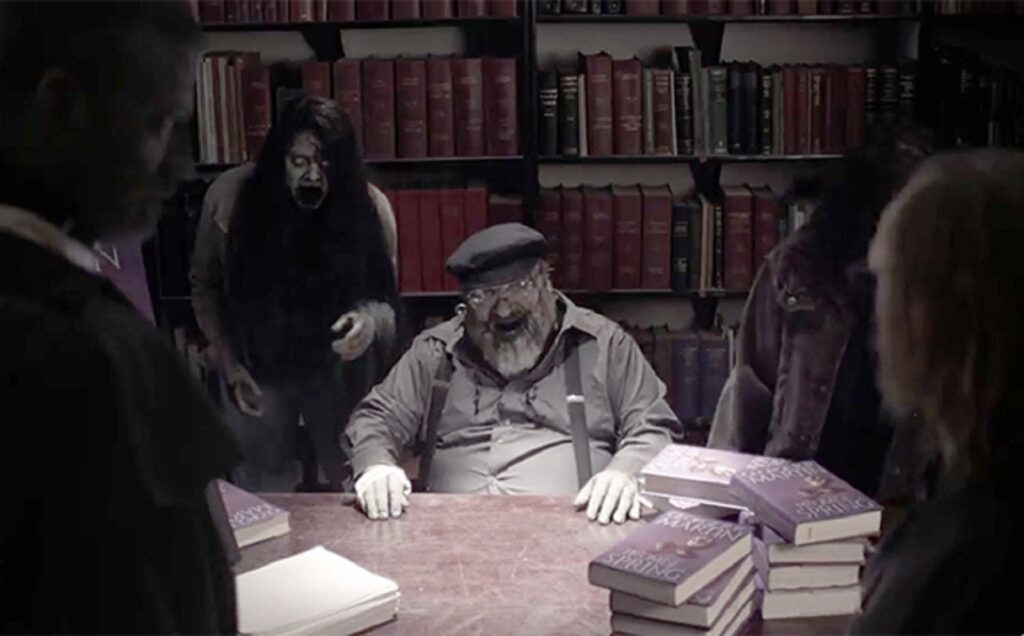 In what has been described as one of the most thrilling cameos in TV history, Game of Thrones author, George R. R. Martin appeared in an episode of the second season of Z-Nation as a zombie.
Yes, you heard that right! George R. R. Martin played a zombified version of himself on TV. It was so damn intriguing that episode became one of the most-talked-about episodes in the entire show.
George R. R. Martin appeared on the 8th episode of the second season Z-Nation, aptly titled "The Collector".
In the episode, Murphy (Keith Allan) falls into a trap set by a crazy zombie collector who is on a mission to build a zombie museum. The zombie collector guy introduces Murphy to Martin as one of his celebrity zombies who are kept in a special room.
Martin is described as having an impressive "muscle memory" for a zombie by the collector guy. He passes a copy of his book "A Promise of Spring" — a play off of Martin's "A Dream of Spring", and the Game of Thrones author insensately scribbled on the book (zombie style) as to sign it.
The collector guy informs Murphy he hopes to make tons of money from signed copies of Martin's books when eBay comes back. An unimpressed Murphy just wants to get away.
Watch the scene where George R. R. Martin appeared on Z-Nation below:
Z-Nation is a Syfy original post-apocalyptic TV series that aired on the network for 5 seasons, between 2014 to 2018. The episode with George R. R. Martin aired on October 30, 2015.
George R. R. Martin tweeted a throwback of the event in 2018.