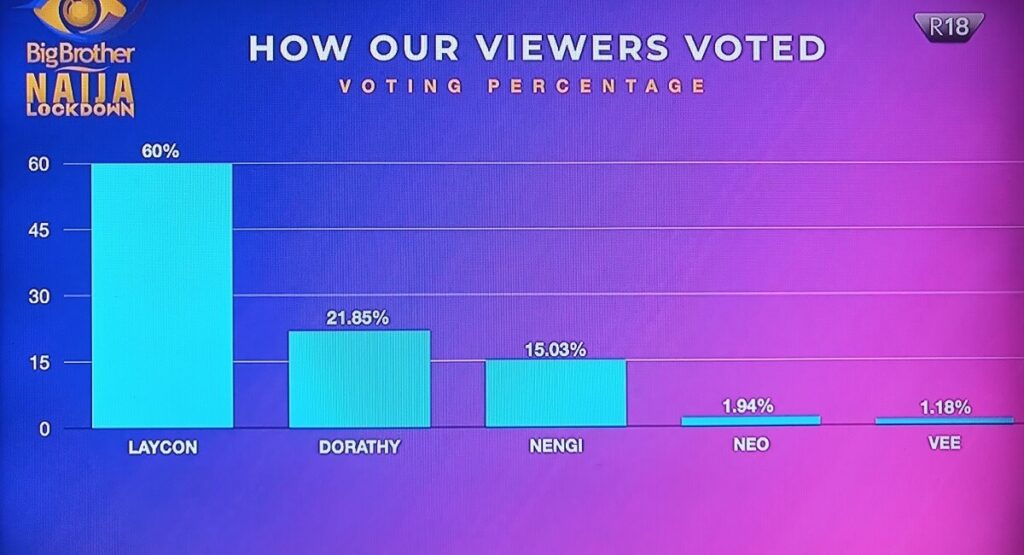 The organisers of the 2020 BBNaija Season 5 show has released the complete breakdown of votes for each week of the season.
Recall that the Managing Director of MultiChoice Nigeria, John Ugbe, earlier revealed that over 900 million votes were recorded across all voting platforms during the just-concluded Big Brother Naija Season 5 show, making it the highest-voted BBNaija season ever.
BBNaija organisers have gone ahead to release "the consolidated weekly voting results from the first week to the final week of the 5th edition of Big Brother Nigeria show that ran from July 19 to September 27, 2020:
In all the weeks he was up for eviction, housemate Laycon topped the votes while Erica came second.
Week 1:
Laycon – 24,28%
Erica – 15,60%
Nengi – 10,62%
Dorathy – 9,30%
Ozo – 8,84%
Kiddwaya – 6,33%
Neo – 3,76%
Brighto – 3,52%
Wathoni – 2,93%
Vee – 2,47%
TolaniBaj – 1,84%
Tochi – 1,82%
Kaisha – 1,63%
Trikytee – 1,61%
Lilo – 1,52%
Eric – 1,37%
Praise – 1,28%
Ka3na – 1,28%
Week 2:
Laycon – 26,55%
Erica – 16,20%
Nengi – 12,73%
Kiddwaya – 5,98%
Prince – 5,54%
Brighto – 4,20%
Lucy – 4,08%
Neo – 3,67%
Tolanibaj – 3,30%
Vee – 3,28%
Praise – 2,99%
Wathoni – 2,76%
Kaisha – 2,41%
Trikytee – 2,29%
Tochi – 2,11%
Eric – 1,91%
Week 3:
Laycon – 27,36%
Nengi – 12,05%
Dorathy – 10,89%
Ozo – 8,09%
Lucy – 7,71%
Prince – 4,97%
Praise – 4,18%
Vee – 3,89%
Tolanibaj – 3,77%
Brighto – 3,76%
Kaisha – 3,48%
Trikytee – 3,47%
Wathoni – 3,25%
Neo – 3,13%
Week 4:
Laycon – 25,06%
Erica – 17,28%
Nengi – 10,69%
Dorathy – 8,48%
Neo – 7,31%
Ozo – 6,79%
Lucy – 5,42%
Brighto – 3,86%
Prince – 3,84%
Trikytee – 3,58%
Wathoni – 3,25%
Vee – 2,79%
Praise – 1,65%
Week 5:
Laycon – 24,97%
Erica – 16,09%
Trikytee – 8,80%
Dorathy – 8,54%
Vee – 8,03%
Prince – 7,64%
Neo – 6,90%
Kiddwaya – 5,62%
Lucy – 4,41%
Wathoni – 3,57%
Tolanibaj – 2,75%
Brighto – 2,64%
Week 6:
Laycon – 41,41%
Kiddwaya – 16,20%
Nengi – 13,31%
Trikytee – 11,19%
Vee – 9,76%
Lucy – 8,12%
Week 7:
Ozo – 27,97%
Dorathy – 26,58%
Kiddwaya – 24,92%
Prince – 20,53%
Week 8:
Laycon – 50,11
Dorathy – 26,68%
Ozo – 19,11%
Trikytee – 4,10%
Week 9:
Laycon – 60,00%
Dorathy – 21,85%
Nengi – 15,03%
Neo – 1,94%
Vee – 1,18%