Written by Deborah Oladapo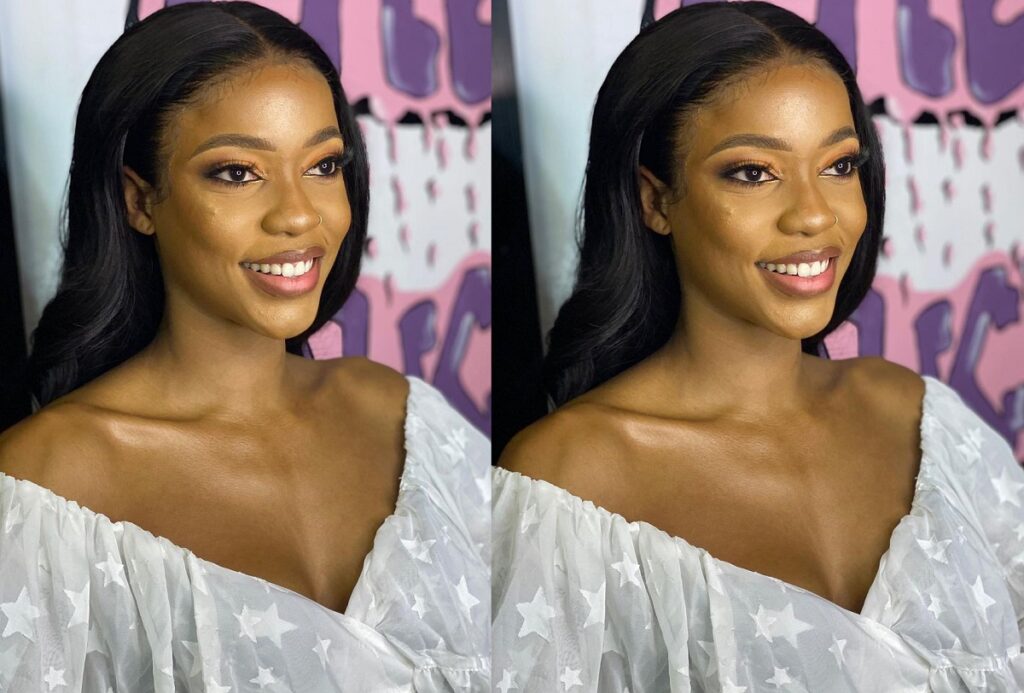 Who is Efe Irele?
Efe Irele Michelle is an award-winning Nigerian actress who has featured in over 50 movies and TV series, including Scandals, The Real Side Chic, Wrong Side of War, Aso Ebi and Lagos Real Fake Life. Asides acting, Efe Irele also has a successful career as a model and film producer.
Full data profile of Nollywood actress Efe Irele
| | |
| --- | --- |
| Full name | Efeilomo Michelle Irele |
| Age | 30 years |
| Birthday | September 4, 1990 |
| Gender | Female |
| State of Origin | Edo State |
| Parents | Unknown |
| Height | 5″5 |
| Marital Status | Single |
| Tribe | Edo |
| Career | Actress, model, movie producer |
Efe Irele's childhood and education
Efe Irele is a native of Edo State but she was born and raised in Lagos State. She has three siblings. Efe Irele attended Corona Primary School, Lagos, and had her secondary education at Queens College, Yaba.  
Efe Irele holds a B.Sc degree in Sociology from Bowen University, Oyo State. She later proceeded to the University of Chester, London, where she acquired an M.A degree in Human Resource Management.
Efe Irele's acting career
Efe Irele decided to try acting after working as an HR manager for several months. She landed her first role in the 2016 Iroko TV series, Aso Ebi. According to Efe, the experience was both challenging and motivating.
Efe Irele gained more popularity when she acted the role of Keke in the 2017 Nollywood drama, The Real Side Chics alongside Nollywood star actors Desmond Elliot and Daniel Lloyd.
In an interview with Pulse Ng, Efe Irele revealed that venturing into the acting industry was a tedious task. She revealed how her father initially refused to support her decision to become an actress. She said she won her father's heart over when she began to make major milestones as an actress and he eventually became one of her biggest fans.
Efe Irele's movies
Here is a list of movies Efe Irele has appeared in:
Mourning Karen (2017)
The Real Side Chics (2017)
Zahra (2017)
Jon Ajai (2017)
Aso Ebi (2016 – 2017)
Single Ladies
Lagos Real Fake Life (2018)
Stronger Together (2018)
Blood Letters (2018)
Wrong Kind of War (2018)
Diva (2018)
Scandals (2018)
Sophia (2018)
Finding Happiness (2018)
Blind Voice (2019)
Descendants of the Earth (2019)
Akpe (2019)
Manifestation (2020)
Becca's List (2020)
Poor-Ish (2020)
Sweet Melony (2020)
Separated (2020)
When the Lemons Come (2020)
Efe Irele as a video vixen
Prior to acting, Efe Irele appeared as a video vixen in numerous music videos of Nigerian hip-hop musicians such as Adekunle Gold and Burna Boy.
Efe Irele's awards and achievements in Nollywood
Star actress Efe Irele has made quite a feat in the Nollywood industry. In 2018, she won the 'Best New Actress of the Year' and the 'Best Upcoming Actress of the Year' at the City Peoples Movies Awards.
Efe Irele's marriage
Efe Irele is not currently married but has revealed she has a boyfriend. Efe Irele disclosed her boyfriend is a jealous lover.
Efe Irele's relationship with Akin Alabi
Nollywood actress Efe Irele and Nigerian politician Akin Alabi have been at the centre of media attention over their rumoured relationship for long. The 43-year-old married politician is reportedly in an open romantic relationship with Efe Irele. Akin Alabi recently gifted Efe Irele a house in her name in Lekki, Lagos.    
Efe Irele's net worth
Efe Irele's net worth is currently estimated to be around $250000 (N100 million naira).
Efe Irele's Instagram and twitter
Efe Irele is active on social media. Her Instagram handle is @EfeIrele. Her Twitter handle is @EfeIrele.
Other interesting facts to know about Nollywood actress, Efe Irele
Efe Irele developed an interest in autism at a tender age in a bid to support her autistic younger brother. She learned a lot on the topic while in the UK, and established an autism foundation on her return to assist and give hope to autistic children.
Efe Irele is also a lover of pets, dogs precisely, and she has a blog where she tells stories about her dog-episodes.