Many Nigerian artists and painters have gained recognition for their talent by sharing their creations on social media.
But this was not the case of Nigerian artist Adeyinka (@adeyinka_art on Twitter) who drew popular Nigerian politician, entrepreneur and author Otunba Akin Alabi and shared on Twitter.
"Please retweet if you love this artwork," Adeyinka begged his followers while also tagging Akin Alabi's handle.
In a sad turn of events, when Adeyinka's art reached Mr Alabi, the 43-year-old politician replied frankly that he does not like the painting.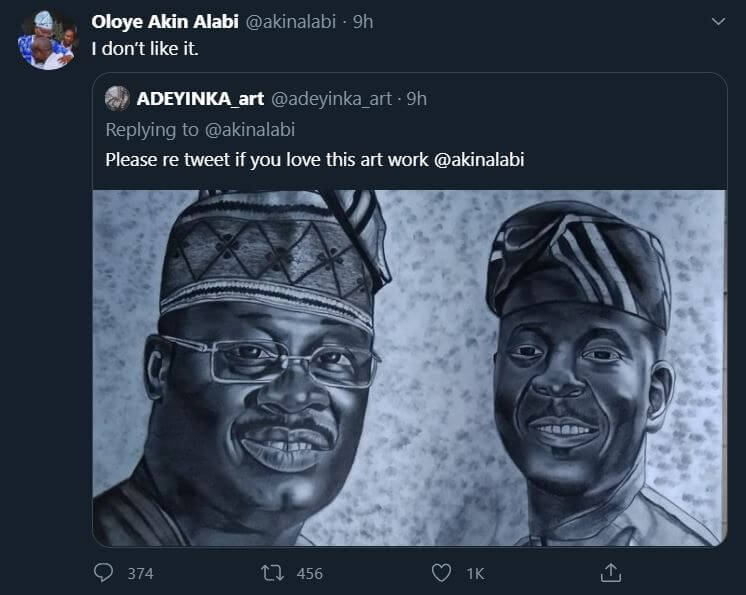 "I don't like it," Akin Alabi replied Adeyinka.
Mr Alabi's reply caused mixed reactions on Twitter. While some Twitter users opined he was too blunt and could have given a more encouraging response to Adeyinka, others said there was no need to sugarcoat the reply.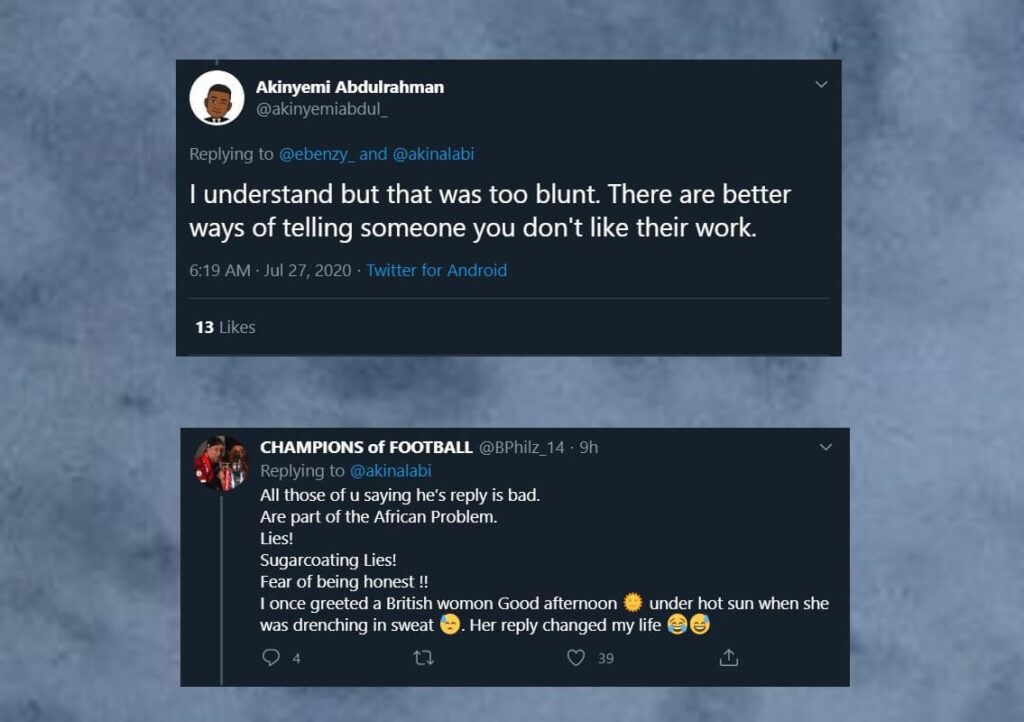 A major way artists and painters get attention and recognition for their talent on social media is by painting or drawing famous people.
Last year, a Nigerian pencil artist Eli Waduba Yusuf caught the attention of ace American actor and comedian Kevin Hart after he shared a pencil drawing of him on Twitter.
Seeing the artwork, Kevin Hart in a move that made several headlines in the press, personally acknowledged Yusuf's work and admitted he liked it and would want to buy it.
Kevin Hart wrote to Eli Waduba Yusuf who was based in Kaduna, a state in Northern Nigeria, on Twitter: "I see it and I want to purchase it…I also want to support you and your amazing talent by giving you a fee to do a pencil drawing of 3 of my celebrity friends that I can gift it to. DM your info and let's get to work!"
Yusuf later told the BBC that Kevin Hart acknowledging his art was "like a dream".