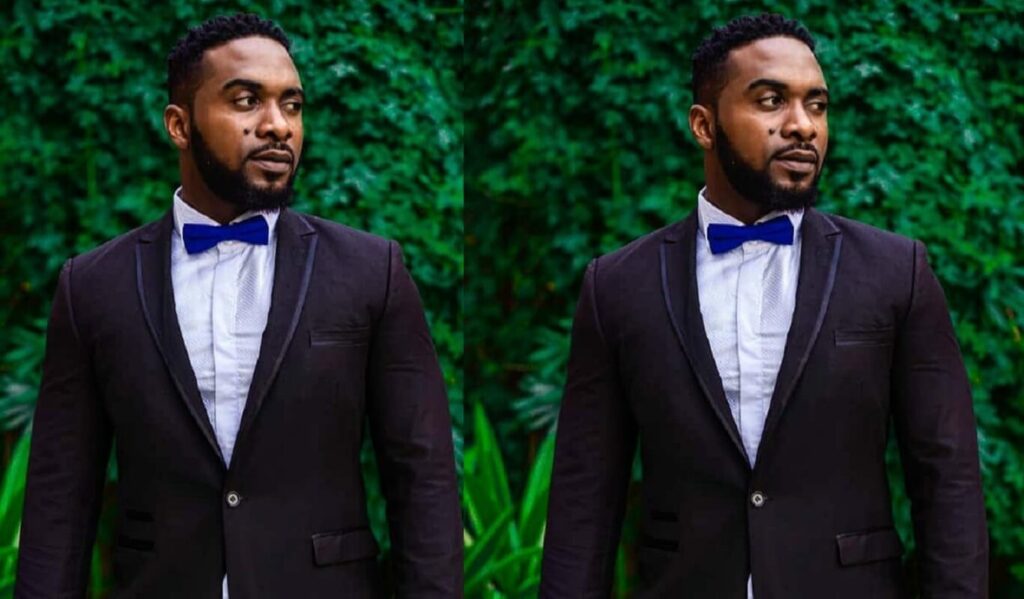 Who is Uzor Arukwe?
Uzor Arukwe is a Nollywood actor and model who has featured in over 200 movies. He hails from Abia State in Eastern Nigeria. He is popularly known for his role as Inspector Sam in the 2017 action/comedy Sergeant Tutu.
Data profile of Nollywood actor Uzor Arukwe
| | |
| --- | --- |
| Full name | Uzor Arukwe |
| Age | 37 years |
| Birthday | 6th of August 1983 |
| Gender | Male |
| State of Origin | Abia State |
| Parents | Unknown |
| Height | 5″11 |
| Marital Status | Married |
| Tribe | Igbo |
| Career | Actor, movie producer and model |
Uzor Arukwe's childhood and education
Uzor Arukwe is an indigene of Abia State which is located in the south-eastern part of Nigeria. Uzor is from a family of 10. He was born and raised in Lagos State, Nigeria. Uzor Arukwe had most of his early education in Lagos State but had his secondary education in the Nigerian Navy School, Port-Harcourt. He travelled to Abia for his university education at the Abia State University where he bagged a Bachelor's degree in Economics in 2007. Thereafter, he proceeded to attain his Master's degree from the University of Calabar in 2009.
Uzor Arukwe's acting career
Uzor Arukwe started acting professionally with a secondary role in the popular TV series Flatmates alongside Yaw in the early 2000s.
His big break came in 2017 after he starred in the popular comedy, Sergeant Tutu. So far, Uzor has had the opportunity to work with some of Nollywood's biggest stars.
Uzor Arukwe has featured in over 200 Nollywood movies and counting. He is known for the authority he exudes in delivering his lines and his ability to blend into any film genre ranging from comedy to high-paced action movies.
Uzor Arukwe's movies
Lunch Time Heroes (2015)
Island Babes (2016)
Boys Will Be Boys (2016)
Sergeant Tutu (2017)
It's About Your Husband (2017)
Countdown (2017)
Unspoken Truth (2017)
In Line (2017)
Evol (2017)
Unbroken (2018)
Smash (2018)
Blood Letters (2018)
Over The Fence (2018)
My Name Is Ivy (2018)
Looking Back (2018)
Oga Pastor (2019)
Size 12 (2019)
Girlfriends (2019)
Sugar rush (2019)
[K]Pali (2019)
Taken (2019)
The Set Up (2019)
Uncommon Event (2019)
Heart of Gold (2019)
Hire A Woman (2019)
Dear Affy (2020)
Uzor Arukwe's awards and nominations
Uzor Arukwe was nominated for the Best Actor in a Comedy or Movie award at the 2020 Africa Magic Viewers' Choice Awards (AMVCAs) for his role in the hilarious comedy movies – "Smash" and "Size 12".
Uzor Arukwe's marriage and wife
Uzor Arukwe is married to Barbra Boyd-Arukwe, who is the Head of Human Resources in Fitness and Sports Solutions Limited, where he also works. The couple has a daughter together. Uzor prefers to keep his family life very private and far away from his celebrity spotlight.
Uzor Arukwe's net worth
An estimate of Uzor Arukwe's current net worth based on calculated earnings from his income sources puts it at around $360,000 (N140 million naira).
Uzor Arukwe's Instagram and Twitter
Uzo Arukwe's Instagram handle is @uzor.arukwe and his Twitter handle is @uzzyoflife.
Uzor Arukwe on Wikipedia
Uzor Arukwe does not have a personal Wikipedia page yet.
Other interesting facts about Nigerian actor Uzor Arukwe
Uzor Arukwe has a signature mole on a side of his face, a point between his nose and mouth. The mole has contributed to enhancing Uzor's handsomeness and has remained one of his most striking features.
Does Uzor Arukwe stutter in real life?
Contrary to popular speculations, Uzor Arukwe is not a stutterer in real life. He only happened to play the role of a stammerer flawlessly in the comedy series, Flatmates.
Uzor, who grew up in the 80s, is from a very poor background. He lived with his parents in a shanty, popular known as "face me I slap you" house situated in Lawanson, Lagos. Uzor was able to beat the odds his background threw at him, eventually making it big in the Nigerian film industry. Uzor Arukwe is currently one of the most-sought-after Nollywood actors of his age in the industry.
Aside from acting, Uzor Arukwe also produces his own movies. Uzor Arukwe is also a digital expert. Currently, he works as the Digital Communications Manager and Facilities Manager for Fitness and Sports Solutions Limited, Nigeria. He also models occasionally.