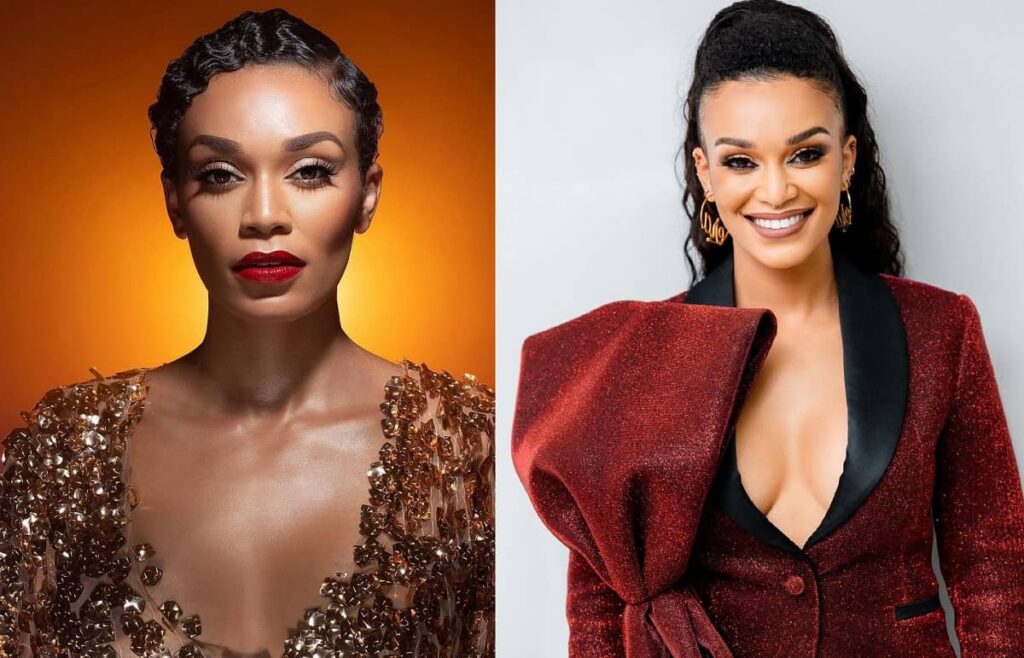 Who is Pearl Thusi?
Pearl Thusi is a popular South African actress, model, television host and radio personality. She gained popularity after her role as Patricia Kopong in the 2008 TV series "The No.1 Ladies' Detective Agency". Her titular role in the South African crime drama series, "Queen Sono" helped establish her name in the movie industry.
Thusi has featured in several blockbuster films including the ABC thriller, "Quantico", and the Netflix romance film "Catching Feelings".
Pearl Thusi is also the lead character in the South African crime drama, "Queen Sono". Thusi is fondly called Mamma Pantha by her fans. She co-owns a beauty and hair brand called Black Pearl Hair Care Collection in partnership with Afro-Botanics.
Pearl Thusi's early life and education
Pearl Thusi's full name is Sithembile Xola Pearl Thusi. Her name, Sithembile, means, "we hope". She was given the name because, before her birth, her parents were seriously hoping for a male child.
The star actress was born on May 13, 1988, in Kwazulu-Natal, South Africa. Thusi is 33 years old as of April 2022. She grew up with her parents and siblings – Silinde and Sanilisiwe in the township of KwaNdengezi, Durban.
Pearl Thusi's early life was very challenging as her father, Mr Bhekizizwe Thusi abused her mother till she died.
"I could cry, actually," she said, when asked to recount her childhood experience in Durban.
Thusi attended Pinetown Girls' High School. She went further to study Speech and Drama at the University of the Witwatersrand but pulled out after she got pregnant.
How Pearl Thusi started her career
Pearl Thusi's career path depicts a true story of courage and determination. In high school, she started participating in local pageants until she was discovered by a modelling agency that trained her to model professionally.
At 15, Thusi contested for Miss SA Teen, where she came second place. She went further to study Drama at the University of Witwatersrand, Johannesburg, South Africa. To support her family, Thusi had to combine schooling and modelling. While modelling, she developed an interest in acting but couldn't secure any gigs.
About Pearl Thusi's pregnancy
Pearl Thusi got pregnant at the age of 19 while still in school and was forced to drop out. She was not permitted to work and study at the same time. It was at that point she decided to take a break from modelling and pursue her acting career.
In 2009, she got her first major acting gig on the BBC comedy-drama series, "The No. 1 Ladies' Detective Agency". Other gigs followed not long after. As a TV host, Thusi co-hosted MTV's Lip Sync Battle Africa alongside Nigerian artist, Dbanj. She is currently the host of Ebonylife TV's talk show, Moments.
In 2021, Thusi featured in the Netflix supernatural action thriller, "Fistful of Vengeance" which was released on February 17, 2022.
Pearl Thusi's wiki profile
| | |
| --- | --- |
| Full name | Sithembile Xola Pearl Thusi |
| Place of birth | Kwazulu-Natal, South Africa. |
| Date of birth | May 13, 1988 |
| Age | 33 years old |
| Baby daddy | Walter Wokoena |
| Husband/Boyfriend | Shaun Keith Alfred Bonétt |
| Height | 1.69m |
| Occupation | Actress, Tv host |
| Net worth | est. $2 million |
| Instagram | @pearlthusi |
Pearl Thusi's marriage and wedding
As of the time of publishing this article (April 2022), Pearl Thusi is not married and does not have a husband. However, she is currently dating Australian businessman, Shaun Keith Alfred Bonétt (or simply Shaun Bonétt), and they are allegedly engaged, according to some reports.
Even though they are not officially married as of April 2022, Thusi prefers to refer to him as her husband. The love birds had been secretly dating for some time but the affair came public in July 2021, after Shaun Keith's name was found in court papers Thusi filed to adopt a relative's child.
According to information gathered by DNB Stories Africa, plans are already on the ground for their wedding which is scheduled to take place later this year.
About Pearl Thusi Husband/ Boyfriend — Shaun Keith Alfred Bonett
Pearl Thusi's boyfriend or soon-to-be husband, Shaun Keith Alfred Bonétt, is the CEO of Precision Group, a conglomerate involved in retail, commercial and hospitality services. He also co-founded Prezzee, a company that deals in digital gift cards and vouchers.
Shaun Bonétt is from Australia where he lives with his only daughter, Eve. He got married to model Vanessa Baron in 2004 and there are no reports on whether they're still married or divorced.
Pearl Thusi's children
Pearl Thusi has two daughters as of April 2022. She had her first daughter, Thandolwethu Mokoena with her ex-boyfriend, Walter Mokoena. However, her second daughter, Okuhle Thusi was adopted from Ghana.
About Pearl Thusi's Baby Daddy – Walter Mokoena
Walter Mokoena is the father of Pearl Thusi's first child, Thandolwethu. He is a South African sports analyst and news broadcaster. Pearl Thusi had a daughter for Walter Mokoena when she was just 20 years old. According to reports, the difficulties surrounding her early pregnancy led to their separation.
"Our relationship wasn't good at all," the Quantico star said when asked about her relationship with her baby daddy.
Walter Mokoena is currently married to Nosizwe Vuso, his long term girlfriend and they have another daughter together.
Pearl Thusi's net worth
Pearl Thusi's net worth is estimated to be around $2 million, as of 2021. She is believed to be one of the highest-paid South African actresses of her time. Her successful career as an actor, businesswoman and TV host is her main source of income.
Pearl Thusi's Grammy Awards controversy
On April 5, 2022, Pearl Thusi took to her Twitter page to express how disappointed she was in Nigerian singer Wizkid not winning a Grammy award. She added that Wizkid's loss is another reason why she doesn't take the Grammys seriously.
However, her comment stirred mixed reactions, especially from South African tweeps. Many of them believed Thusi's tweet was an indirect shade at South African artiste, Black Coffee, who won the Grammy award for Best Dance/Electronic Album – the first African to win the category.
"She should be more concerned about Black Coffee's win and leave Nigerians to bother about Wizkid," one Twitter user wrote.
After receiving much backlash, the actress wrote on Twitter, "The fact that tweet has made me trend is actually boring. Abenye benu nibhorekile…"