A New Kind of Queen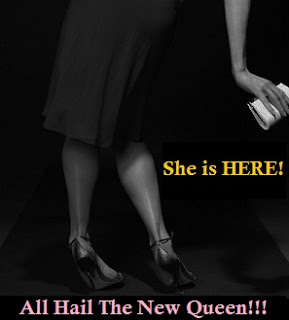 One of the men opened the jerry can they were carrying and sprinkled petrol all over the car while his mate flicked the lighter on.
But then the light died before he could throw it out.
Trying to flick it on again, the tiny knob broke.
His partner signalled they should bolt.
And immediately they did.
And that was how it came to pass that an unconscious roommate trapped in a badly crumpled car was not burnt to ashes.
People soon rushed to the scene of the incident to help, but only one among the two victims survived.
***
Josh stabbed Rachel first, straight into the belly, and then turned to April.
Rachel dropped to the floor, clutching her belly. Brown blood dribbled down her hands.
Josh gave a hideous smile, coming closer to April. 'You know,' he said to her, 'you are the first woman I truly ever loved.'
April drew back, her fear-widened eyes at him.
Josh continued toward her. 'But you said no,' he said. 'You said I was not good enough for you.'
April was breathing fast.
'And now you've changed,' Josh continued. 'You became the bald lady too.'
'You are a monster,' April said to him.
Josh nodded, as if in agreement. 'Whatever I am, you made me.'
'I am not the bald lady,' April said. 'I am not the one who did this to you.'
'Oh you are,' Josh said. 'It is you. Only you was capable of a torture like that, only you. Only you was capable of turning sweet love into great pain. Only you.'
'You have to take control of yourself, Josh,' April said. 'Fight whatever you've become.'
Josh smiled again. 'Of course,' he said. 'And this is the only way.' He sent the knife into April's belly.
April groaned out in pain.
She looked down on the knife stuck to her belly and then did something that shocked even the monster before her.
Slowly, she pulled out the knife and with the speed of light sent it into the side of his neck.
And then she pulled it out and sent it in again.
And again.
And again.
Till he fell to the floor, dead.
And then she fell too.
Still clutching her belly, Rachel dragged through her blood to her handbag.
She removed her phone.
With the last drop of life in her, she dialled the police.
'Armed robbers just attacked my home,' she told them. 'They killed my husband and attacked my friends!'
***
Days passed.
Weeks followed.
And then months.
The four roommates all in black walked out of the cemetery gate where they had gone to drop flowers and pay their last respect to a once dear friend.
Harry.
***
At home, Georgina asked April, 'How do you feel?'
April nodded. 'I'm fine,' she said. 'Can I ask you a question, Georgina?'
'Go on,' Georgina said.
Loveth and Rachel were with April on the bed while Georgina sat on the chair.
'Is Harry's stepmother the same woman we met once on the road that you introduced to us as your aunty?' April asked Georgina.
'No,' Georgina said. 'That woman is not my aunty.'
'Then who is she to you?'
Georgina was quiet. Then she exhaled and said, 'I have something to tell you all.'
And with that she narrated to them how she met Mrs Onwa and what transpired between them.
'Jesus Christ, Georgina you slept with a woman for money?' Loveth screamed first.
Georgina shook her head. 'No. I didn't do it, I swear.'
'You lied to us for so long,' April said.
'I'm sorry, please forgive me.'
April stood. 'Pack your things and leave my room,' she said to Georgina.
'April, please.'
'Now!'
'April?'
'Georgina, I said now!'
Georgina stood and walked to her bag and started to pack.
Rachel got up. 'Georgina stop,' she said. She turned to April. 'April, how dare you?'
'Didn't you hear her, she is a liar!' April said.
'And she is also a lifesaver!' Rachel said. 'Never you for one day let something good to go because of a bad that can easily be forgotten.'
April stared at her. 'What do you mean?'
'We are all bad people in this world,' Rachel said. 'We lie, we cheat and secretly wish to have things that belonged to others. But as long as we respect human lives and would do anything within our power to ensure the safety of others, then any of such little acts of desperation can easily be forgiven. Let it go, April, I beg you.'
'April, please listen to Rachel,' Loveth said. 'We have been through so much together to be brought apart by this.'
April's chest rose and fell.
They continued to stare at her, the air in the room tense with suspense.
'Well, she can stay on one condition,' April finally said.
Georgina quickly nodded. 'Mention it.'
'That she promises never to lie to us again.'
'I promise!' Georgina quickly said.
'And then one more thing—' April was adding and their eyes ran to her again. '—she will be the one to cook and clean the room for the rest of the semester.'
Georgina's eyes popped. 'Cooking and cleaning till the semester ends?'
'Yes!' April said.
'Then I'm leaving!' Georgina turned to start packing her things again.
April smiled and walked to her and hugged her. 'Don't you ever lie to us again,' she told her.
'I won't,' Georgina said, hugging her back.
And with that the four roommates came together and hugged themselves.
***
'Do you think Harry's stepmother is behind his death?' Rachel asked after they had settled back down.
'I don't think it,' April said. 'I know it. That crash was no accident.'
'It really didn't feel like one,' Loveth muttered.
Outside their window, the cry of a baby was heard. The girl called Theresa had given birth a few weeks ago.
'Take your stupid baby out of that window!' Loveth yelled out to her.
'Please don't say that again,' Rachel said.
They all turned to look at Rachel.
'I'm sorry,' Loveth said. 'I just find it annoying the rate at which female students are having babies these days.'
'It doesn't matter,' Rachel said. 'You should never ever be angry with a child.'
Loveth nodded. 'I'm sorry if I brought back old memories.'
'It's okay,' Rachel said. 'I've healed.'
Rachel had lost her pregnancy the time she was stabbed.
She stood and carried her bag. 'I'll be leaving now.'
They all got up to see her off.
***
Some weeks later, she came by and told them she has sold off her father's company.
'What? Why?' April asked her.
Rachel gave a wave. 'Oh, please!' she said. 'All those asset management stuff is gravely boring.'
'So what are you going to do now?' April asked again.
'I'm moving.'
'Really?' Loveth said.
'Yes.'
'To where?'
'Lagos. I already bought a house in Gbagada and a shop in Lekki Phase 2.'
'Wow, that's so cool,' Loveth said.
'Shut up!' Georgina said to Loveth. 'The prodigal daughter just sold a multi-million-naira company to buy a shop and you are here smiling and saying it's cool.'
'What are you going to be selling?' April asked.
'It's a multi-department shopping complex. There is a hair salon, boutique and a world-class massage therapy centre.'
'Wow!'
'Yes, girls! You all are free to come anytime except Georgina.'
'Why?' Georgina asked. 'What did I do?'
'That's your punishment for being so rude and mean!'
'Please forgive me,' Georgina said. 'I did not know salon and boutique is involved.'
'What kind of business do you think I would have started before?'
'Food stuff business,' Georgina said.
They burst into laughter.
'We are going to miss you,' April said.
'Aww! I will miss you divas more,' Rachel said.
They came together and hugged her.
'Now dress up all of you,' she told them. 'I'm taking you all out.'
'Yes!' Loveth screamed, dancing to the wardrobe.
Georgina stared at her. 'See this one,' she said. 'Dunlop, better stay at home and look after the house.'
'It is you that will stay at home.' Loveth was already looking for what to wear.
***
On their way back from Four Chefs, Georgina and Loveth entered the chemist's shop near the lodge to buy soap.
April waited outside for them.
A girl was sitting on the bench outside the shop, her legs crossed and face dull.
April continued to stare at her. 'Hello?' she said to her finally.
'Hi.'
'Are you alright?'
The girl nodded and shook her head at the same time. 'I not alright o,' she said.
'What is wrong with you?'
'I not having where to stay.'
'What is your name?'
'Nwamgbeke, your own nko?'
'April, you can call me April.'
Nwamgbeke's face changed. 'Aplil kwa? Aplil that is in the calendar after March?'
April smiled.
'Is like that is when they born you?'
'No,' April said. 'April is just a given name.'
Nwamgbeke pulled down her cheeks. 'Oho, Aplil, it is a pressure thing to meet you.'
'Mine too.'
When Georgina and Loveth came out, April told them she has asked Nwamgbeke to stay with them till she finds her own place.
'What is Nwamgbeke?' Georgina asked, staring at April with a grimace.
Nwamgbeke touched her chest. 'Nwamgbeke na person! See am here. Ofu ada na Ichida. No duplicate, no photocopy.'
Georgina looked at her as if she was smelling and then turned to April. 'April, you have started again o.'
'What did I do?' April asked.
'Just one minute Loveth and I stepped inside the shop to buy soap, you have picked this thing to be living with us, April when will you change?'
Nwamgbeke turned to April. 'Nne, is it me she call thing?'
April did not know what to say.
'Shebi house na your own?' Nwamgbeke asked.
April nodded.
'Ngwanu giving me key na, why you wasting time?' She collected the key from April and carried her bag. 'Let's going inside.'
Georgina stood frozen there with her mouth open while they walked off.
Recovering, she turned to Loveth. 'Are you just there looking? Won't you say something?'
'Ha. What do you want me to say?' Loveth asked her.
'That thing just insulted me.'
'Did you not slap me the first day you came?' Loveth asked her.
'Ok na,' Georgina said. 'Let's go up. Let me see if someone will not be thrown off the girder this evening.'
'Georgina!' Loveth ran after her. 'Georgina, wait!'