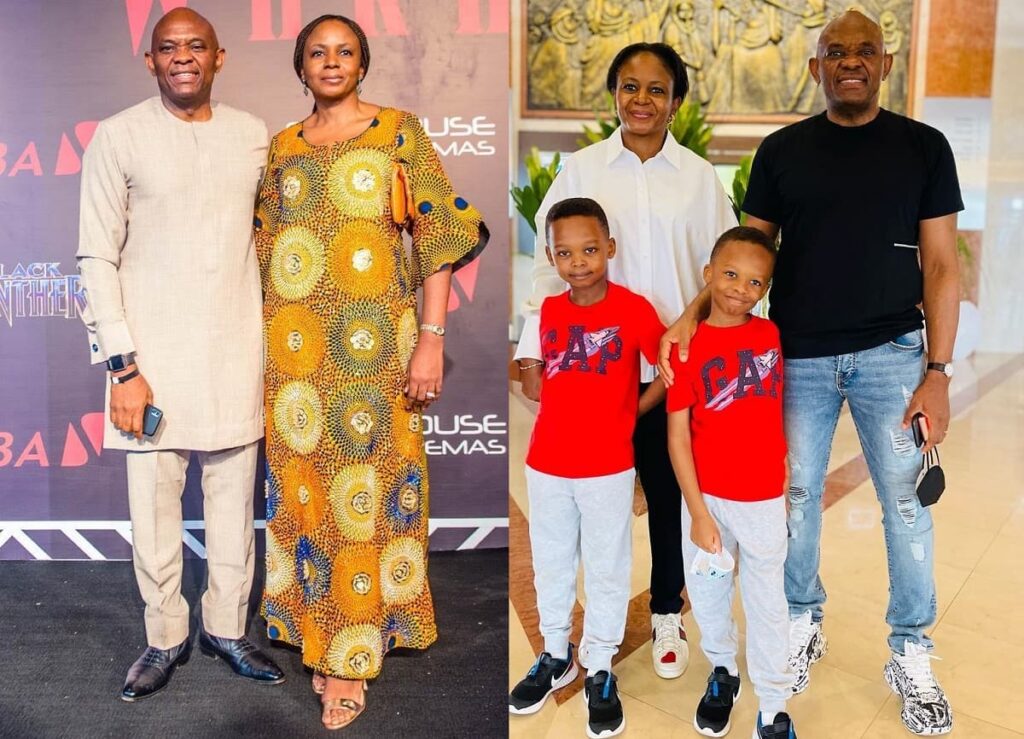 Who is Tony Elumelu? 
Tony Elumelu is a Nigerian business mogul and a philanthropist. He is the chairman of the United Bank for Africa (UBA), Heirs Holdings, and also Transcorp Group. Aside from being a serial entrepreneur, Elumelu is passionate about philanthropy. For instance, he runs a non-profit organization called the Tony Elumelu Foundation (TEF) which empowers people in Africa.
Tony Elumelu's full name is Anthony Elumelu. He was born on March 22, 1963. Although he was born in Jos, Plateau State, he is originally from Onicha-Ukwu, Aniocha in Delta State. Tony Elumelu is 59 years old as of May 2022.
He was raised by his parents Mr Dominic and Mrs Suzanne Elumelu together with his 4 siblings. In 2015, Forbes cited Tony Elumelu as one of Africa's Top 50 richest with an approximate net worth of $700 million.
How Tony Elumelu made his money
Tony Elumelu made his money through entrepreneurship. However, one thing most people don't know about him is that he has a humble beginning. The Transcorp Chairman started as a 'young, hungry but hardworking" salesman. Then he took a bold step in 1997 by creating a team of investors to take over Crystal Bank which was a struggling bank then. The bank later turned out successful and was merged with UBA in 2005. Tony Elumelu is doing very well today as an investor. In fact, he is one of Africa's most successful entrepreneurs.
Tony Elumelu's marriage and wedding
As of May 2022, Tony Elumelu is married to medical doctor Awele Vivien Elumelu. They met in the 1990s as young professionals determined to be successful. According to information sighted by DNB Stories Africa, the couple had a beautiful wedding ceremony in 1993. Currently, Tony Elumelu and Awele's marriage is blessed with seven children.
About Tony Elumelu's wife – Awele Vivien Elumelu 
Tony Elumelu's wife, Awele Vivien Elumelu is a medical doctor and also an entrepreneur. Dr Awele Elumelu was born on June 23, 1970, and she is 51 years old as of May 2022. Awele Vivien graduated from the University of Benin where she studied Medicine and Surgery. As a medical doctor, she worked with the Lagos University Teaching Hospital. After she left LASU, she proceeded to the United Kingdom where she worked with Grantham and District Hospital.
Just like her husband, Awele Vivien is also a philanthropist. She is the chairperson of Avon Healthcare, an initiative created to offer Nigerians easy access to healthcare facilities. Awele Elumelu is not just a career woman but also a devoted mother to their children.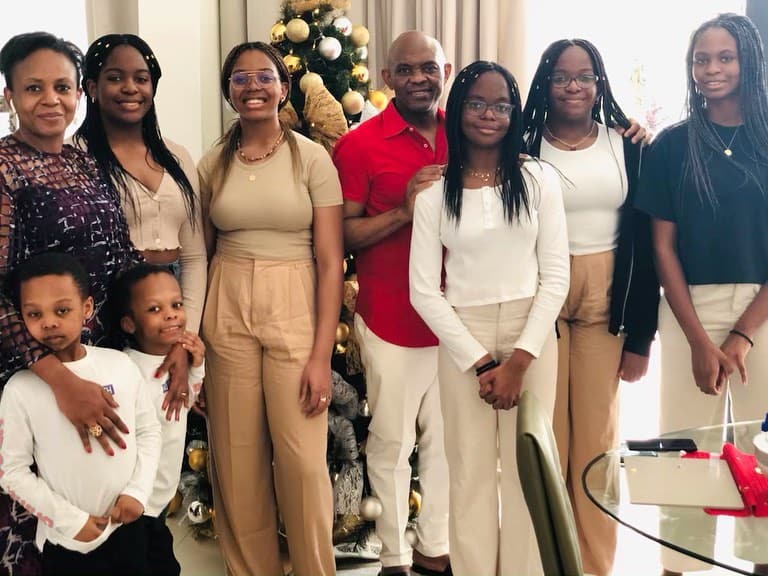 Tony Elumelu's children
Tony Elumelu and his wife, Awele Vivien Elumelu have seven children together. The power couple has five daughters which include their triplet daughters Onyinye, Nneka, and Ugo, and two twin boys.  
Full list of Tony Elumelu's children
Here's the full list of Tony Elumelu's children. Kindly note that this list does not include the names of his twin sons because their names are yet to be disclosed by the couple.
Ogechukwu Tamara-Marie Elumelu
Ogochukwu 'Ogor' Elumelu
Onyinye Elumelu
Nneka Elumelu
Ugo Elumelu
1. Ogechukwu Elumelu
Ogechukwu Elumelu is the first child and first daughter of business mogul Tony Elumelu. Oge's birthday is on March 29, however her year of birth and age is unknown. 'Gigi', as her dad Tony Elumelu fondly calls her, graduated from St Catherine's Bramley School in the UK. Then she proceeded to the London School of Economics, where she is currently studying Economics. 
Ogechukwu Elumelu seems to be her parents' favourite. Also, Tony Elumelu and his wife Awele are very proud of her. The Nigerian economist describes his daughter Ogechukwu as an 'inspiring role model' to her younger siblings.
2. Ogor Elumelu
Ogor Elumelu is the second child and second daughter of Tony Elumelu and his wife. Ogor's full name is Ogochukwu Elumelu. 'Gogo-lee', as her father calls her, was born on September, 30. Tony Elumelu hardly talks about Ogor, hence her details are currently unavailable. However, on her birthday last year (2021), the CEO shared a beautiful picture of his second daughter with the short caption:
"Happy birthday to my darling Gogo-lee!"
3. Onyinye, Nneka, and Ugo Elumelu
Onyinye, Nneka, and Ugo Elumelu are the triplet daughters of Tony Elumelu. The UBA chairman's triplets were born on November 26, 2006. Therefore, they are 15 years old as of May 2022. Aside from sharing pictures of them on special days like their birthdays, Tony Elumelu likes to keep information about his triplet daughters off the media.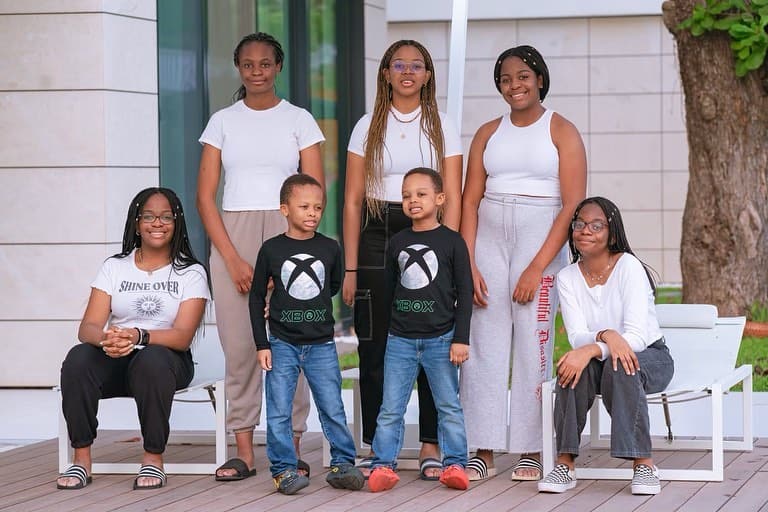 4. Elumelu's twin sons
After five beautiful girls, the Elumelus were blessed with twin sons. They are the last children and only sons of Tony Elumelu and his wife Dr Awele. The Nigerian billionaire refers to his sons as the 'Elumelu Boys'. However, their real names are currently unknown. 
According to reports, Awele Vivien Elumelu gave birth to their twin sons in an undisclosed hospital in the US. The Elumelu boys were born on January 5, 2015, so they are 7 years old as of May 2022.
Tony Elumelu's brother – Ndudi Elumelu
One of Tony Elumelu's most well-known siblings is his brother – Honorable Godwin Ndudi Elumelu. Born on February 23, 1965, Godwin Elumelu is 57 years old as of May 2022. Ndudi is a Nigerian politician. He is also the minority leader of the House of Representatives.