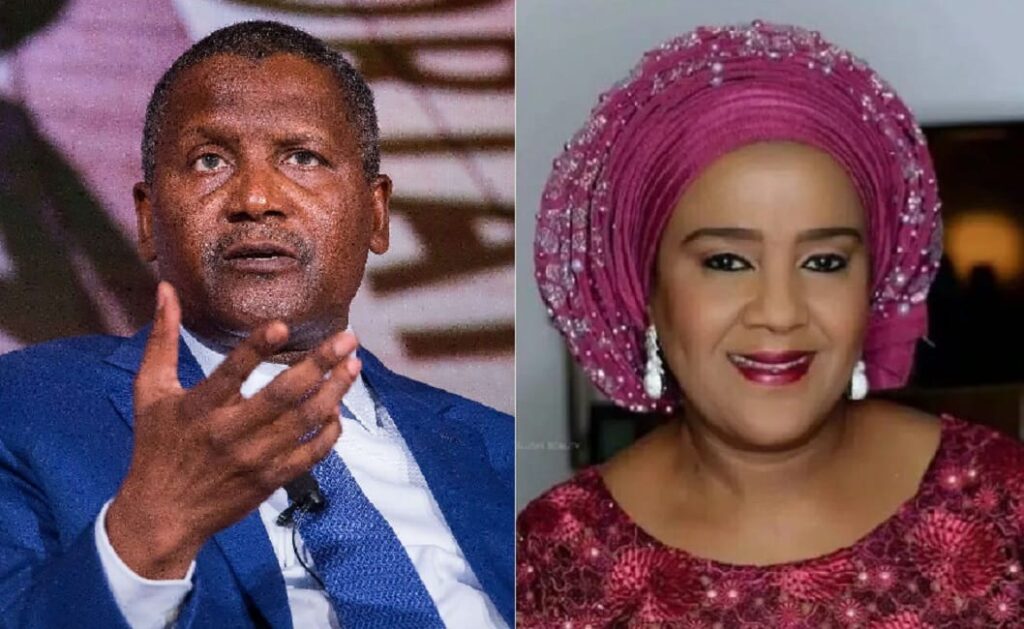 Who is Aliko Dangote?
Aliko Dangote is a Nigerian billionaire businessman and philanthropist. He is the Chairman of the Dangote Group, the biggest chain business in West Africa. Aliko Dangote has been named Africa's richest man, with an approximate net worth of US$14 billion. 
Aliko Dangote was born on April 10, 1957, into a rich home in Northern Nigeria. It was easy for Dangote to pick an interest in business at an early age because his father Mohammed Dangote was a businessman. His mother Mariya Sanusi Dantata, on the other hand, was from a very wealthy home. In fact, Mariya's father, Alhassan Dantata was the richest man in Nigeria in the 1950s.
How Aliko Dangote started his business
The 65-year-old billionaire was determined to succeed from his childhood. For instance, he started trading sweets as a primary schoolboy. Dangote took a loan of $500,000 from his uncle because he didn't have the capital to start his business. He started his business in 1977. Today, that capital has turned into billions and a successful conglomerate.
Aliko Dangote's love life
While Aliko Dangote has achieved a lot of success as a businessman, the same cannot be said of his love life. For example, the CEO has been married twice and divorced both women. Even though he tries to keep his romantic relationships off media reach, the billionaire businessman has been at the centre of some relationship scandals and controversies. Let's go into the full details of Aliko Dangote's marriage, wife and children.
Aliko Dangote's marriage and wedding
According to available reports, Aliko Dangote has been married and divorced twice. However, not much is known about Aliko Dangote's two failed marriages. This is because Dangote is very private when it comes to his love life and family.
List of all Aliko Dangote's Wives
Here's the list of all Aliko Dangote's wives and their details:
Hajia Zainab
Mariya A D Muhammad Rufai
Aliko Dangote's first wife – Hajia Zainab
According to reports, Aliko Dangote was married to his first wife Hajia Zainab in 1977. It is not confirmed if Zainab was betrothed to Dangote, however, they were young when they got married. Dangote was only 20 years old then, reports say.
Hajia Zainab gave birth to Dangote's two lovely daughters. Sadly, the marriage only lasted for a few years. Information about Zainab's details is currently scarce in the media because she is a very private person. Meanwhile, it seems that Zainab stood by Aliko Dangote in the early days of his business and might have played a major role in his success as well.
About Dangote's second wife – Mariya Muhammad Rufai
A few years after Aliko Dangote divorced his first wife, he married his second wife, businesswoman Mariya Muhammad Rufai. Mariya's father is Bauchi State's former Commissioner for Women Affairs and Human Services. Unfortunately, the couple parted ways after being together for some years. Their marriage was not made public, hence there aren't many details about their union.
Aliko Dangote's relationship with Nafisat Yar'Adua
According to reports, Aliko Dangote was once in a romantic relationship with Nafisat Yar'Adua, one of the daughters of the late President Yar'Adua. There were speculations that Dangote proposed marriage to Nafisat, but the ex-president's daughter turned down his proposal. According to reports, Nafisat Yar'Adua had refused Dangote's proposal for marriage because she was a close friend of Dangote's daughter Halima. She perhaps didn't want to ruin their friendship by marrying the Forbes-named billionaire.
Nafisat Yar'Adua later married an ex-governor of Bauchi state, Malam Yuguda Isah in 2009. Yuguda, who already had 3 wives, took Nafisat Yar'Adua as her fourth wife. Their wedding ceremony was graced by top Nigerian politicians.
Aliko Dangote and Sylvia Nduka's romance
In 2012, there were rumours that ex-beauty queen Sylvia Nduka was dating Aliko Dangote. There were also rumours that Dangote was bankrolling Sylvia and was behind the beauty queen's luxurious lifestyle.
The 29-year-old model even went ahead to add "A.D" (taken to mean Aliko Dangote) to her name on Instagram. However, when the news of their breakup went viral in 2015, a source close to Aliko Dangote refuted the claims that they even dated. The source described the news as "total falsehood".
Aliko Dangote's ex-girlfriend – Bea Lewis
On January 1, 2021, a lady identified as Bea Lewis, took to her Twitter page to reveal that she dated Aliko Dangote. According to Lewis, Dangote changed her "perspective on work ethic and patience" but also broke her heart "in 1000 pieces". According to reports, Bea Lewis is an African-American businesswoman and model.
Aliko Dangote and Autumn Spikes
However, another lady named Autumn Spikes came out to refute Lewis's claim. Spikes claimed that she was in a relationship with Dangote and that the billionaire never dated Bea Lewis. She went ahead to post intimate pictures of herself with Aliko Dangote. One of the pictures Autumn posted soon went viral and generated a lot of funny reactions because it revealed the billionaire's buttocks. Dangote didn't take this lightly. He sued Autumn Spikes for "defamation and a breach of agreement".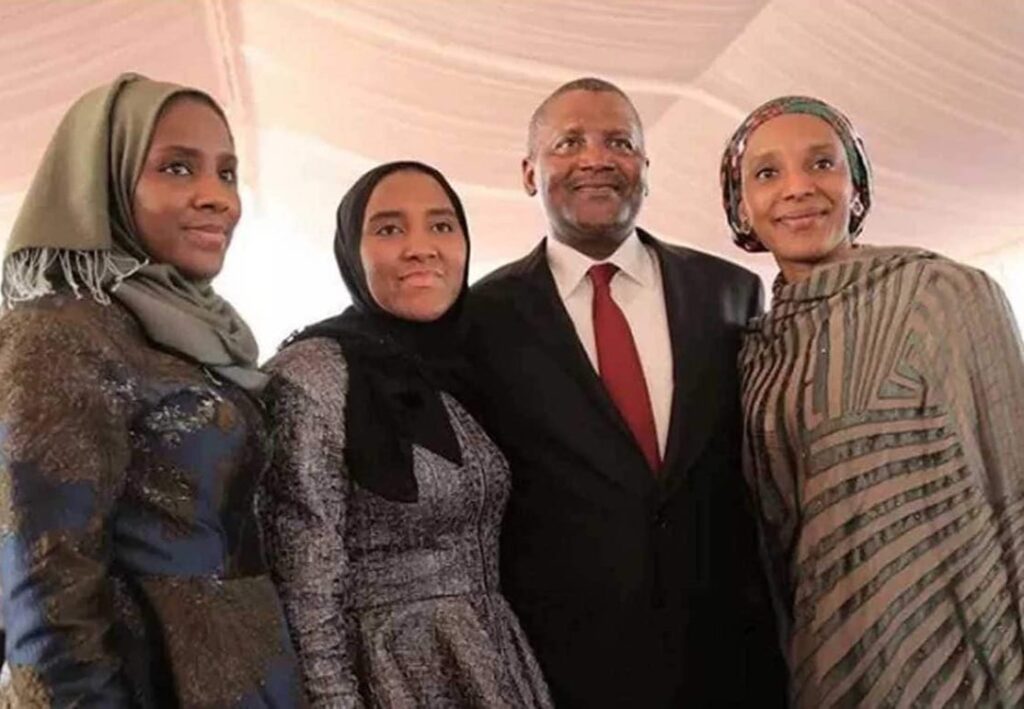 Aliko Dangote's children
As of May 2022, Aliko Dangote has a total number of 4 children (three girls and one boy).
Full list of Aliko Dangote's children
Here's the full list of Aliko Dangote's children
Mariya Dangote
Halima Dangote
Fatima Dangote
Abdulrahman Fasasi
1. Mariya Dangote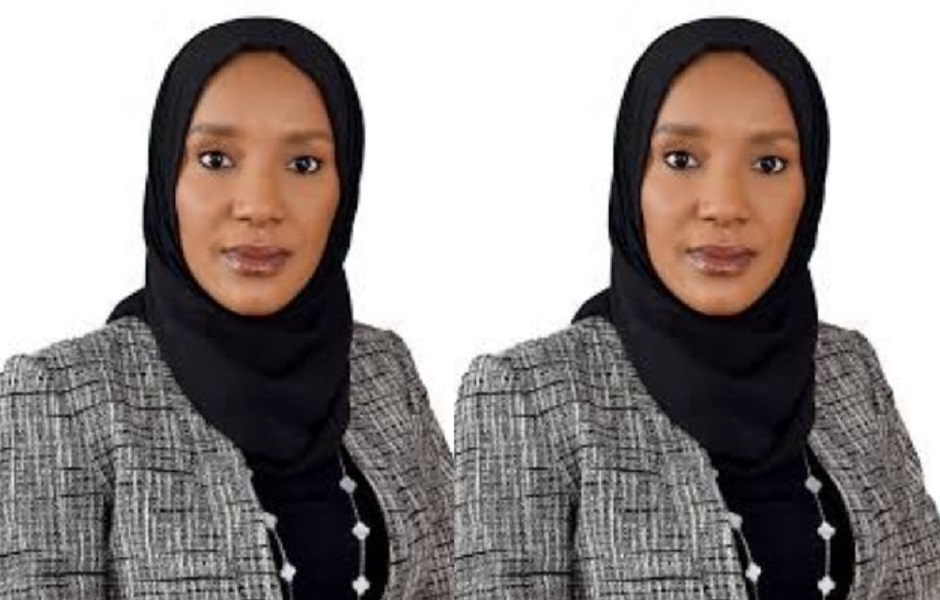 Mariya Dangote is the first child and first daughter of billionaire businessman, Aliko Dangote. She has a Bachelor's degree from one of the best colleges abroad. She also has a Master's Degree from Coventry University, United Kingdom. Mariya Dangote keeps a relatively low profile, compared to her siblings. Unlike her sisters, there are no reports on Mariya's marriage or other personal details. 
2. Halima Dangote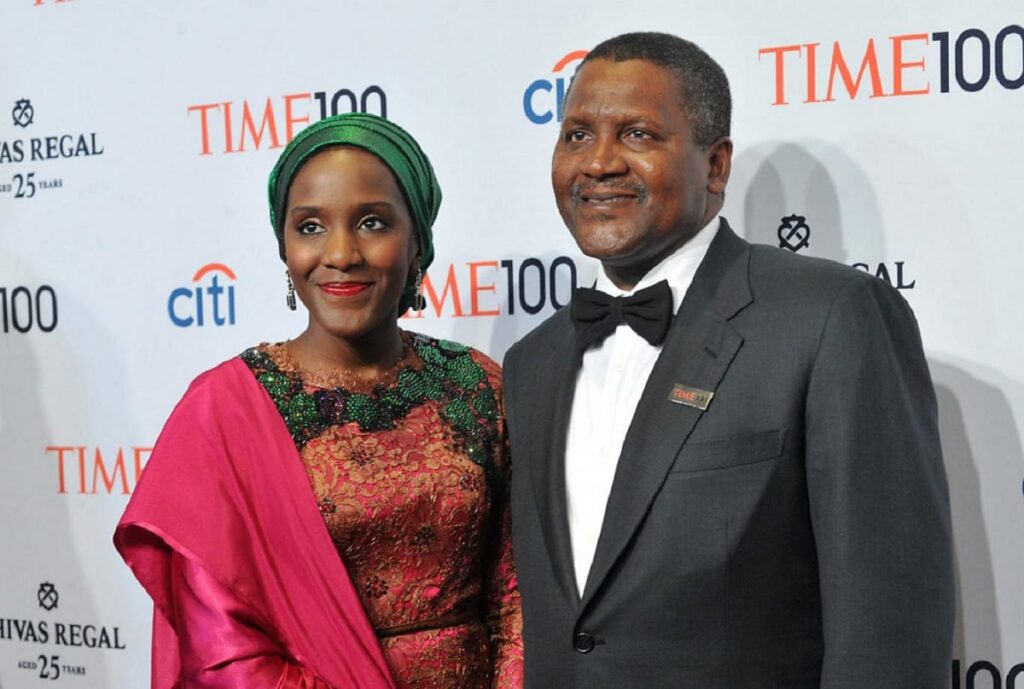 Halima Dangote is Aliko Dangote's second child and second daughter. Her mother is Dangote's first wife Zainab. Halima Dangote graduated from the American Intercontinental University in London. There, she obtained a degree in marketing. She later proceeded to Webster Graduate School to obtain a Master's degree.
Just like Dangote, his children possess high business insight and Halima is no exception. The marketing graduate currently holds the position of an executive director in her father's company, Dangote Group. In 2008, she wedded her husband Sulaiman Sani Bello in a grand style. As of May 2022, the couple has 2 lovely daughters.
3. Fatima Dangote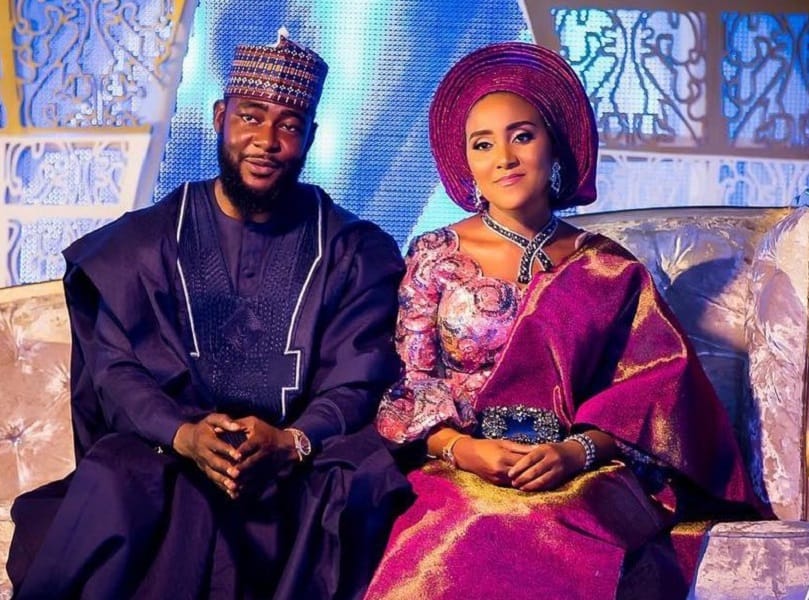 Fatima Dangote is Aliko Dangote's last daughter. According to information sighted by DNB Stories Africa, Fatima graduated from a school in London. Although Fatima is a lawyer, she appears to enjoy baking. She currently owns a big factory that produces cupcakes in Lagos. Fatima Dangote married the love of her life Jamil Mohammed Abubakar in 2018. Jamil is a pilot, and his father Abubakar Dikko Mohammed was previously an Inspector General of Police.
4. Abdulrahman Fasasi
Abdulrahman Fasasi is the only known son of Aliko Dangote. However, Fasasi is not a biological child of Dangote. Even though he was adopted, Abdulrahman is still acknowledged as Dangote's son.