Who is Kanayo O. Kanayo?
Kanayo O. Kanayo is a veteran Nigerian actor, movie producer, lawyer, and philanthropist from Imo state.
Kanayo O. Kanayo's real name is Anayo Modestus Onyekwere. He is also known by the nicknames "KOK" or "Nna Anyi Sacrifice" – the latter he got from his frequent portrayal of ritualist roles in Nollywood movies.
KOK was born on March 1, 1962, in Mbaise, Imo state. The multiple-award-winning actor has both a Bachelor's degree in Philosophy and a Master's degree in Political Science from the University of Lagos, Akoka.
Kanayo O. Kanayo later proceeded to the University of Abuja to study Law. He was called to bar in September 2018.
Kanayo started his acting career in 1982, featuring in the popular NTA series titled 'New Masquerade'. He was cast alongside Chika Okpala (Chief Zebrudaya), Lizzy Evoeme (Ovuleria), James Iroha (Giringory Akabogu), etc.
In fact, Kanayo starred in four NTA rested soaps – Ripples, Checkmate, Village Headmaster and the New Masquerade – in his 20s.
KOK is commonly known for playing the role of a ritualist or occult member in Nollywood movies. His first appearance in a movie (not a soap or sitcom) was in the 1992 classic, 'Living in Bondage' where he starred as 'Chief Omego'.
The movie was co-written by Kenneth Nnebue, directed by Chris Obi Rapu, and produced by Ogunjiofor.
Since his debut in 1992, Kanayo has starred in over 300 movies including Rituals (1997), Lost Kingdom (1999), Fire On The Mountain (2002), Billionaires Club (2003), and October 1 (2014).
Kanayo O. Kanayo's marriage and wedding
Kanayo O. Kanayo is a married man with four children. Kanayo O. Kanayo got married to his wife, Nneka Onyekwere, in 1999.
Though there is no available information as to how they met, it is reported that they had an all-star white and traditional wedding ceremony that year.
Kanayo O. Kanayo and his wife, Nneka, have been married for over two decades without any hitch of controversy or scandal that often characterize celebrity marriages.
Kanayo's marriage is blessed with four children, a girl, and three boys.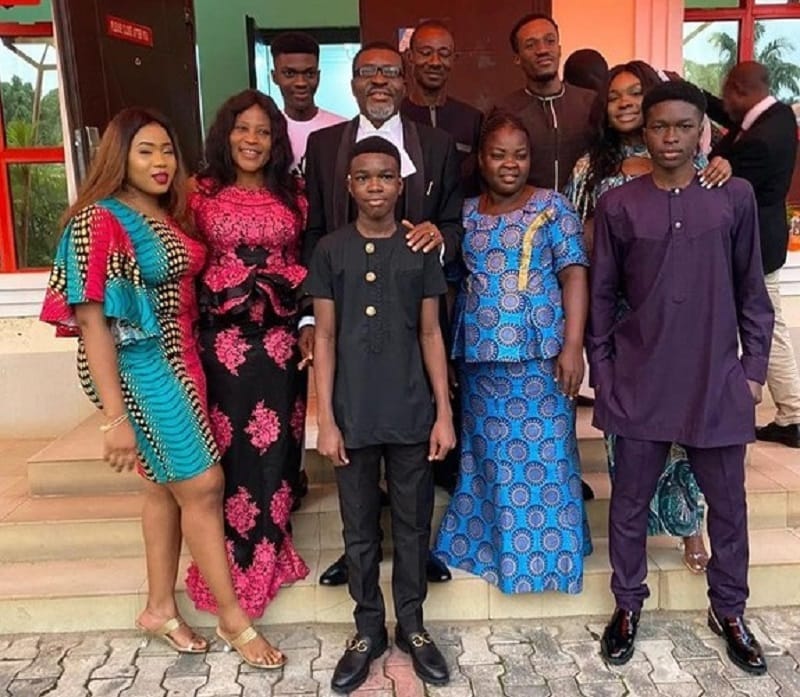 About Kanayo O. Kanayo's wife, Nneka Onyekwere
Nneka Onyekwere is the legal wife of actor Kanayo O. Kanayo and the mother of his four children.
Information about the childhood, education and background of Kanayo's wife, Nneka, is currently sparse in the media. However, she is known to be a supportive wife to KOK as she has been by his side for over 20 years!
Kanayo O. Kanayo had once urged the press to respect his wife's privacy and not stalk her for interviews as he prefers to keep their union away from the media.
List of Kanayo O. Kanayo's children
Uloaku Valerie Onyekwere
Clinton Onyechigoziri Onyekwere
Kosisochukwu Montell Onyekwere
Einstein Onyekwere
1. Uloaku Valerie Onyekwere
Uloaku Valerie Onyekwere is Kanayo's first child and daughter. She was born on April 8, 2000. The 21-years-old graduated with a degree in Computer Science from Babcock University, Nigeria, on August 20, 2020. She is currently undergoing her one-year National Youth Service Corps (NYSC) programme.
2. Clinton Onyechigoziri Onyekwere
Clinton Onyechigoziri Onyekwere is Kanayo's second child and first son. He was born on 10 November, 2002. The 18-year-old is speculated to still be in the university.
3. Kosisochukwu Montell Onyekwere
Kosisochukwu Montell Onyekwere is Kanayo's third child and second son. He was born on April 8, 2004, sharing the same birth month and date with his elder sister, Valerie. According to his father's post on social media, the boy is speculated to be a football player.
4. Einstein Onyekwere
Einstein Onyekwere is the last child of Nollywood actor, Kanayo O. Kanayo. He was born on June 18, 2008. Einstein is an aspiring saxophonist and has been seen playing the instrument on several occasions.