Written by Deborah Oladapo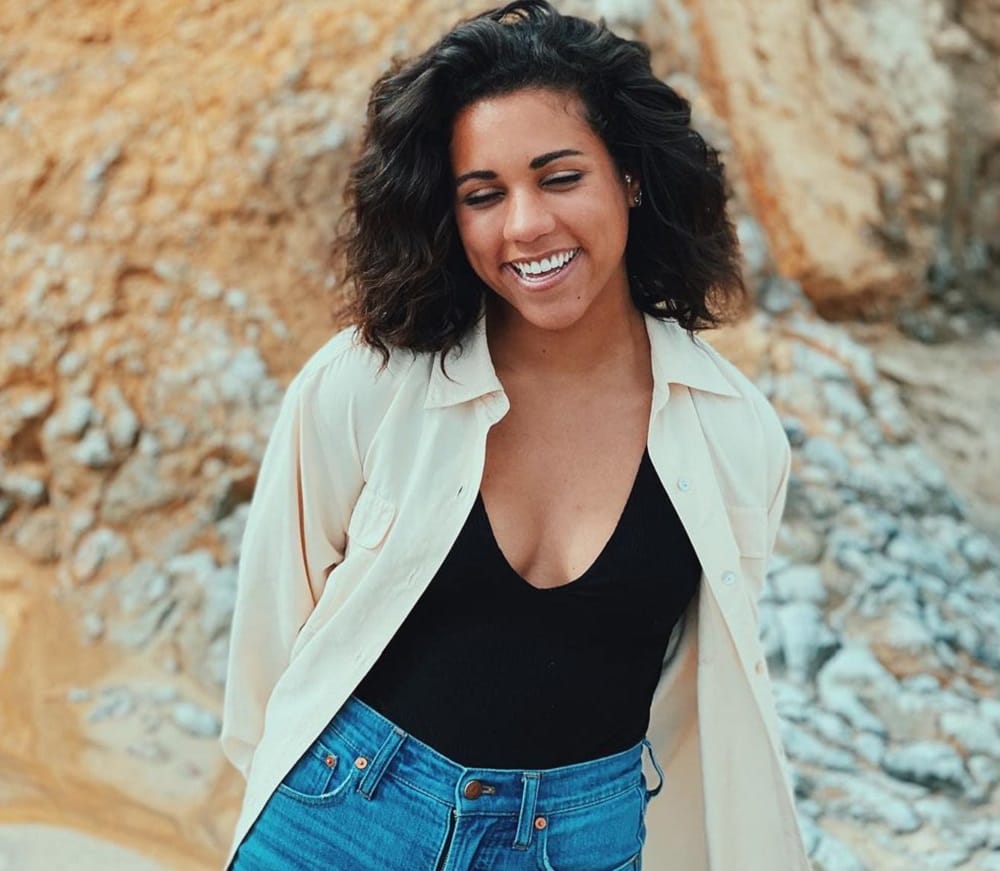 Who is Alexi McCammond
Alexi McCammond is a political reporter and a deputy editor at the American-based media agency, Axios. Alexi McCammond is popular for the roles she played in the 2016 American presidential election debates. She also covered the 2020 presidential election debates.
Full data profile of Alexi McCammond
Full name
Alexi McCammond
Age
26 years
Birthday
March 27, 1994
Gender
Female
State of Origin
Rockford, Illinois
Parents
Shelli McCammond McGinley
(mother)
Height
5″6
Marital Status
Engaged
Nationality
American
Ethnicity
Mixed
Career
Political journalist, news editor
Alexi McCammond's childhood and education
Alexi McCammond was born in Chicago, Illinois, United States. She has two siblings – Braxton and Aubyn, and they were all raised by their mother in Chicago, Illinois. In 2011, Alexi McCammond graduated from Guilford High School, Rockford, United States.
She received a $60,000 Scholarship which covered most of her college expenses, and in 2016, she bagged a Bachelor of Arts (B. A) Degree in Sociology and Romance Language and Literature from the University of Chicago, United States.
Alexi McCammond's career
Alexi McCammond's political career began in her college days when she worked for a few months at the Gate Political Review, Chicago. In 2016, she worked with Bustle Women's magazine as a news and political writer. Ultimately, Alexi McCammond got promoted to the post of an associate news editor at Bustle. That same year, she was privileged to cover the 2016 presidential election debates.
Alexi McCammond left Bustle for Axios in 2017. She has also been a guest commentator on TV channels, including WHOT World News, Fox News Channel, MSNBC, KGO Radio, among others. In addition, Alexi McCammond covered the recently concluded 2020 American Presidential Debates.
Alexi McCammond's work at Axios
Alexi McCammond began her work at Axios in 2017. Within a short period of time, she got promoted to the position of a national political reporter, while she still maintains her post as an editor.
Alexi McCammond's awards and recognition
Alexi Mccammond has been recognized for her exceptional work in journalism. She received the Emerging Journalist of the Year award from the National Association of Black Journalists in 2019.
Alexi Mccammond and Donald Trump
Alexi Mccammond got the opportunity to interview American president Donald Trump in 2016 when he was first running for president. Alexi Mccammond described a tense incident from that encounter in a Bustle feature.
Alexi Mccammond said she had asked a question about how he would respond to young women who are nervous to vote for him.
Mccammond said instead of responding to the question, Trump "looked at me, grabbed my right wrist (which was the hand holding the phone), said, "Put that down," and pushed my hand down."
Alexi McCammond's fiancé and engagement
In June 2020, Alexi Mccammond announced on her Instagram page that she is engaged to Matt Kuncman. She also revealed that they would be getting married soon.
Before her engagement to Matt Kuncman, Alexi Mccammond was in a relationship with photographer and former Axios employee Rob Groulx.
Alexi McCammond on Instagram, Twitter and Linkedin
Alexi McCammond is active on social media. Her Instagram handle is @aaaaaaaalexi. Her Twitter handle is @alexi. Her Linkedin handle is Alexi Mccammond.
Alexi McCammond's siblings
Alexi McCammond has two siblings, a sister named Aubyn, and an elder brother named Braxton.
Alexi MaCammond's salary
Alexi MaCammond is currently reported to be earning between $50K to $60K per annum at Axios.
Alexi McCammond's net worth
Alexi MaCammond has an estimated net worth of $1 million. 
Alexi McCammond vs Charles Barkley
One time, ESPN analyst, Charles Barkley had a clash with Alexi McCammond. Alexi revealed that Charles mentioned to her in a discussion that he didn't hit women, and even if he did, he would hit her.
Alexi McCammond took offence to this, but Charles Barkley thought she just couldn't take a joke. After several times of going back and forth, Charles Barkley released an open apology to Alexi McCammond, but she was not convinced enough.
She responded to him, saying "the comments Charles Barkley made to me are not acceptable. Threats of violence are not a joke, and no person deserves to be hit or threatened like that. Silence only allows the culture of misogyny to fester. And those kinds of comments don't merit off-the-record protections".
Other facts about Alexi McCammond
Alexi McCammond's initial dream was to become a medical practitioner. She was forced to follow another path due to the financial issues of her family.
In 2016, Alexi McCammond hosted a short series titled "Love, Factually". She also starred in the American documentary, "Axios".