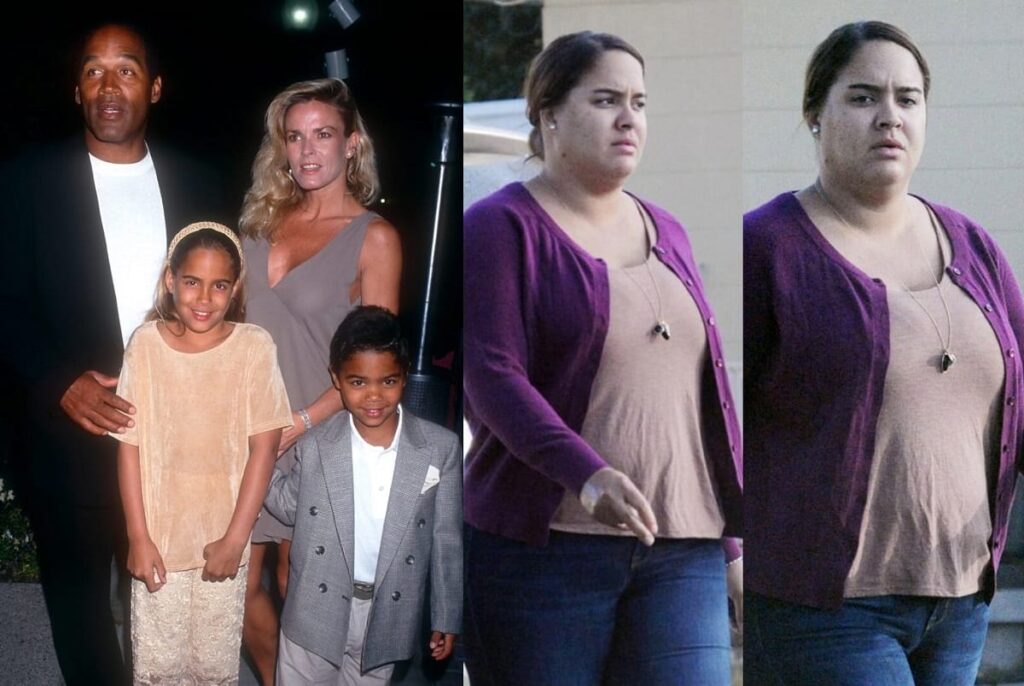 Who is Sydney Brooke Simpson?

Sydney Brooke Simpson is the daughter of former football player O.J Simpson and his late wife, Nicole Brown. Sydney was born in 1985, in Los Angeles.
She is the first of two children born to Nicole Brown and O.J Simpson. She has a younger brother named Justin Ryan Simpson and two half-siblings from her father's first marriage.
Full data profile of Sydney Brooke Simpson
Full name
Sydney Brooke Simpson
Age
36 years old
Date of Birth
October 17, 1985
Gender
Female
State of Origin
Los Angeles
Nationality
American
Marital status
Unmarried
Height
5″8
Parents
O.J Simpson and Nicole Brown
Siblings
Justin Ryan Simpson (direct brother), Arnelle Simpson (half-sister),
Jason Simpson (half brother) and Aaren Simpson (late).

Career
Entrepreneur
Grandparents
Juditha Anne Brown, Jimmy Lee Simpson, Louis Hezekiel Brown, and Eunice Simpson
Sydney Brooke's childhood
Sydney Brooke was born on the 17th of October in 1985. After her parents divorced, Sydney and her brother, Justin Ryan Simpson lived with their mom, Nicole, in her Brentwood home in Los Angeles until the time of her death.
Sydney and her brother suffered at the hands of the unbecoming press following the gruesome death of their mother and they were only just children. Sydney was 9 years old, and her brother was 5 years old, at the time of their mother's death.
After Nicole Brown's death and O.J. was charged for her murder, their maternal grandparents, Louis and Juditha Brown, took them in as guardians. The guardianship status was revoked in 1996 after O.J. was found not guilty of their mother's murder and awarded full custody of both children.
Sydney Brooke Simpson education

Sydney Brooke completed her High School Education at Gulliver's Academy. She thereafter enrolled at Boston University and graduated with a BA in Sociology from the school's College of Arts and Sciences in May 2010.

Following the heavily publicized trial of their father, family members tried very hard to shield Sydney Brooke Simpson and her brother from the prowling eyes of the public and press who were always seeking to interview them and ask the children questions about the murder.
They were successful with this at the time because no one heard anything about the children for a long time until a journalist tracked them down and found out that Sydney and Justin were working in a restaurant in Georgia and that Sydney had changed her name to Portia.
According to news gathered from her co-workers, Sydney Brooke Simpson always kept her head down at work and was always quiet.
Sydney Brooke Simpson arrest
Sydney Brooke Simpson got back in the news in 2005 after she was arrested and charged with a misdemeanour count of disorderly conduct and resisting arrest without violence at Justin Simpson's varsity basketball game. She was 19 years old at the time.

Sydney Brooke's career

Sydney Brooke Simpson started her career as an event coordinator in Atlanta, Georgia. She later moved to St. Petersburg, Florida, to start a business in catering. After that, she went into real estate and founded Simpsy LLC in 2014. The real estate company manages three companies she owns in the area.
In 2017, The New York Post discovered 13 properties acquired by Sydney Brooke and her brother since 2015. Eleven of them were cash purchases, all in low-income areas, with properties ranging from $35,000 to $215,000 (for a four-unit building). There are some questions as to where the Simpson kids found the money to make the purchases seeing that O.J. is still on the hook for over $30 million in a civil judgment.
Neither sibling provided a comment on the matter. By the looks of it, they (rightfully) prefer to keep a low profile.
Sydney Brooke Simpson boyfriend and marriage
Sydney Brooke Simpson is not married, as of the time of publishing this post. She was believed to be dating then St. Petersburg City Council candidate, Robert Blackmon, after being spotted together on several occasions. Blackmon had once talked about Sydney, saying she was "selflessly supporting me and was not worried about herself."
However, a day after New York Post article was published, the politician denied dating Sydney Brooke when he spoke to Florida's local Tampa Bay Times. He said: "She's a good friend of mine, but we're not dating."
Where is Sydney Brooke Simpson right now?
According to most recent reports, Sydney Brooke Simpson appears to have moved back to Los Angeles where she currently runs her own business with the help of her younger brother, Justin Ryan Simpson.
Sydney Brooke's net worth
Sydney Brooke Simpson's net worth is not exactly known to the public at this time, but she seems to be doing well for herself at this time. Some sources estimated her current net worth to be over $500,000 USD.
Sydney Brooke on social media
Unfortunately, we are not aware of any social media accounts belonging to Sydney Brooke Simpson, although her brother, Justin Ryan Simpson is very active across various social media platforms.