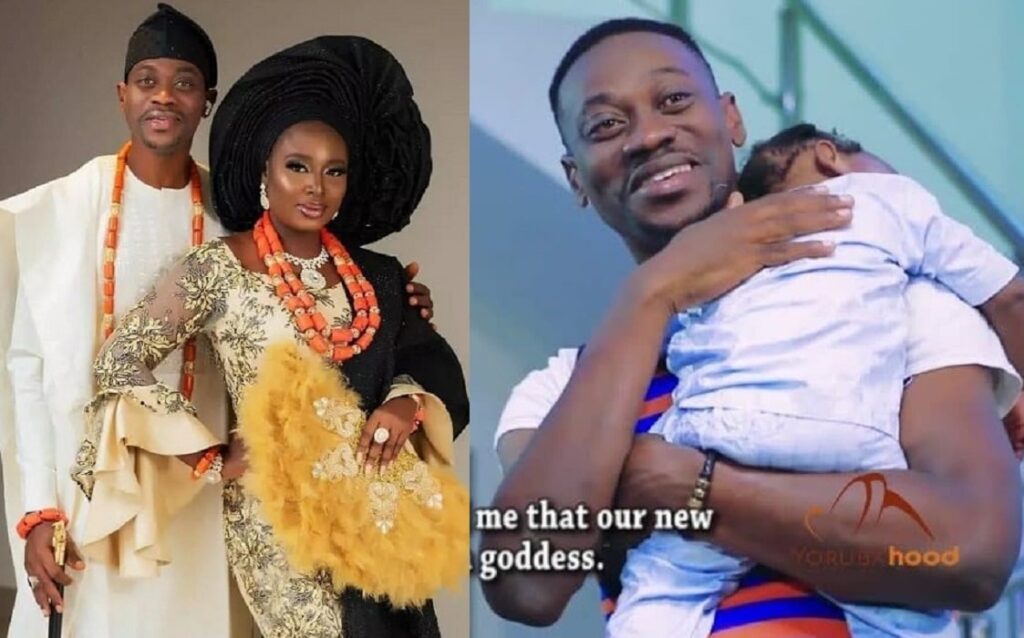 Who is Lateef Adedimeji?
Lateef Adedimeji is a popular Nigerian actor, scriptwriter, and filmmaker. He is mostly known for featuring in sad movies where he would normally portray the role of a maltreated person that cries often. This situation has earned him the nickname "Crying Machine" among his fans.
Lateef Adedimeji's full name is Adetola Abdullateef Adedimeji. He was born as the fourth child of six children on February 1, 1986, in the Oshodi-Isolo area of Lagos State. His only known parent at this time is his mother – Mrs Kudirat Adedimeji.
Lateef Adedimeji is currently 35 years old. Even though he grew up in Lagos, he is originally from Abeokuta in Ogun State. He has a Bachelor's degree in Mass Communication from Olabisi Onabanjo University, Ago-Iwoye, Ogun State.
How Lateef Adedimeji started acting
Lateef Adedimeji launched his acting career officially in 2007 at the age of 21. Prior to that, he used to feature in stage plays and other kinds of school drama while in secondary school.
Lateef Adedimeji became well known in acting after he starred in Yewande Adekoya's 2013 blockbuster movie titled "Kudi Klepto". He has since then become one of Nollywood's biggest Yoruba actors with hundreds of movies to his credit.
Lateef Adedimeji is also a singer with a beautiful voice and he has a few songs to his name. He is currently a brand ambassador for Airtel Nigeria and Numatville Megacity.
Is Lateef Adedimeji related to Odunlade Adekola?
Lateef Adedimeji is often mistaken as a younger brother or relative to Nigerian popular actor Odunlade Adekola due to their facial resemblance and similarities in their mode of acting.
However, DNB Stories Africa has verified that actors Lateef Adedimeji and Odunlade Adekola, despite their similarities, are not in any way related.
Lateef Adedimeji's marriage and wedding
Lateef Adedimeji got married to his colleague and longtime friend, actress Adebimpe Oyebade, also popularly known as Mo Bimpe, on December 22, 2021.
The star-studded wedding took place in Lagos and was attended by some of Nollywood's biggest stars including Toyin Abraham and her husband Kolawole Ajeyemi, Nkechi Blessing Sunday, Mercy Aigbe, Wumi Toriola, Adunni Ade, Femi Adebayo, Odunlade Adekola, amongst others.
How Lateef Adedimeji and Adebimpe Oyebade started their relationship
Reports of Lateef Adedimeji and Adebimpe Oyebade being more than friends started around 2019, probably after they starred as lovers in the romantic movie "Adebimpe Omo Oba".
The rumours intensified in 2020 with some reports even suggesting that both Nollywood stars are already married after they began sharing pictures of themselves in matching outfits. In July 2020 especially, they both shared a picture of themselves clad in gorgeous wedding outfits.
Interestingly, both parties were always quick to deny any reports of them dating. They both affirmed that the pictures were just advertisements for a clothing line with Adebimpe maintaining that she and Lateef are good friends and colleagues in different relationships.
She also made it known that she can't get engaged to someone in the spotlight and being rumoured to be in a relationship at one time or the other is one of the prices that come with being a celebrity.
Lateef on the other hand also denied any possible romantic link with the actress, saying one needs to take his time not to marry wrong as an actor.
In one of the reports sighted by DNB Stories Africa, the actor even confessed that veteran actress Bimbo Oshin is the only colleague he has a crush on.
It wasn't until November 2021 that Lateef Adedimeji finally came open about his romantic involvement with Adebimpe Oyebade and even their intention to get married.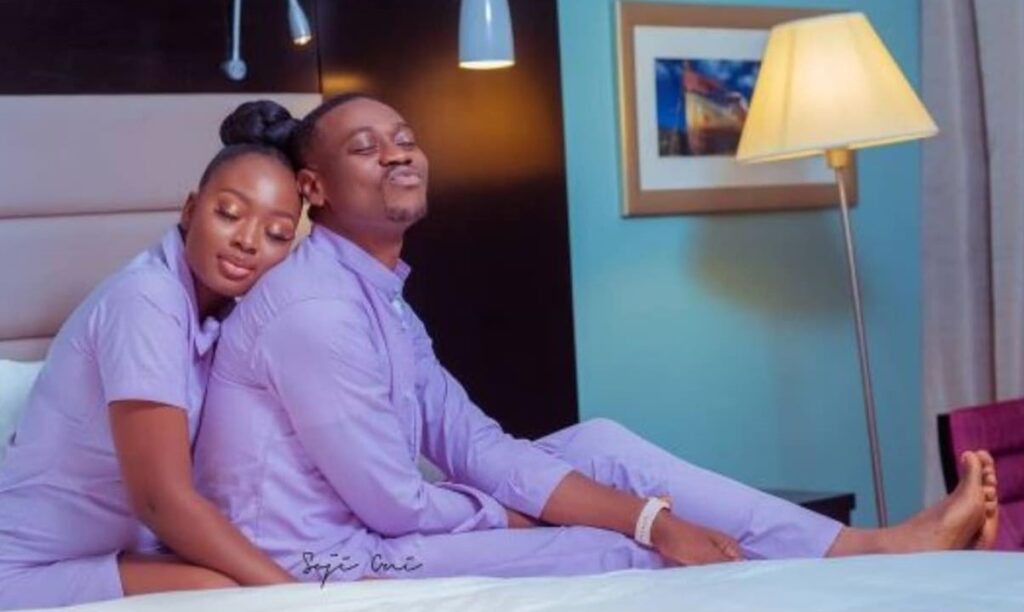 About Lateef Adedimeji's wife, Adebimpe Oyebade
Adebimpe Oyebade, also known as Mo Bimpe, is the lawfully wedded wife of Nollywood actor Lateef Adedimeji.
She is a Nollywood actress, movie producer, model, and businesswoman. She joined the movie industry in 2016, after starting her career as a model with House of Tara and Glam Cosmetics.
Mo Bimpe was born as a princess into a royal family from Ekiti State. She is the last child of five siblings.
Adebimpe Oyebade 'Mo Bimpe' true age
According to information verified by DNB Stories Africa, Nollywood actress Adebimpe Oyebade a.k.a Mo Bimpe was born on March 23, 1994, and she is currently 27 years old.
The actress has a degree in English Language from Ekiti State University (EKSU) in Ekiti State. She made her acting debut in 2016 after starring in the movie "Agbede Meji" by Yomi Fabiyi.
As a film producer herself, Mo Bimpe has produced movies like "Dear Sister" and "Jade's Cross". As an entrepreneur, Mo Bimpe is the CEO of a fashion brand called MO Luxury and a skincare brand known as "Just Horganiks".
Some of the popular movies she has starred in include "Adebimpe Omo Oba", "Secret". "Eyimofe" and "Shadows".
Lateef Adedimeji's children
As of the time of writing this report, Lateef Adedimeji is yet to father a child. The actor who just got married a month ago is yet to have a child with his new wife, Adebimpe Oyebade.
There were rumours in 2018 that Lateef Adedimeji had fathered a child with US-based Yoruba actress, Oyinkansola Elebuibon. However, DNB Stories Africa found no evidence to support this rumour,
Oyinkansola Elebuibon herself also debunked the rumour, emphasizing that she has no child or relationship with Lateef Adedimeji.
Mo Bimpe's pregnancy
There are reports that Lateef Adedimeji's new wife, Adebimpe Oyebade a.k.a Mo Bimpe is currently pregnant with her first child, but these reports cannot be fully confirmed at this time.
Lateef Adedimeji first wife
There have also been reports in the past that actor Lateef Adedimeji was previously married and had a first wife before marrying Mo Bimpe. These reports have now been confirmed to be untrue and it is now known that actress Adebimpe Oyebade a.k.a Mo Bimpe is Lateef Adedimeji's first wife.
Lateef Adedimeji and Bukunmi Oluwashina relationship
Lateef Adedimeji and actress Bukunmi Oluwashina were previously rumoured to be in a romantic relationship, even before his marriage to Mo Bimpe.
Bukunmi Oluwashina is also an award-winning Nollywood actress from Ekiti State.
The rumour of their relationship circulated after a bold picture of them together surfaced in the media. However, both parties later debunked the reports, saying the picture was from a movie set.
Bukunmi Oluwashina later married her long-time boyfriend in 2020.