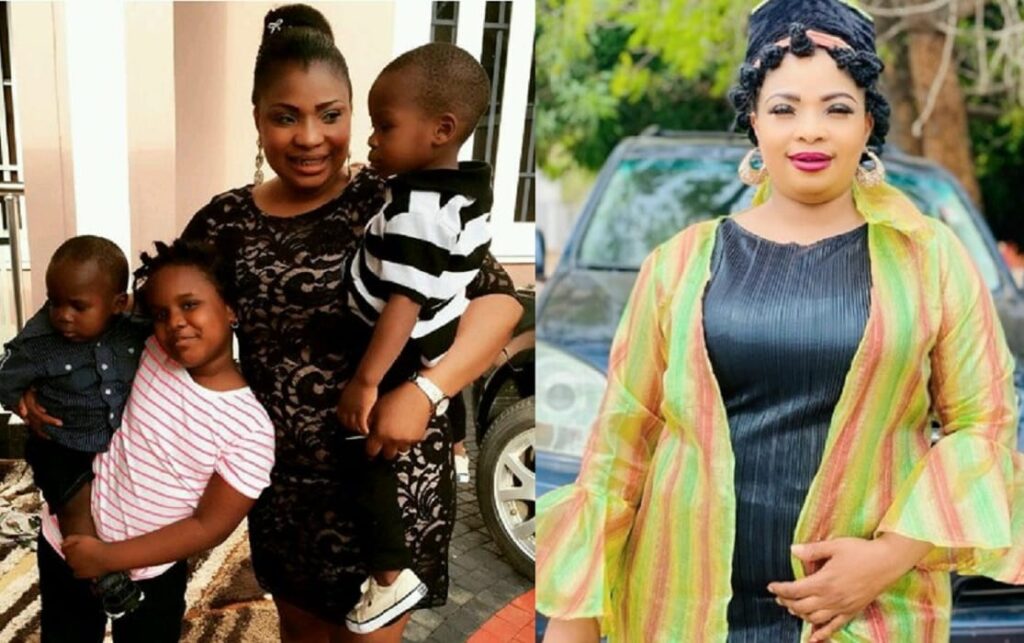 Who is Laide Bakare?
Laide Bakare is a Nigerian-American actress and movie producer. She is well-known for her 2003 and 2005 movies titled "Mi O Foworola" and "Love You Forever" respectively.
Laide is also an MC, movie director, and brand influencer, according to her Instagram bio.
Laide Bakare was born in Lagos on October 7, 1980, though she is originally from Ibadan, Oyo State. She is currently 41 years old. She obtained a Bachelor's degree in History and Strategic Studies from the University of Lagos and she also has a Diploma in Theatre Arts from the University of Ibadan, Oyo State.
The actress first ventured into acting through her meeting with movie actors and actresses who usually lodge at her father's hotel. She made her acting debut in 1999 when she starred in the movie "Adeyemi" which was produced by Muka Ray.
Laide Bakare made her productional debut during her second year at the university and she also launched a music record label in 2012 called 'Slimline Records'.
The actress has featured in several movies some of which include Love You Forever (2003), Ofin Kokanla (2005), Uncle Femi (2006), Ese (2007), Igba Ewa (2008), Esin (2009), Ebute (2010), Idamu Ojo Kan (2011).
Laide Bakare's marriage
Laide Bakare has reportedly been married twice. Her alleged first marriage was with American-based business tycoon, Olumide Okufulure, while her second marriage is with Alhaji Mutairu Atanda Orilowo.
She has three children from the two marriages, a girl and two boys. She has however denied being married to Olumide Okufulure, claiming that they only had a relationship that produced a daughter.
Despite always trying to keep her relationships private and away from the media, Laide Bakare has found herself at the centre of several relationship controversies and rumours. Both of the actress's marriages were met with different rumours in the media and Laide Bakare always tried to debunk the reports as soon as they surface.
Laide Bakare's reported first marriage with Olumide Okufulure
According to reports, Laide Bakare's first marriage was with an American-based businessman named Mr Olumide Okufulure and they had a daughter together.
Unfortunately, things turned sour between them after some time. Their supposed divorce or separation was quite messy and dramatic.
It was heard that the actress had made a public statement, claiming that she ended things with Olumide because he was not a single man as he claimed. The actress revealed that the business mogul was legally married with two children before getting married to her.
Olumide Okufulure, on his part, allegedly debunked the allegation, saying that it is against American law to be legally married to two different women at the same time and he should have been jailed if the allegation was correct.
He further accused Laide Bakare of infidelity and even said he will be going for a DNA test to confirm the paternity of their daughter, since her mother had been cheating on him even before their supposed marriage. Though the outcome of the test was not later revealed to the public domain.
In another report, the actress denied ever being married to her alleged first husband. She claimed that though they were in a relationship that produced a daughter, things did not work out between them and they were never married. She allegedly made this known during an exclusive interview with YNaija in 2015.
Laide Bakare's second marriage with Alhaji Mutairu Atanda Orilowo
Laide Bakare started her relationship with Alhaji Mutairu Atanda Orilowo in 2012 and allegedly got married to him in a secret Nikkai ceremony (Muslim wedding) the following year in 2013. They had two children together – two boys.
Laide made it known that she met Alhaji Mutairu for the first time in Saudi Arabia as a young lady. She said the man tried seeking her hand in marriage then but she refused because she was not yet ready for marriage.
She explained that their path crossed again after some years and this time she accepted his proposal since she was mature enough to go for marriage.
News of separation
Some years after Laide Bakare's second marriage to Alhaji Mutairu Atanda Orilowo, news of their separation struck the media.
Reports had it that the actress had left the father of her last two children after he was alleged to be involved in fraudulent activities which made the EFCC declare him wanted in 2014.
It was also reported that all of Alhaji Mutairu Atanda Orilowo's properties, including the boutique he launched for the actress were confiscated by the commission.
However, Laide Bakare blatantly denied the reports of abandoning her husband in times of trouble. According to her, she had left the country to have her second son for her husband in the United States. The actress said she had left the country since the pregnancy was six months old.
She also made it known that it was a custom for her to have her child delivered in the US in order to ensure proper care and monitoring. She further explained that she had no boutique as being reported in the media and that the allegation laid against her husband was a little misunderstanding that happens daily.
The actress made it known that the issue was just over publicized because the man involved is married to a celebrity and the issue will be settled in court. She emphasized that her marriage is still intact and she is happy with her man as she cannot ask God for a better husband.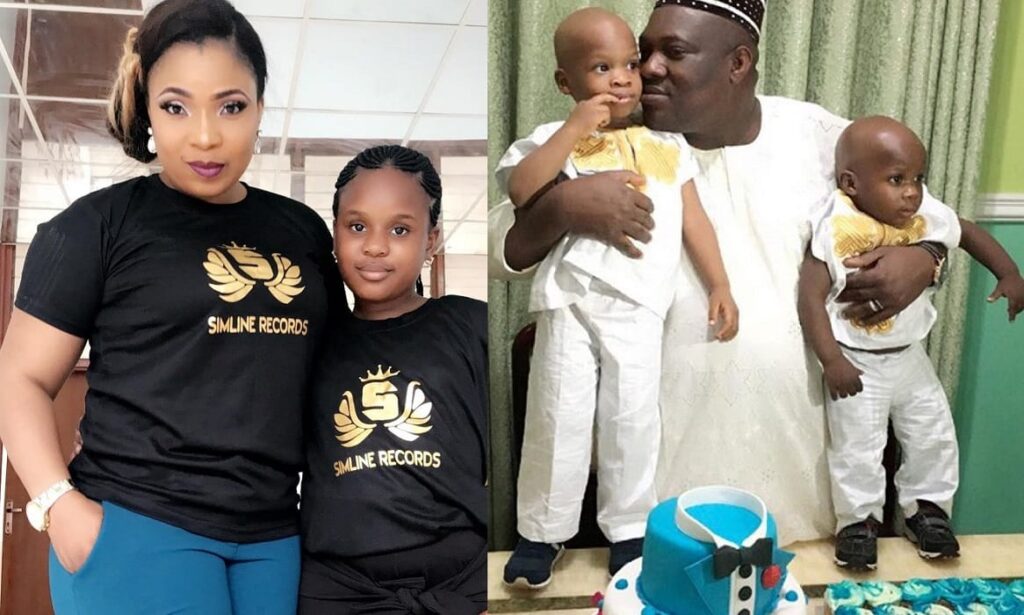 About Laide Bakare's reported first husband Olumide Okufulure
Olumide Okufulure is the alleged first husband of actress Laide Bakare and the father of her first child and only daughter.
However, the actress later made it known that they were never married as speculated.
There is little to no information about Mr Olumide Okufulure in the media, except for the fact that he is an American-based business mogul and there are speculations that Laide Bakare was able to become a US citizen through him.
About Laide Bakare's second husband Alhaji Mutairu Atanda Orilowo
Alhaji Mutairu Atanda Orilowo is the second and present husband of Nollywood actress Laide Bakare and also the father of her two male children.
Alhaji Mutairu became publicly known after his secret marriage to the actress. The crime allegation laid against him also contributed to his publicity.
He was alleged to have conspired with a few past executives of MTN's Employees Multipurpose Cooperative Society to defraud members of the society through his company of funds to the tune of N2.5 billion naira.
He was declared wanted by the EFCC in 2014 and all his properties were reportedly confiscated by the commission.
Laide Bakare's children
Actress Laide Bakare currently has three children, a girl, and two boys. She had the girl with her reported first husband, Mr Olumide Okufulure. The two boys are fathered by her second husband, Alhaji Mutairu Atanda Orilowo.
The actress had all her children in the United States. They are named Similoluwa Okufulure, Oluwadamilare Orilowo and Oluwajomiloju Abdul-Samad Orilowo respectively. She had Simi on September 3, 2008, and she is currently 13 years old.
Oluwadamilare was born on May 31, while she had Oluwajomiloju in October 2014.
List of Laide Bakare's children
Similoluwa Okufulure
Oluwadamilare Orilowo
Oluwajomiloju Abdul-Samad Orilowo
Laide Bakare's fight with Kemi Afolabi
Laide Bakare once fought with her Nollywood best friend and twinny, Kemi Afolabi, allegedly over a man. It was heard that they both slammed each other on Instagram because of a Nollywood actor named Dauda Sulaimon a.k.a Gida.
According to some blogs, the actresses were allegedly both enjoying sexual satisfaction from the actor. It is alleged that they resorted to a public fight following a disagreement they had over their individual relationship with the young actor.
Laide Bakare later debunked the rumours, saying her fight with her colleague and friend was not about a man as she will never stoop so low to fight over a man in the industry.