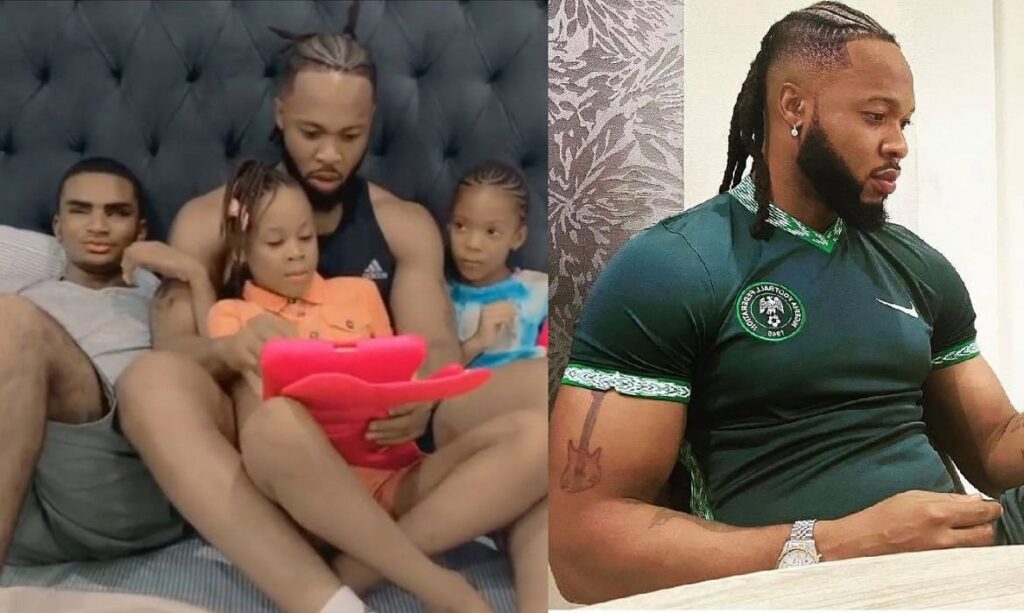 Who is Flavour N'abania?
Flavour is a popular Nigerian singer, songwriter and multi-instrumentalist. He is also known as "Ijele" or "Palliative Umu Ashawo" to some of his fans. Flavour started music with the stage name "Flavour N'abania".
Flavour's full name is Chinedu Izuchukwu Okoli. He was born on November 23, 1983, in Enugu State. His father is Elder Benjamin Onyemaechi Okolie and he is the first son of four children. The 37-year-old musician is originally from Umunze in Orumba South Local Government Area of Anambra State, but he grew up in Enugu.
How Flavour started music
Flavour started his music career as a drummer for his local church at the age of 13. His resident pastor back then introduced him to the CEO of Sound City Communications, Chris T. Ordor. He joined Sound City Communications in 1996 on an educational scholarship to study music.
Flavour N'abania also learned music production from Dekumzy Isi Charles and Nnachie. He had his big break in the music industry in 2005 after he released his self-titled debut album, N'abania.
He released his sophomore album in 2010 titled 'Uplifted' supporting it with singles like 'Nwa Baby (Ashawo Remix)', 'Adanma' and 'Oyi Remix'. The album also did well and helped establish Flavour as one of Africa's most sought-after artists.
Flavour N'abania's wife and rumoured marriage
Contrary to numerous speculations, Flavour is currently unmarried and does not have a wife. He is one of Nigeria's music industry's most eligible bachelors.
There have been different rumours in the media about Flavour being married, however, as of the time of publishing this post, the singer is not married, even though he has been linked with several women.
List of Flavour N'abania's rumoured girlfriends
Nigerian musician Flavour has had his fair share of rumoured relationships like most entertainers of his standing in the industry.
The "Nwa Baby" crooner has been rumoured to have dated the likes of Nigerian singer and MTN Project Fame 2010 winner, Chidinma Ekile, Nigerian actress Chizzy Alichi and Big Brother Africa 2013 winner, Dillish Mathews.
Flavour N'abania's rumoured affair with Chidinma Ekile
Flavour was rumoured to be romantically involved with 'Kedike' crooner, Chidinma Ekile, a few years after she emerged as the winner of the Season 3, MTN Project Fame West Africa Reality TV Show in 2010.
Chidinma Ekile who was at the peak of her career at that time collaborated with several top music stars but her collaboration with Flavour caught the attention of the public due to the bond they shared in most of the music videos they did together.
The rumour of their affair was further escalated after a picture of both of them hanging out together surfaced online. However, Flavour later debunked the speculations, stating that he and Chidinma were only platonic friends.
According to him, the bond they share is a result of the passion they both have for music and not due to any intimate affair or relationship.
Flavour N'abania's rumoured relationship with Chizzy Alichi
Chizzy Alichi whose full name is Chigozie Stephanie Alichi is a Nollywood actress who was also speculated to be romantically involved with Flavour far back in 2016.
The rumours started after Chizzy Alichi shared a picture of herself and the music star on BB Messenger. The photo stirred speculations that Flavour was planning to add Chizzy to his list of baby mamas.
However, the actress took to the media to debunk the news, saying the picture was taken from the scene of one of Flavour's music videos in which she was featured. According to her, the shooting of the music video was what created an avenue for her to meet the singer as she has never met him before then.
Three years after her rumoured relationship with Flavour N'abania, Chizzy Alichi married the love of her life, Dr Chike Ugochukwu Mbah.
Flavour N'abania's rumoured relationship with Dillish Mathews
Dillish Mathews is another celebrity that was romantically linked with Flavour in early 2014. The speculations of Flavour dating Dillish Mathews started after she appeared in the music video of his song, "Ikwokrikwo".
Both Flavour and Dillish later debunked the rumours, maintaining they were just friends.
According to Flavour, the Namibian Big Brother Africa 2013 winner was just a friend he worked with and there was no child or marriage between them as being speculated in the media.
List of Flavour N'abania's baby mamas
As of the time of publishing this post, Nigerian singer Flavour N'abania has two known baby mamas named Sandra Okagbue and Anna Banner, both of whom are beauty queens.
The singer revealed he did not plan to become a baby daddy and made it clear that he has no intention of marrying any of his baby mamas as he considers marriage a huge distraction to his career.
According to him, most artists at the peak of their career are bound to crash once they get married. Though he revealed that he has taste for women as an African man and he likes naturally beautiful women.
About Flavour N'abania's first baby mama, Sandra Okagbue, and their relationship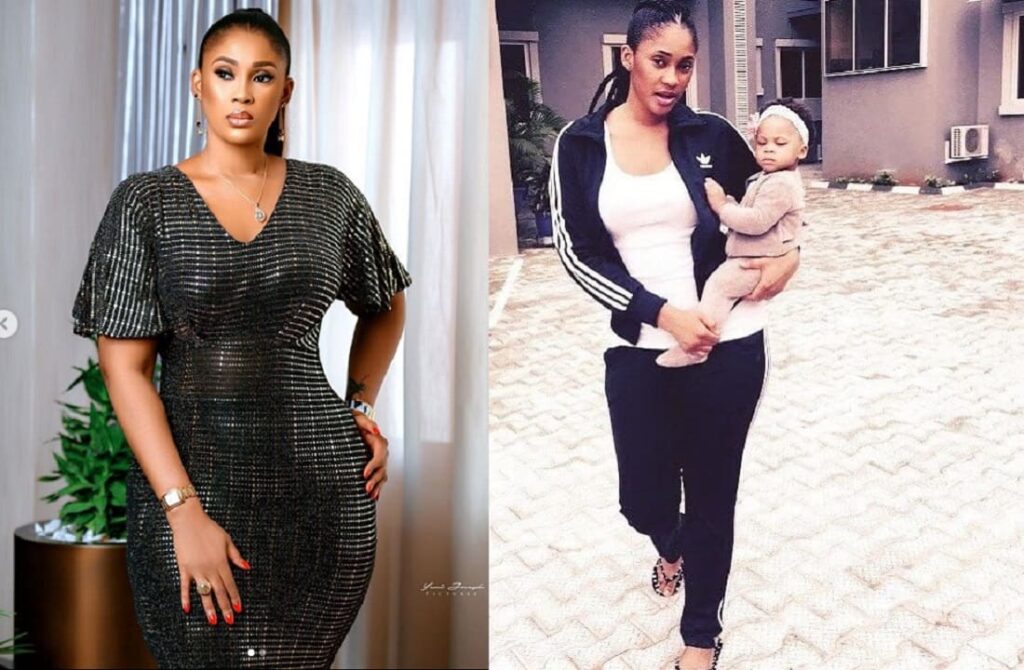 Sandra Okagbue is Flavour N'abania's first known baby mama. The ex-lovebirds were popular for their inconsistent relationship in 2014 and there have been rumours about their possible marriage once in 2015 and another in 2020, none of which happened.
Sandra Okagbue is a model, actress and entrepreneur from Anambra State. She is the eldest daughter of the ex-Obi of Onitsha, H.R.H Obi Ofala Okechukwu Okagbue of Onitsha Kingdom, Anambra State.
Sandra is the sister to Chris Okagbue, a Nigerian actor and movie producer, and the winner of the Season 8, Gulder Ultimate Search Reality TV Show.
Sandra Okagbue rose to fame after winning Miss Delta Soap Pageant in 2010. Her romantic affair with Flavour also brought her to the limelight, especially after she became his baby mama.
Sandra Okagbue's child for Flavour
Sandra Okagbue gave birth to Flavour's first child and daughter in 2014. She was alleged to have given birth to another child for Flavour in November 2018, but the truth of this rumour was never proven and the rumour eventually died.
It was also speculated that Flavour and Sandra Okagbue had a secret wedding ceremony on December 28, 2015, at the model's hometown in Onitsha. A popular Nigerian blog site also reported that they had a secret wedding on Monday, August 3, 2020, in Enugu State. It was later confirmed that none of these weddings took place.
It can be said that the speculations of marriage between the ex-lovers arise from the fact that they maintain a cordial relationship and are often seen together in public places especially after it was reported that Sandra had another baby for Flavour.
Sandra Okagbue and Mikel Obi relationship
Sandra Okagbue was also once rumoured to have dated Nigerian footballer and former Chelsea midfielder, Mikel John Obi.
About Flavour N'abania's second baby mama Anna Banner and their relationship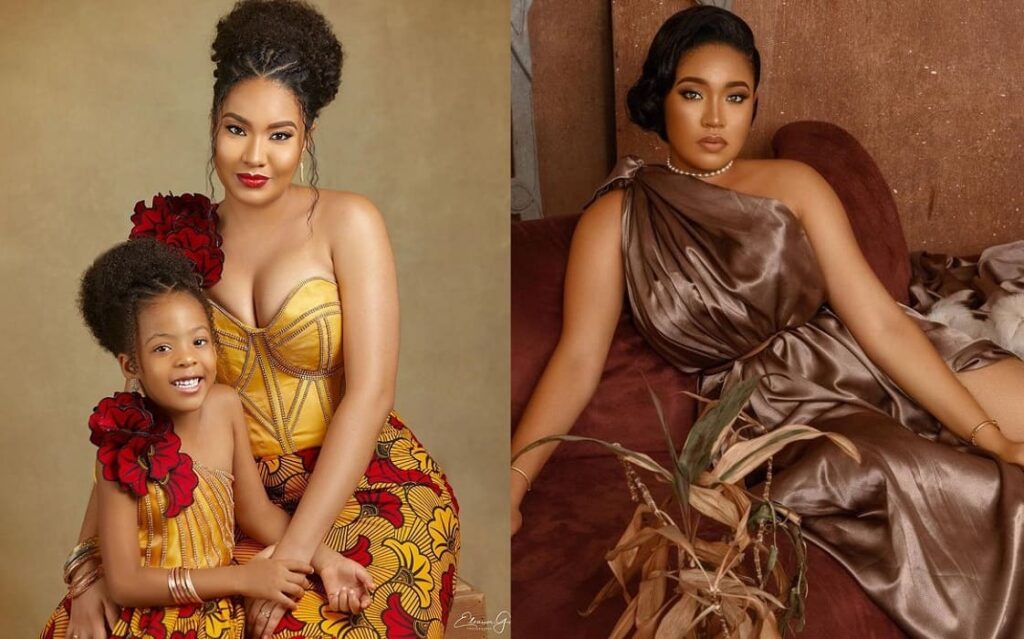 Anna Banner is the second baby mama of singer Flavour N'abania. She became the mother of his second daughter in 2015, a year after he fathered a child with Sandra Okagbue.
Anna Banner was born on February 18, 1995, in Port Harcourt. The 26-year-old model and actress won the Most Beautiful Girl in Nigeria Beauty Pageant in 2013 and represented Nigeria at the Miss World Pageant, but she did not make it to the top 10 finalists.
She was appointed as Special Assistant on Culture and Tourism to the ex-Governor of Bayelsa State, Governor Henry Dickson upon her winning the MBGN title in 2013. She made her acting debut in 2014, featuring in Wale Adenuga Productions' Super Story TV series, 'Too Blind To See'. She also appeared in the maiden season of Emem Isong's soap opera, 'Lovers And Sinners'.
The model cum actress formerly enrolled in Middlesex University in Dubai but couldn't complete her studies because it was during this period that she got impregnated by Flavour.
Anna was thrown out of school because it was against the rules of the United Arab Emirates to be expecting a child out of wedlock.
According to her, her pregnancy period was the most trying time of her life as she did not plan to become a baby mama and her parents stopped talking to her because of the pregnancy, though they later accepted her.
She also faced a lot of backlash on the media from music lovers who accused her of snatching Flavour from his first baby mama, Sandra. However, Anna Banner revealed that she never knew that the singer had a baby mama before she met him.
However, the model seems to be enjoying her single mother lifestyle as she has revealed that she is happy she had kept the child. Anna Banner now also has a foundation called 'Anna Banner Empowerment Foundation' through which she caters to the need of the less privileged.
List of Flavour N'bania's children
Flavour has a total of three children right now – two daughters named Gabrielle and Sophia from his two baby mamas and one adopted boy named Semah G. Weifur.
Flavour adopted a visually impaired Liberian boy named Semah G. Weifur in 2017.
Though the singer was alleged to have fathered another child with his first baby mama, Sandra, the authenticity of the news was never confirmed.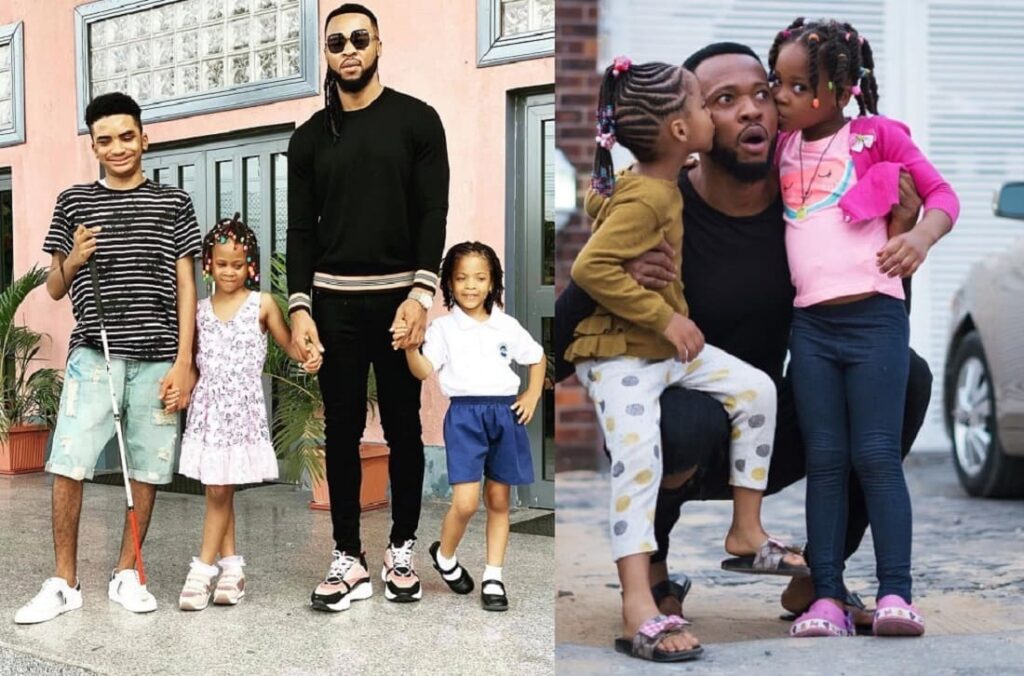 List of Flavour's children
Gabrielle Okoli
Sophia Okoli
Semah G. Weifur
Gabrielle Okoli
Gabrielle Okoli is Flavour's first child and daughter. He had the girl with his first baby mama, Sandra Okagbue. Gabrielle was born in September 2014 and is currently seven years old.
She reportedly has a younger sibling, but there is little to no information about him or her. It has also not been confirmed if Flavour is the child's father.
Sophia Okoli
Sophia Okoli is Flavour's second child and daughter. Flavour fathered the girl with Anna Banner, his second baby mama. Sophia was born on August 1, 2015, in the United State of America. She is currently six years old.
Semah G. Weifur
Semah G. Weifur is Flavour's adopted son. Flavour met the boy in March 2017 and later featured him in his hit song, 'Most High'.
It was heard that the boy was born blind and into poverty and was being catered for by the Monrovia-based Non-Governmental Organization called Christian Association of the Blind (CAB) before Flavour found him.
According to an article published by The Guardian, Flavour adopted the boy because he once had two visually impaired friends while in secondary school and they contributed immensely to his life.
The singer revealed that this has made him grow to respect every physically challenged individual who is struggling to make ends meet.