Who is K1 de Ultimate a.k.a KWAM1?
KWAM1 is a Nigerian Fuji singer and entertainer. His music is a combination of Juju, Apala, and Yoruba blues. He is also known as K1 de Ultimate, Igi Jegede, and Oba Orin, amongst his other monikers.
KWAM1's full name is Wasiu Omogbolahan Olasunkanmi Adewale Ayinde Marshal Anifowoshe. He was born into a polygamist family on March 3, 1957, in the Agarawu Area of Lagos Island, Lagos State. However, he is originally from Ijebu Ode in Ogun State.
The 64-year-old Fuji singer discovered his passion for music at the age of 8. By 15, he had already won several local musical competitions. He became a member of the Supreme Fuji Commanders Bands in 1975. The band was owned by late Fuji icon, Alhaji Sikiru Ayinde Barrister.
K1 de Ultimate released his debut album in 1979. The album was titled 'Iba' with the lead track 'Abode Mecca'. His album 'Talazo 84' which was released in 1984 shot him into prominence.
The Fuji singer has released over 30 albums to date. His recently released hit single 'Ade Orin Okin' from the album 'Fuji the Sound' received massive acceptance and has become an anthem of sorts even among people who do not love the fuji genre.
KWAM1's marriage and relationships
K1 de Ultimate (KWAM1) is a self-confessed polygamist. The musician has compared himself to the Biblical King Solomon who had 300 wives and 700 concubines and also to the late great Fela who married about 27 women on the same day.
Though KWAM1 has children with several other women, he is publicly known to be legally married to about three or four women.
According to reports, he was formerly married to a lady identified as Shalewa but they are reportedly separated. He is presently the husband to Yewande, Fathia Opeyemi Marshal otherwise known as Titi, and his newfound love, Emmanuella Aderopo.
List of KWAM1's publicly known wives
Shalewa (former wife)
Yewande
Fathia Opeyemi Marshal (Titi)
Emmanuella Aderopo
KWAM1's marriage with Emmanuella Aderopo
Emmanuella Aderopo is the newly wedded wife of KWAM1. They got married in a private wedding ceremony on Thursday, November 18, 2021, at the palace of the Alake of Egbaland, Abeokuta, Ogun State.
Interestingly, Emmanuella Aderopo is the first publicly displayed wife of the singer, though both parties had earlier denied having any romantic ties. Emmanuella was even the first to publicize their relationship after she posted a romantic message, eulogizing the singer.
According to reports, the love birds have been dating since 2009 but kept their relationship on the low. It is also alleged that Emmanuella Aderopo used to be a friend of one of KWAM1's wives called Titi. It was even heard that the duo got married and made their affair public to spite Titi who has been suspecting their closeness.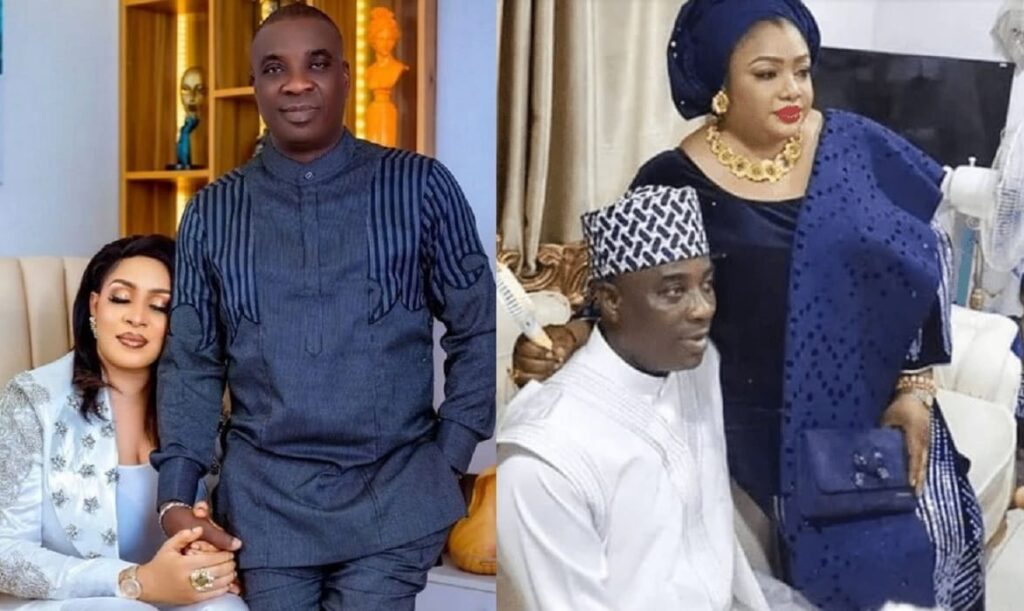 KWAM1's marriage with Fathia Opeyemi Marshal (Titi)
KWAM1 got married to Titi on March 3, 2018, which coincided with his 61st birthday. Reports had it that their marriage was conducted by the registrar at the Ikoyi Marriage Registry after which a wedding reception was held at the singer's residence in Ijebu-Ode, Ogun State called Ojushagbola Castle.
According to reports, KWAM1 met Titi at one of his shows in 2001 and they later kicked off a romantic relationship. However, they kept their relationship a secret up until 2013. It was alleged that Titi is the niece of the singer's ex-wife called Shalewa, which is the reason for keeping their affair a secret.
Their relationship became publicly known after Titi had a child for K1 de Ultimate in 2013 in the US.
KWAM1's marriage with Yewande
Yewande is another known wife of Fuji singer K1 de Ultimate a.k.a KWAM1. According to reports, they have five children together and she is currently living in Canada with the children.
Not much else is known about their marriage.
KWAM1's marriage with his ex-wife Shalewa
There is little to no information about KWAM1's marriage with Shalewa and how it ended. It is only alleged that she is the aunt of the singer's other wife called Titi.
According to rumours, KWAM1 and Titi met and started dating behind Shalewa's back and it was probably the discovery of the affair that led to their separation.
About KWAM1's new wife Emmanuella Aderopo
Emmanuella Aderopo is K1 de Ultimate (KWAM1)'s most recent wife. According to reports, KWAM1 likes to call her by the pet name, 'Nuella Ajike Mi'.
According to reports, Emmanuella is a proud mother of 3 children before her marriage to Wasiu Ayinde Marshal (KWAM1).
Emmanuella Aderopo is the daughter of late Egba Chief, Stephen Gboyega Odebiyi. Her late father was a retiree of the Nigerian Ports Authority and a customary judge before his death. K1 de Ultimate even performed at his burial.
Emmanuella Aderopo age, education, and businesses
Emmanuella Aderopo is currently in her 40s. She is from Abeokuta in Ogun State where she holds a chieftaincy title as the Iyalode of Otun Igbehin in Ogun State.
Emmanuella Aderopo holds a degree in Real Estate Management from Yaba College of Technology. She is the CEO of Party Dreams, a children's boutique and gifts store located in Omole Phase 1, Lagos. She also has another liquor store in Lagos and she is also into foreign exchange trading.
About KWAM1's other wife, Fathia Opeyemi Titi Marshal
Titi is one of the legally married wives of KWAM1. She is said to be running an upscale fabric store in Surulere, Lagos.
She has three children for the singer and one from her previous marriage. Reports had it that she was formerly the fiancee of a fan of her husband identified as Akinbobola, popularly called 'Gbenga Islander'.
She was also alleged to be the niece of KWAM1's ex-wife called Shalewa and an alleged former friend of his new wife, Emmanuella.
KWAM1's children
According to reports, KWAM1 has about 38 children from different women, though only a few of them are publicly known.
He has three grown-up daughters named Fathia Whitney Anjolaoluwa Marshal, Wasilat Olaronke Ashabi Ayinde, and Hidayat Abolaji Anifowose.
His sons that are publicly known are named EL-Amin Ademola Adio and Sultan Omogbadebo Anifowose.
The singer's current last child was born in 2013 by his wife Titi and she is a girl of about eight years.
List of KWAM1's children
Hidayat Abolaji Anifowose
Wasilat Olaronke Ashabi Ayinde
EL-Amin Ademola Adio
Sultan Omogbadebo Anifowoshe
Fathia Whitney Anjolaoluwa Marshal
Hidayat Abolaji Anifowose
Hidayat Abolaji Anifowose is one of KWAM1's daughters who got married to her heartthrob Olalekan on March 4, 2014, at her father's house in Ijebu-Ode.
The occasion was graced by several high-profile men and women, including celebrities and monarchs of different communities.
Wasilat Olaronke Ashabi Ayinde
Wasilat Olaronke Ashabi Ayinde is the late child of KWAM1. She died in December 2017 after an undisclosed illness in Canada. Her father called her a gift from God, revealing that she was born on July 17, 1983, in the online tribute he made for her.
EL-Amin Ademola Adio
EL-Amin Ademola Adio is one of K1 de Ultimate (KWAM1)'s sons who bagged a first-class degree in Economics in 2020 from Holloway University in Egham, England.
A video clip of the singer's visit to his son's school surfaced online sometime in October 2019. The video showed how EL-Amin giving his father a grand tour of his institution.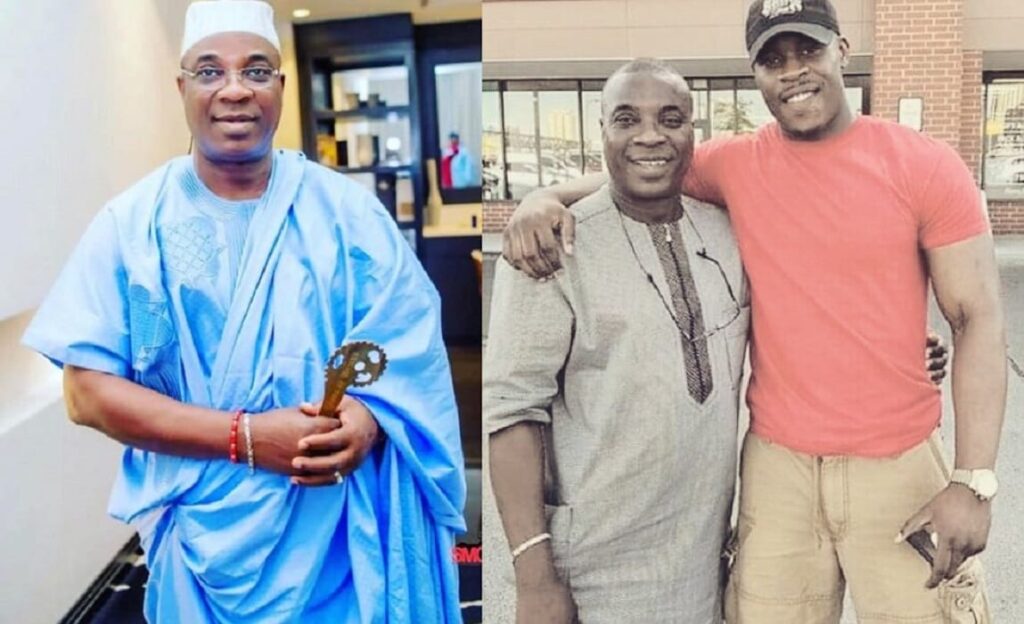 Sultan Omogbadebo Anifowoshe
Sultan Omogbadebo Anifowoshe, also known as "Ayinde" is KWAM1's son who was accused of cybercrime in December 2018. Sultan was arrested by the US police in Chicago alongside 8 others over a $2 million fraud.
They were charged in Chicago for engaging in 'romance scams' and fraudulent 'mystery shopper' schemes.
Though KWAM1 affirmed that his son was truly arrested as of then, he explained that the allegation laid against him was false, stating that Sultan was granted bail as evidence of his innocence.
According to him, the allegation was the work of his enemies who thought they could get at him through his son.
However, in some other reports, it was alleged that the musician abandoned his son at the time of his trial. It is alleged that KWAM1 is known for being lackadaisical about the well-being of his children.
It was said that though the young man was granted bail, he had no surety as his father refused to show up for him.