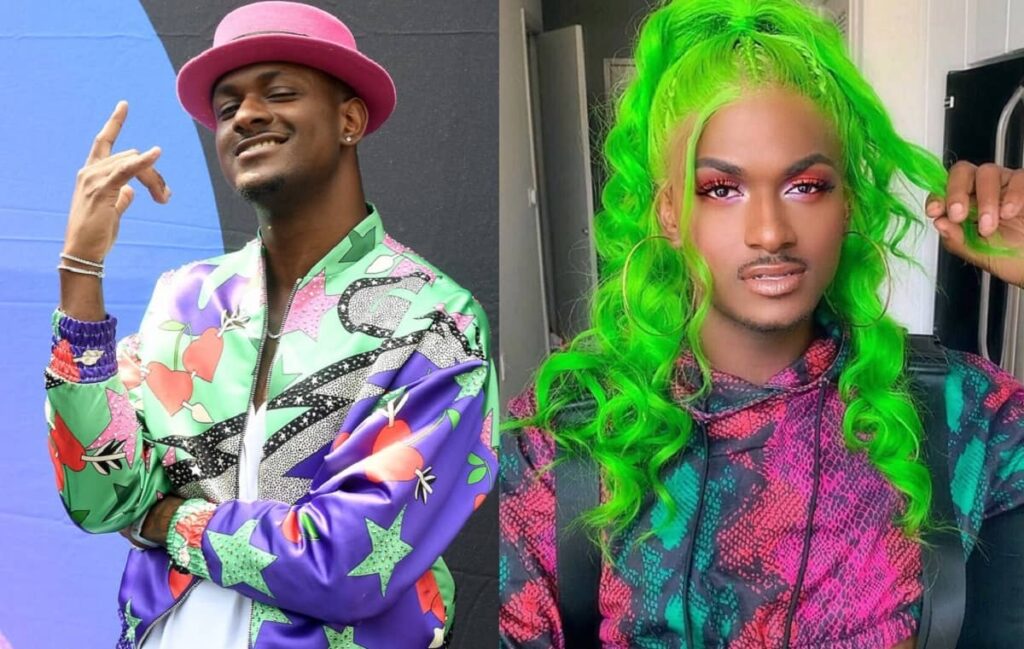 Who is Blameitonkway?
Blameitonkway is an American comedian and social media personality whose real name is Kwaylon Rogers.
Blameitonkway hit fame after he made a video impersonation of the American supermodel, Tyra Banks. Blameitonkway used the model's favourite line, "Bring it down three more notches" from her TV show, "America's Next Top Model", in the impersonation video, creating a good moment of hilarity.
Blameitonkay now plays a character known as 'Titi' – a grumpy black girl with the temper of a weasel – in his comedy skits.
On a fairer note, Blameitonkway's 'Titi' character represents women who struggle daily with self-esteem, social acceptance, family and relationship issues, etc.   
Comedy, for Blameitonkway, came as an easy-peasy job as he has been cracking jokes since high school. He noted that he used to be called the class clown/joker while in school. 
Full data profile of American comedian Blameitonkway
| | |
| --- | --- |
| Full Name | Kwaylon Rogers |
| Stage name | Blameitonkway |
| Age | 30 years old |
| Date of Birth | February 11, 1991 |
| Height | 5"10 feet |
| Nationality | American |
| Ethnicity | African-American |
| Parents | Unknown |
| Siblings | Lorraine Rogers |
| Relationship Status | Single |
| Career | Comedian, Entrepreneur |
Blameitonkway's childhood and education
Blameitonkway was born on the 11th of February, 1991, and he is currently 30 years old. He was born in Dallas, Texas, and he was also raised there.
Blameitonkway attended David W. Carter High School, after which attended San Jacinto College, Texas. He, however, reportedly dropped out of college to pursue a career in comedy.
Other information about Blameitonkway's parents and background is not available yet.
Blameitonkway's sister
Blameitonkway has a sister named Lorraine Rogers. Blameitonkway's sister, Lorraine, has appeared in several of his comedy videos.
Blameitonkway's career
Comedian Blameitonkway is an online comedian, content creator and Youtuber.
Blameitonkway is known for the character, "Titi", a bad-tempered black girl who struggles with a lot of issues, ranging from societal and family issues, beauty standards, peer pressure, and others. 
Blameitonkway noted that "Titi" was inspired by his sister, Lorraine. He noted that Lorraine also came up with the name "Titi" and inspired his acting. Blameitonkway and his sister make funny and inspiring skits together. 
Asides from posting on YouTube and Instagram, Blameitonkway also performs stand-up in shows and events. Most of his performances are based on his female character, "Titi" which his audience find very amusing. 
Blameitonkway's breakthrough came when he impersonated Tyra Bank's favourite line "bring it down three more notches" from her show, America's Next Top Model. 
Is Blameitonkway gay?
To fit into his character, Blameitonkway dresses like a female and this has brought many speculations about his sexuality.
There have been several controversies surrounding Blameitonkway's sexuality. Many believe he is gay because of his style of dressing, and portrayal of his female character, Titi.
The reports of Blameitonkway being gay got more intense when he kissed a man in a show. Blameitonkway has also created skits where he represented common experiences witnessed in the American gay culture.
Blameitonkway boyfriend or girlfriend
Information about Blameitonkway's boyfriend is not available at this time.
Blameitonkway and JayWill fight and controversy
In 2018, another American comedian JayWill who also plays a ratchet female alter ego "Kandie" in his comedy skits called out Blameitonkway on social media, accusing him of stealing his ideas.
JayWill claimed that BlameitonKway based his "Titi" character off of his "Kandie" and constantly steals ideas from him, including comedy ideas and wardrobe and wigs collection.
Blameitonkway's business
Asides from comedy, Blameitonkway is also a business owner. He owns a seafood restaurant called 'Krab Queenz' which is located in Atlanta. He also makes customised T-Shirts, throw pillows, and socks.
Blameitonkway's net worth
Based on current information about Blameitonkway's earnings and income, his net worth is estimated at $850, 000.
Blameitonkway on social media
Blameitonkway is active on social media. His Instagram handle is @blameitonkway. His Twitter handle is @blameitonkway.