Who is Seyi Shay?
Seyi Shay is a Nigerian singer, songwriter, model and actress.
In 2021, she appeared as a judge on the Nigerian Idol reality TV show, alongside Obi Asika and DJ Sose.
Seyi Shay's full name is Deborah Oluwaseyi Odedere Joshua. She was born on December 21, 1985, in Tottenham, England to Nigerian parents. Her father is from Ile-Ife in Osun State, while her mother is from the Northern part of Nigeria. The 36-year-old singer was raised in England by her single mother alongside her 3 siblings.
Seyi returned to Nigeria in 2011 to pursue her musical career in her motherland through the influence of the late Nigerian singer, Sound Sultan. She got signed to Flytime Music Label upon her return to Nigeria under Cecil Hammond and she released her first Nigerian song titled 'Irawo' in 2012 which became an instant hit.
She left Flytime record label in July 2015 after signing an international record deal with Universal Island Records, UK. She released her debut studio album 'Seyi or Shay' in 2015 and one EP titled 'Electric Package' in 2018.
Seyi Shay appeared as an actress in the 2018 award-winning movie titled 'Lara and the Beat' which was directed by Tosin Coker and Tolu Olusoga.
Seyi Shay's marriage and relationship
As of the time of writing this report, Seyi Shay is not married but she has made it known that she is currently engaged.
Seyi Shay once said during a conversation with Juju singer Seun Kuti and OAP Temi B on Simi's YouTube 'Stoopid Sessions' that she would not mind if her husband has side chicks, adding that she once got engaged in 2019 but the relationship did not see the break of the day.
She further explained that the relationship as of then did not lead to marriage because she and her ex-fiance had constant arguments about the wedding preparation. She is also added that she once caught him pants down with another lady.
The singer maintained that she wouldn't mind if her husband-to-be has multiple side chicks rather than one.
According to her, if he keeps one side chic, it is going to be a threat to her relationship as her would-be husband might fall in love with the person. She also made it known that marriage for her is a bit more spiritual and much deeper than the whole western type of marriage.
In another news, Seyi Shay revealed in an interview with HIP TV a few days after her heated argument with her colleague, Tiwa Savage, that her fans are pressurizing her to get married and have babies.
According to reports gathered by DNB Stories Africa, Tiwa Savage had allegedly told Seyi Shay that she won't have a child during their argument in 2021. However, the singer sparked rumours of being pregnant in December 2021 and later disclosed she is currently engaged.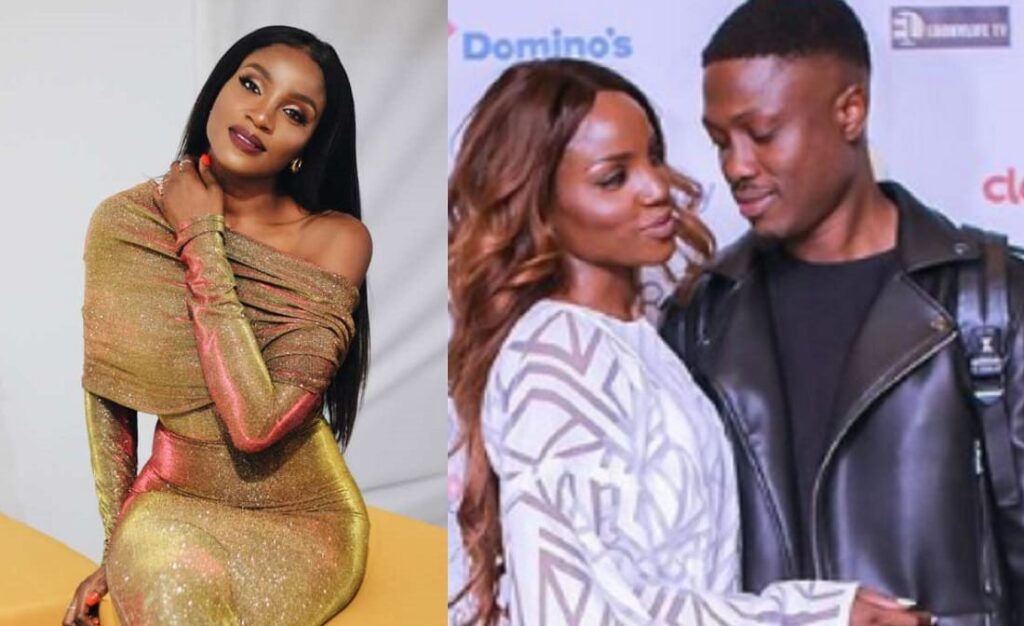 Seyi Shay's pregnancy rumour
Seyi Shay sparked rumours of being pregnant in December 2021 after she was seen flaunting and caressing a baby bump while dancing in a video she posted on Tik-Tok. It was said that the video was aimed at promoting her newly released album titled 'Big Girl'.
Seyi Shay has not personally confirmed the rumours of being pregnant. There are speculations that her act in the video was just a publicity stunt used in creating awareness for her album.
The singer has made it known that her fans will find out if she is pregnant or not after nine months as she herself doesn't know. This was her response when being questioned about the pregnancy rumour during an interview.
However, the 36-year-old singer has made it known that she is currently engaged to a man whose identity she did not reveal.
Seyi Shay's husband
As of the time of writing this report, Seyi Shay has no husband as she is not married. However, she revealed on Tuesday, January 18, 2022, that she is currently engaged to a man during an interview on the 'Morning Rush Show' on Beat FM.
She made it known that her relationship with her new lover is going on nicely, adding that the man has added to her glow. She also flaunted her engagement ring which she said is a real diamond ring.
Previous engagement
Seyi Shay has reportedly been engaged more than once. According to reports sighted by DNB Stories Africa, the singer has previously gotten engaged in 2019 and again in early 2020 but both relationships sadly crashed.
About Seyi Shay's new fiancé
Nothing is known about the new man Seyi Shay is currently engaged to as the actress has not revealed any details about him. However, it is reported that the singer's new fiancé is the one responsible for her alleged pregnancy.
Seyi Shay's children
As of the time of writing this report, Seyi Shay has no child or children but there are speculations of her being pregnant and expecting a child, though she has not exactly affirmed or debunked the speculation.