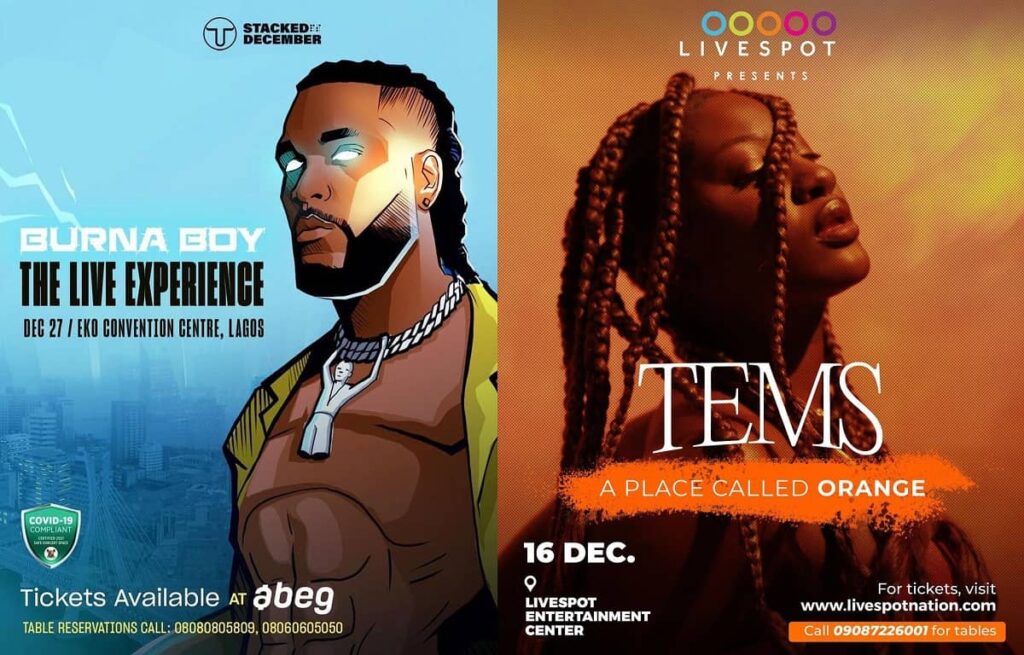 It's December and not even Omicron can stop us (hopefully the Lagos Government won't).
The lineup for this December is looking really maaad and there's no reason not to join the Detty December gang – if you (and your pocket) are up for it, of course!
For free show lovers, there is only a handful this year. Are you surprised?
Here is the list of top events and music shows and concerts happening in Nigeria this December plus how much you need to pay for a ticket:
Event/Show/Concert name
Venue
Date and Time
Ticket Price
1
Adekunle Gold Live in Abuja
(Link to buy ticket)
Transcorp Hilton, Abuja
5th December 2021, 8:00 pm
₦10K – Regular
₦20K – VIP
₦1.5m – Table
2
Fuji Vibrations (Yaba) With King Dr. Saheed Osupa and Adio Atawewe (Link to buy ticket)
Ordinance Events Centre, Sabo, Yaba.
10th December 2021, 6:00 PM – 10:00 PM
FREE
3
Vendease Games Festival 2021
(Link to buy ticket)
Landmark Beach, Victoria Island, Lagos
11th December 2021, 12:00 pm
₦3K – Gate pass
₦1 m – Cabana for 10
4
Vybe with the Trybe – Lagos
(Link to buy ticket)
Landmark Event Center
11th December 2021, 4:00 PM – 11:00 PM
₦5K to ₦1m
5
Grill Fest Gidi Season 3
(Link to buy ticket)
African Church Primary School, Ogba
11th December 2021, 1:00 pm
₦3K flat
6
Joeboy Live
(Link to buy ticket)
Balmoral Convention Center, VI, Lagos
15th December 2021, 6:00 pm
₦5K to ₦30K
7
WurlD Live in Lagos
(Link to buy ticket)
Bayroot Lounge & Lounge, VI, Lagos
15th December 2021, 6:00 PM – 1:08 AM
₦5K – Early bird
₦7,500 – Regular
8
Tems – A Place Called Orange
(Link to buy ticket)
Livespot Entertainment Center, Lagos.
16th December 2021, 6:00 pm
₦20K to ₦3 million
9
Gen Z Republik
(Link to buy ticket)
Ikate, Lagos
16th – 21st December 2021, 11:00 am
₦25K to ₦100K
10
Chike Live: No Music, No Life
(Link to buy ticket)
Muri Okunola Park, Lagos
17th December 2021, 7:00 pm
₦10K – Regular
₦20K – VIP
₦500K to ₦1m – Table
11
Tiwa Savage Live
(Link to buy ticket)
Livespot Entertainment Center, Lagos
17th December 2021, 6:00 pm
₦20K to ₦5 million
12
Wizkid Live in Abuja
(Link to buy ticket)
Harrow Park, Abuja
17th December 2021, 4:00 pm
₦20K to ₦5.5 million
13
ICONs Fest (Laycon Live in Concert)
(Link to buy ticket)
Eko Hotel, Lagos
17th December 2021, 7:00 pm
₦10K to ₦100K
14
PSquare… Reactivated
(Link to buy ticket)
Livespot Entertainment Center, Lekki
18th December 2021, 6:00 pm
₦20K to ₦5 million
15
Wizkid Live Lagos
(Link to buy ticket)
Livespot Entertainment Center, Lekki
19th December 2021, 6:00 pm
₦20K to ₦5 million
16
Davido Live in Abuja
(Link to buy ticket)
Harrow Park, Abuja
17th December 2021, 4:00 pm
₦20K to ₦5.5 million
17
Sabinus Live: Expect Something Hooge
(Link to buy ticket)
Aztech Acrum, Stadium Road, Port Harcourt
19th December 2021, 5:00 pm
₦5K to ₦1 million
18
DJ Spinall – Party of Dreams
(Link to buy ticket)

Livespot Entertainment Center, Lagos
20th December 2021, 5:00 pm
₦10K to ₦3 million
19
Lady Donli and The Lagos Panic Volume 3
(Link to buy ticket)
Beeriga, Bariga Waterfront Jetty
20th December 2021, 5:00 pm
₦5K to ₦25K
20
Flytime Music Festival – Starboy Live
(Link to buy ticket)
Eko Convention Center, Lagos
21st December 2021, 8:00 pm
Up to ₦10 million
21
Buju Live in Concert
(Link to buy ticket)
Balmoral Convention Center, VI, Lagos
22nd December 2021
₦10K to ₦3 million
22
Flytime Live with Ne-Yo, Chike, Flavour, Simi and Bovi (Link to buy ticket)
Eko Convention Centre, Lagos
22nd December 2021, 9:00 pm
Up to ₦10 million
23
Pepsi Rhythm Unplugged (Link to buy ticket)
Eko Convention Centre, Lagos
23rd December 2021, 8:00 pm
₦50K – VIP,
₦7m – Table
24
Omah Lay Live in Port Harcourt: The Homecoming (Link to buy ticket)
Port Harcourt Polo Club
24th December 2021, 6:00 pm
₦3K to ₦1 million
25
Flytime Music Festival – A Decade of Davido
(Link to buy ticket)
Eko Convention Centre, Lagos
24th December 2021, 6:00 pm
Up to ₦10 million
26
Island Block Party (Link to buy ticket)
Lagos Island
26th December 2021, 2:00 pm
₦2K
27
Big Name Concert – Patoranking
(Link to buy ticket)
Eko Convention Centre, Lagos
26th December 2021, 6:00 pm
₦15K to ₦5 million
28
Burna Boy The Live Experience
(Link to buy ticket)
Eko Convention Centre, Lagos
27th December 2021, 6:00 pm
₦25K to ₦7.5 million
29
Can You SIMI Now Live with The Banjos (Link to buy ticket)
Muri Okunola Park, VI, Lagos
28th December 2021, 3:00 pm
₦10K to ₦25K
30
Eat Drink Festival 2021 (Link to buy ticket)
Amore Gardens, Lekki
28th – 29th December 2021, 12:00 pm
₦2K- 1 day, ₦3K – 2 days
31
Vibes on the Beach with Big Wiz
(Link to buy ticket)
Landmark, Plot 2 & 3, VI, Lagos
30th December 2021, 6:00 pm
₦25K to ₦2 million
32
Mainland Block Party (Link to buy ticket)
Lagos Mainland
1st and 2nd January 2022, 3:00 pm
₦1500