Who is Desmond Elliot?
Desmond Elliot is a Nigerian actor, film director, producer and politician.
Mr Elliot is a Lagos State lawmaker representing Surulere 1 Constituency at the Lagos State House of Assembly. He is also a recipient of the Member of the Order of the Federal Republic of Nigeria title.
Desmond Elliot was born on February 4, 1974, to a Yoruba father from Olowogbowo in Lagos Island and an Igbo mother from Illah in Oshimili North, Delta State. His father's name is Pa Ezekiel Elliot and he was also known as Sunny Boy of Texas.
The 47-year-old actor was brought up in Jos, Plateau State, though he is originally from Lagos State. Reports even had it that he was born into a polygamous family of 11 children.
He obtained a degree in Economics from Lagos State University, Ojo in 2003.
How Desmond Elliot started acting
Desmond Elliot started his acting career by appearing in soap operas like "Everyday People", "One Too Much" and "Saints and Sinners" after being influenced by his friend to become an actor.
His first major movie appearance was in 2002 at the age of 28 when he was cast in the comedy movie "Jesu Mushin". Though he played a minor role in the movie, Mr Elliot would later go on to become one of Nollywood's most sought-after male actors of the early 2000 era.
He had his directional and productional debut with the movie "Uyai" in 2008 at the age of 34. He also co-produced and co-directed the movie "Reloaded" the same 2008. The movie was successful and earned him recognition in the industry.
Desmond Elliot owns a film production company called Denzlot Productions and he's also involved in public relations for Globacom.
Desmond Elliot's marriage and wedding
Desmond Elliot is a happily married actor and politician. He is married to Victoria Elliot (née Imaobong) and their union is blessed with four children from a double set of twins.
The lovebirds met at Jos during their university days and dated for eight years before they finally walked down the aisle on December 26, 2003. Their wedding ceremony could be described as "average" as Desmond has not found fame then.
They had their first set of twins shortly after their marriage and had the second set four years after, in 2010.
While quite controversial himself, the actor's marriage has not suffered any major controversy or scandal in the media. However, he was recently accused of infidelity.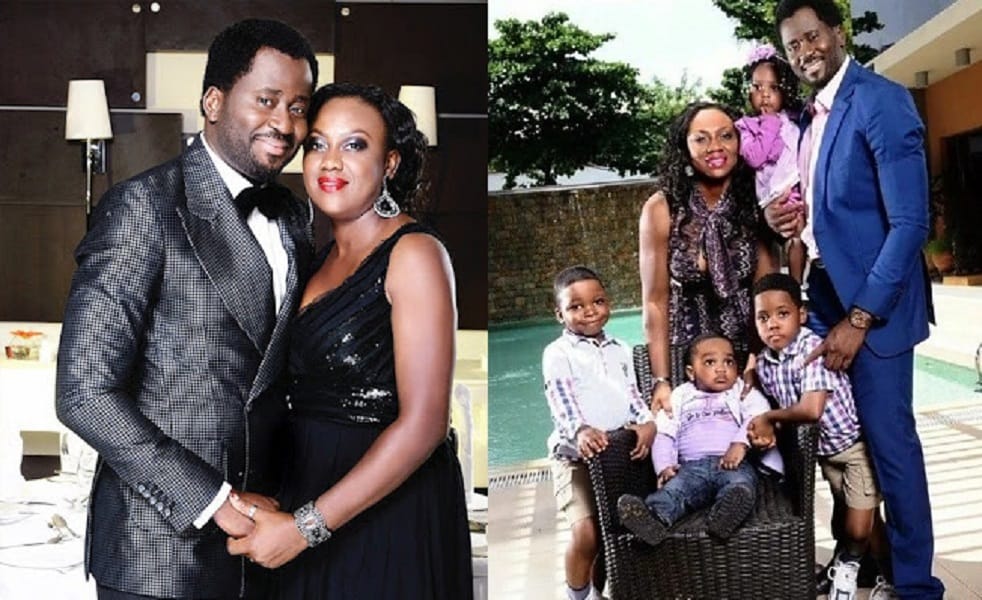 About Desmond Elliot's wife, Victoria Elliot
Victoria Elliot is the legally wedded wife of Nollywood actor and politician Desmond Elliot.
According to information gathered by DNB Stories Africa, she is a businesswoman who deals in the sales and distribution of Nollywood movies. She also co-manages her husband's production company called "Denzlot Productions".
Victoria Elliot is a native of Akwa Ibom State. She holds a degree in Mathematics from the University of Jos, Plateau State. She worked briefly as a banker upon her graduation and resigned to become an entrepreneur after becoming one of the bank's top officials.
The exact age of Desmond Elliot's wife, Victoria, is not known at this time but she is speculated to be in her late 30s. Unlike her husband, Victoria Elliot keeps a low profile and does not like to be in the news.
Desmond Elliot's children
Desmond Elliot is the proud father of four children – 3 boys and a girl.
Desmond and his wife had two sets of twins. They are named Denzel Elliot, Desmond Elliot Junior, Donald Elliot, and Dawn Elliot respectively.
Denzel and Desmond Junior are the first set of twins the actor had in 2006, while Donald and Dawn are the ones he had four years later, in 2010. Dawn and Donald are speculated to be 12 years of age.
It's obvious Desmond Elliot and his wife try to keep all personal information about their children away from the media. However, the actor is often seen flaunting his children's photos and that of his wife on social media and also posts videos of himself doting on them.
Desmond Elliot's only daughter, Dawn is also known as "Sisimama" and she appears to share an interest in her father's career as an actor. Dawn Elliot has starred as a child actress in movies like "Love Police" and "The Wish of Mothers".
List of Desmond Elliot's children
Denzel Elliot (boy)
Desmond Elliot Junior (boy)
Donald Elliot (boy)
Dawn Elliot (girl)
Desmond Elliot's cheating controversy and relationship with Lydia Forson
Desmond Elliot was alleged to be having had an affair with a Ghanaian movie star, Lydia Forson in 2020, shortly after he was slammed for his comments during the #EndSARS protest.
According to information gathered by DNB Stories Africa, a blogger identified as @cutie_juls2 and @cutie_julls on Instagram alleged that the actor was sleeping with Lydia, adding that his wife caught him pants down with the actress.
According to the blogger, Desmond Elliot refused to stop the immoral act even after his wife caught him.
However, Lydia Forson did well to deny the rumour. She also blasted the rumourmongers. Desmond, on the other hand, remained calm about the allegation and never addressed the reports.