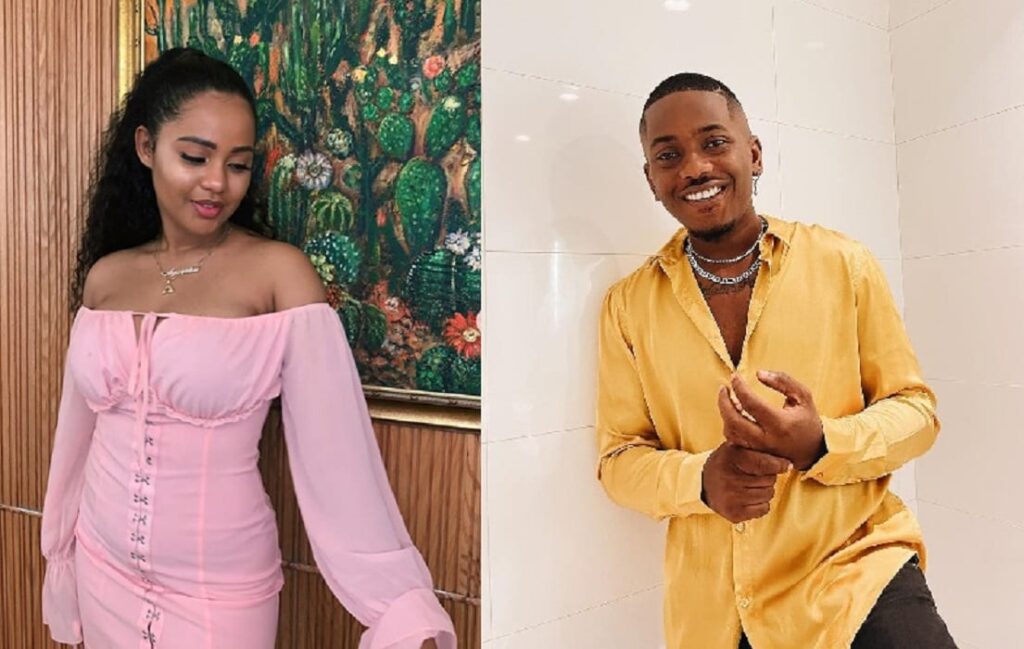 Who is Timini Egbuson?
Timini Egbuson is a popular Nigerian actor, model, digital creator and presenter. The award-winning actor is the brother of Nollywood actress Dakore Egbuson Akande.
Timini Egbuson is recently in the news, not for his successful career this time, but for a controversial relationship.
As one of Nollywood's eligible bachelors, Timini Egbuson has been at the centre of a relationship scandal or controversy multiple times.
The 34-year-old actor has been linked with multiple women, including ex-BBNaija housemate Cee-C Nwadiora, and Nollywood actress, Sharon Ooja.
However, Timini Egbuson's confirmed romantic relationship was with his ex-girlfriend Lydia Agahan Balogun, a model studying International Law and Diplomacy at Babcock University.
Timini Egbuson and Lydia Agahan relationship
Timini Egbuson and his ex-girlfriend, Lydia Agahan Balogun, kick-started their love affair sometime in 2019, at which time Lydia was reported to be 19 years old while Timini was 32.
Timini was seen always commenting on Lydia's Instagram posts, making their love affair public.
However, their relationship was heavily criticized by the public based on their age difference – Timini was around 13 years older than Lydia.
The relationship stirred mixed reactions from social media users with many criticizing Timini and stating that Lydia was too young to be dating someone of the actor's age.
Some people, however, supported the relationship, maintaining that Lydia is already an adult and old enough to make her own decisions.
Despite the criticisms and media noise, Timini and Lydia stayed loved up until September 2020 when Timini's alleged side chick was seen dragging Lydia Agahan on Twitter.
Timini Egbuson and Lydia Agahan Balogun side chick saga
Timini's alleged side chick with the name Toju (@Toritse on Twitter) was seen on 14 September 2020 dragging Lydia over a cryptic message which Lydia tweeted on her Twitter page the previous day (September 13, 2020).
According to Toju, the message Lydia tweeted was directed at her, so she took to her Twitter page the next day to reply her.
Toju revealed that Lydia has been threatening to fight her over Timini. The alleged side-chick made it known that she had made out with Timini on several occasions and there is nothing Lydia can do about it.
She along with her friend advised Lydia Agahan to focus on herself while threatening to go physical with her if she calls them out in public again.
Lydia Agahan Balogun reportedly sent Toju a DM about taking legal actions for threatening her in public after which she deleted the tweet that started the drama.
Timini and Lydia's relationship (which was allegedly already strained from past accusations of infidelity on Timini's side) finally hit the rocks shortly after the Toju drama and the two unfollowed each other on Instagram.
Timini Egbuson's side of the story
While all this was happening, Timini kept mute and did not address the issue.
He later said during an interview with Tribune Online that there is no air to clear as his relationship with Lydia was just something that didn't work out.
According to him, anybody could just cook up stories and start writing things they want to write and it Is not meant for him to start affirming or denying them.
New twist to Timini Egbuson and Lydia Agahan Balogun break-up
Timini and Lydia Agahan's breakup took a new twist when Lydia took to social media on Monday, August 16, 2021, to share hidden details of her past relationship with Timini, calling him different names in a series of tweets she shared via her Twitter page.
Lydia in her tweets called out Timini for targeting and dating naive teenagers. She called him a predator, cradle snatcher, pervert, and an all-around terrible person.
She revealed how they met and how Timini has been degrading her reputation since their split in a series of tweets.
According to the model, Timini took advantage of her being naive and immature to cajole her into a relationship.
She alleged that she went through hell and saw a lot of scary things in the relationship, but she kept mute and stayed in the relationship because Timini's family members were nice to her, and she did not want the public to be bitter at her.
She also claimed that she did not know anyone from Timini's social group when they met, neither did she know about his past relationship escapades.
She accused the "Elevator Baby" actor of sleeping with "anything that breathes" in Abuja and Lagos, revealing that he had pledged to sleep with her friends to hurt her for moving on from him.
Lydia called out her friends, Mod Jas and Busola Adejoro whom she accused of sleeping with Timini in the post, and also shared an e-mail of her advising Timini to seek professional help over his notorious act of sleeping around.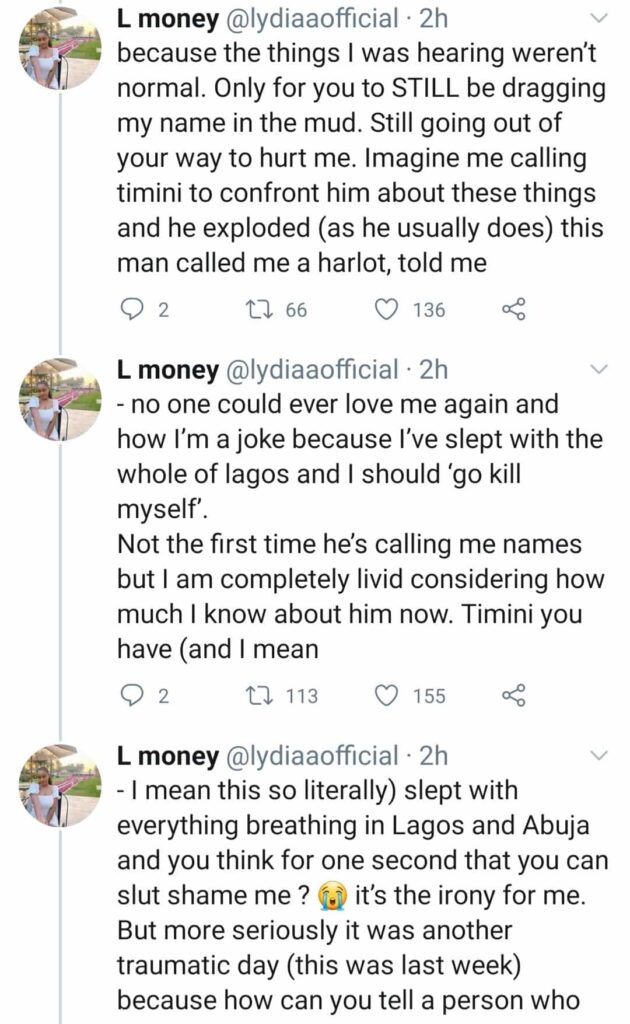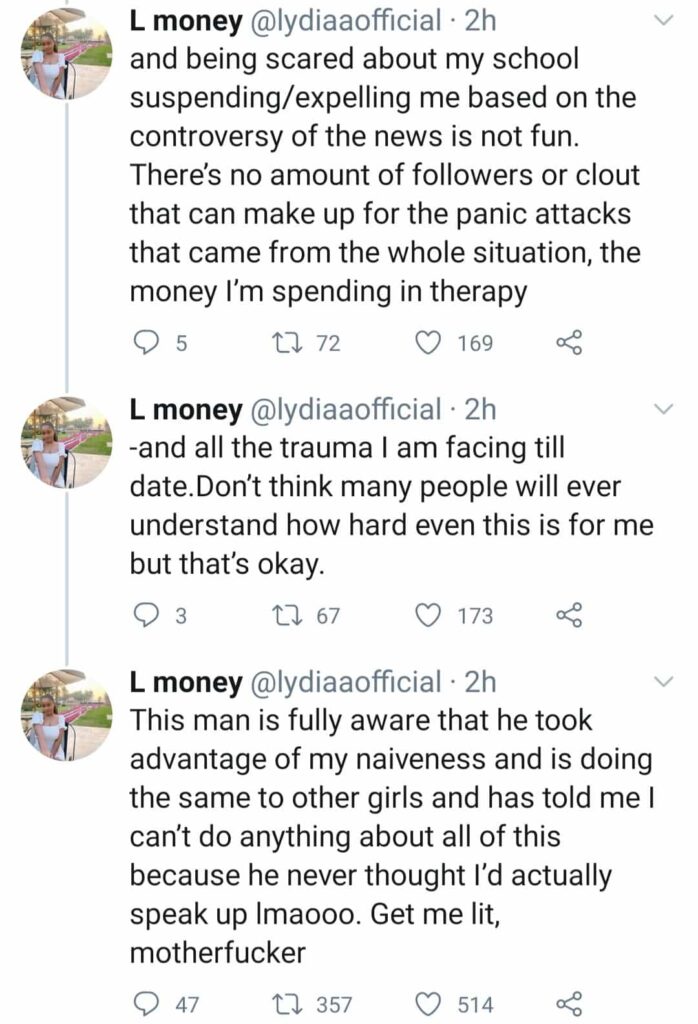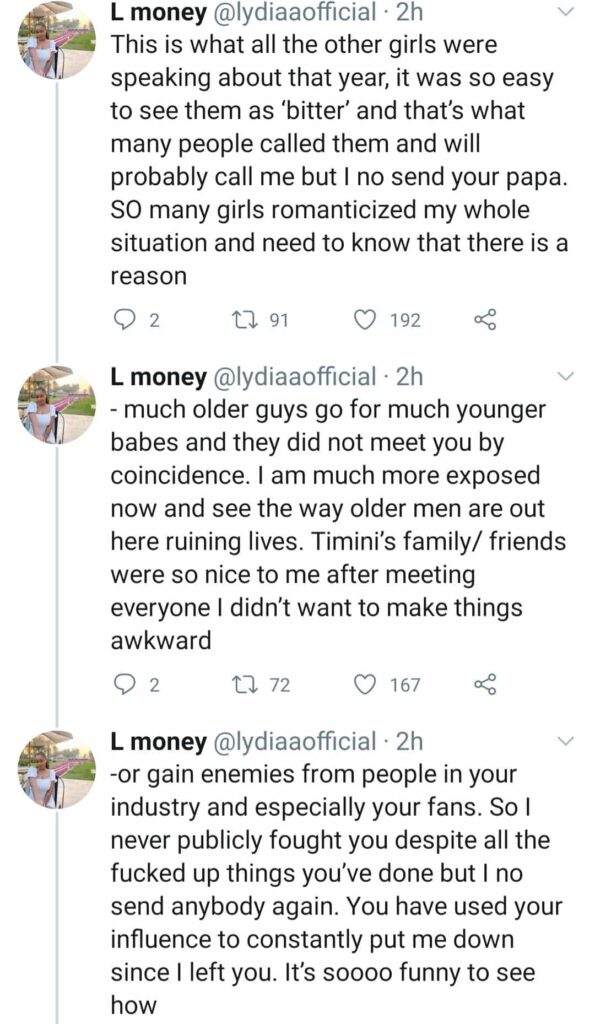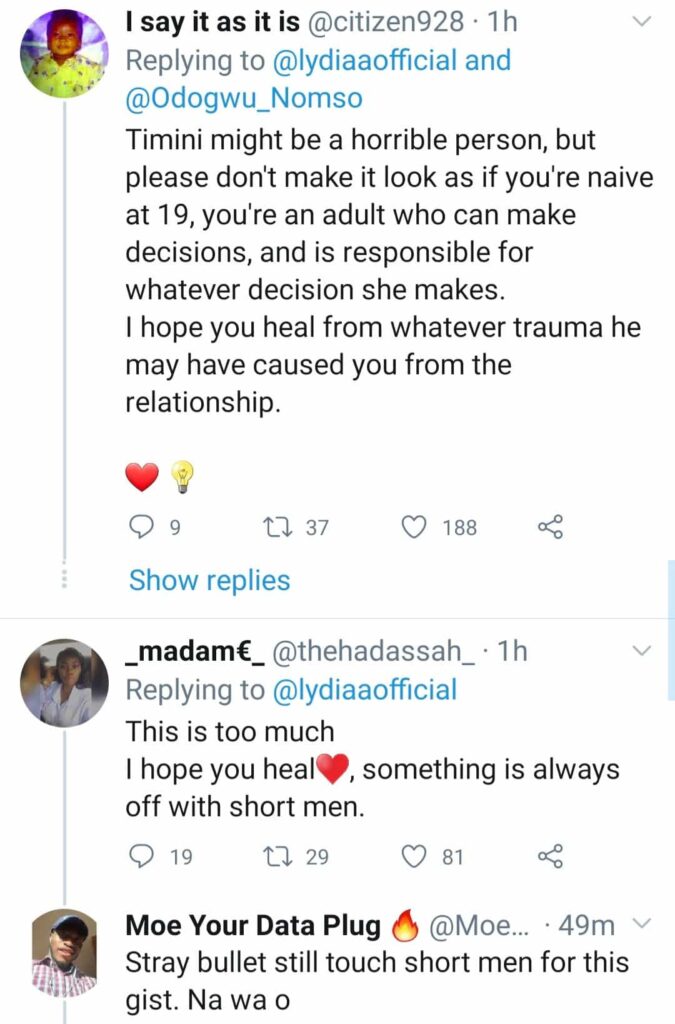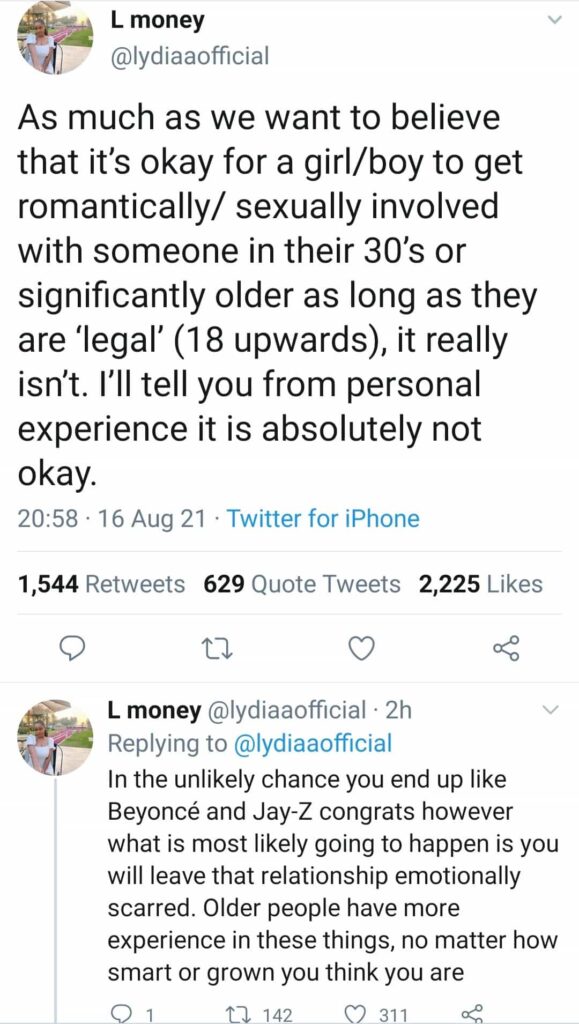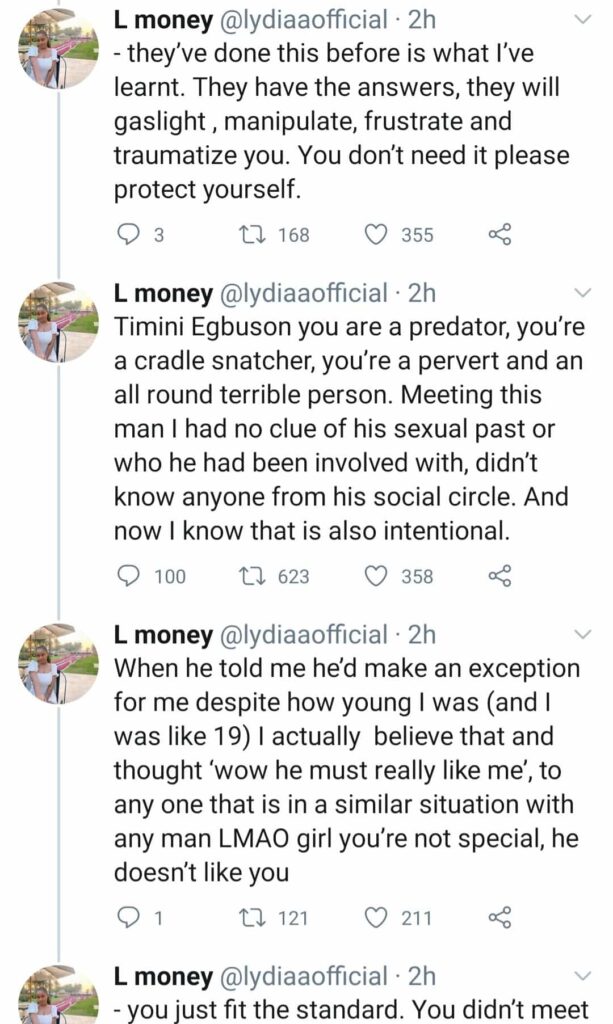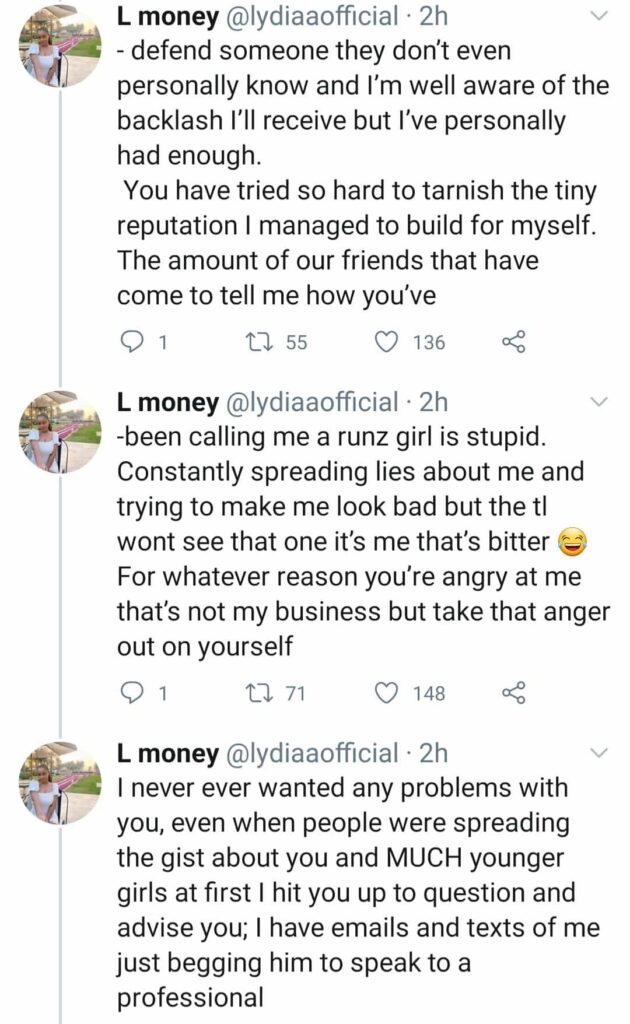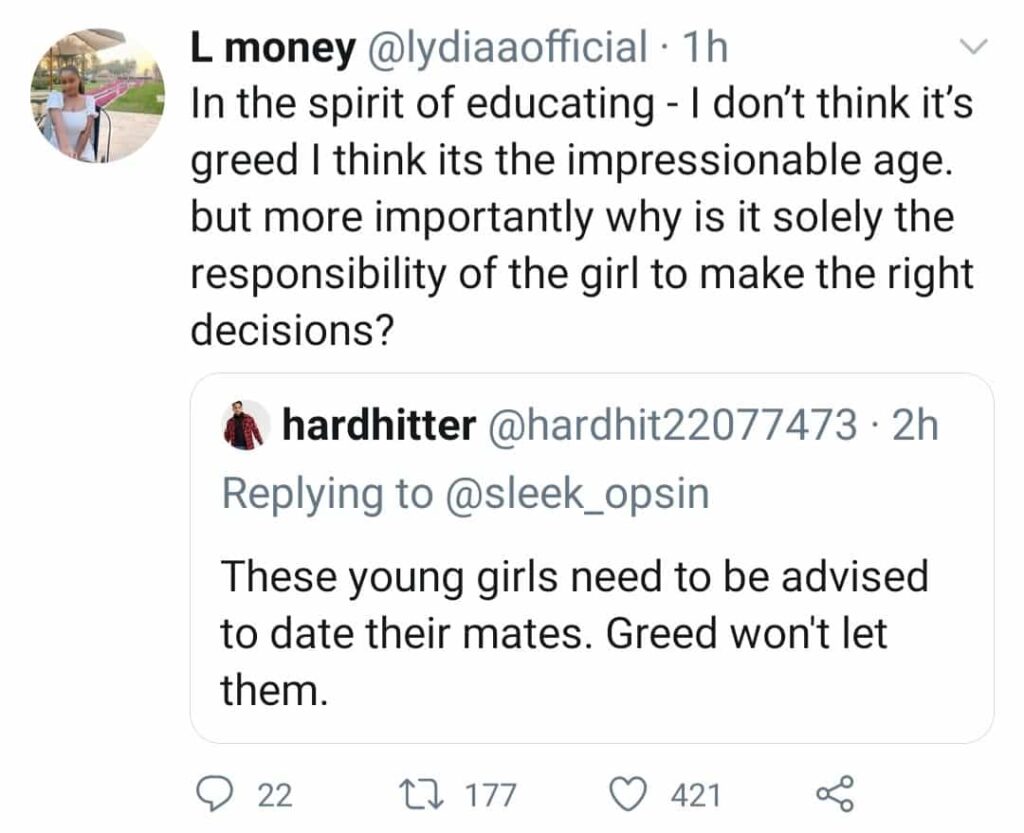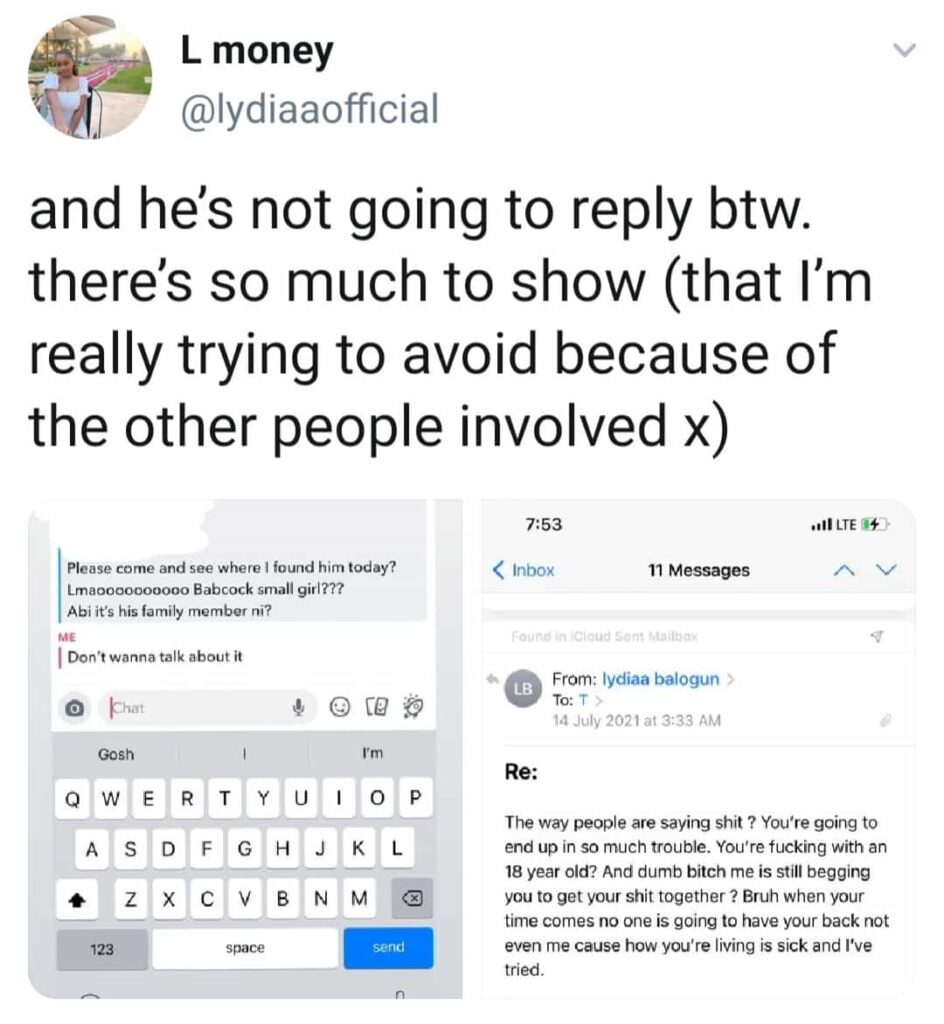 Timini Egbuson's response to Lydia Agahan's accusations
Reacting to Lydia's shocking revelations, Timini posted on Twitter, denying ever sleeping with a minor.
The actor maintained that his relationship with Lydia did not work due to "faults" from both of them.
Read Timini Egbuson's full statement about his ex-girlfriend's accusations:
"Firstly, I would like to make clear beyond any doubt that I do not condone courting or having a relationship with anyone under the age of consent. Rumours are rumours but baseless accusation of sexual abuse or grooming of underage woman is something I don't take lightly given the severity of the issue.
"Lydia and I dated two years ago, we were both consenting adults and our families knew and approved of each other. Our relationship didn't work out due to circumstances we were both at fault for which resulted in us parting ways.
"Our relationship was a volatile one and mistakes were made on both ends. Nevertheless, I learned from it and have moved on. I honestly would like to put that chapter of my life behind me and I wish her well."
Busola Adejoro's response to Lydia Agahan Balogun's accusation
Busola Adejoro, a Babcock student who was alleged to be the matchmaker of Timini and Lydia denied the allegation of making out with Timini in order to spite Lydia.
The young lady told her friend to leave her alone and move on with her life as she didn't do anything with her estranged boyfriend.
She also rubbished Lydia's claim of not knowing anyone in the actor's social group, sharing a screenshot of Lydia calling Timini her crush and begging to be introduced to him.
Who is Timini Egbuson's ex-girlfriend, Lydia Agahan Balogun?
Lydia Agahan Balogun is a model, video vixen and brand ambassador. She is reportedly a student of Babcock University studying International Law and Diplomacy.
She came into the limelight after she started dating Nollywood actor, Timini Egbuson in 2019.
Lydia carries out social media influencing gigs on her Instagram handle (@lydiaaofficial) and she also featured as a video vixen in Rema's music video for the song 'Ginger Me'.
Lydia Agahan Balogun Instagram page
Timini's ex-girlfriend, Lydia Agahan is active on Instagram. Her Instagram handle is @lydiaaofficial.