by Daniel Nkado and Gloria Ezeh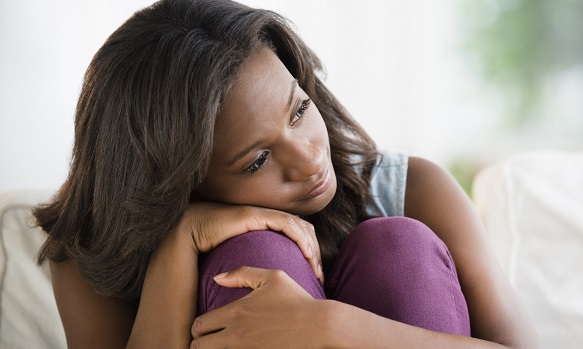 Eyaa, so he has finally bolted. And you have decided to bury your broken self in the sheets, feeling like a rapture leftover.
Relax, it's not the end of the world. Of course, you know that already, but it is just so hard to forget, I know.

Much as I feel the need to join you under the sheets and donate a few tears, I will say NO.
And truly, you can't categorically tell me that you never imagined a day like this will come. Love need to always be seen as a two-faced bitch; sometimes it lasts, other times it hurts!
Preach it, Adele!
So here are 5 things you can do to see yourself being yourself again in the shortest possible period of time!
1. Conduct His Funeral
Please wait! Wait! OMG! I said you should wait! Drop the knife and listen first!
Jeez, your blood is too hot o.
Okay, I didn't mean you should kill him. Please don't even think about it. Kirikiri is a sadder place to be.
Who said he needs to be dead anyway before you bury him. The first step to healing is letting go. I know how hard a part of you is trying to persuade you to wait, that he'd be back someday.
Forget it! He never would have actually left if he was meant to stay.
So take a photograph of him, or any other object that reminds you of him you have, and go to the backyard with a container of kerosene and a matchbox. Conduct a small mass and cremate him!
2. Then Get Busy
So you just had the funeral of a loved one, it is now time to get busy. Unlike in actual funerals where it may be required you take some days off, in this kind, hell NO. Rush into the activity. Get busy with whatever you enjoy doing. Call your girls and throw an after-funeral party. If there is anything like that!
Even if there isn't, invent it! Faraday didn't have two heads.
3. Don't Be Afraid To Meet Someone
Yes yes, don't say it is too soon. Don't say all men are now goats—that sort of thing we say when we are hurt— it is not true. This may be the best time to reply to that date invite that has been lying in your inbox since the gods know when. Go out and have fun with someone. Someone hotter! But remember, you shouldn't put too much interest yet. You are not your complete self yet.
4. Avoid Him Like Plague
If he calls to say you two can still be friends, say no! A friend of him is throwing a party, stay at home. You can decide to throw your own party sef. Unfriend him on Facebook and take him out of your BBM. And please please don't keep writing updates about him. After you are finally over it, you can now re-add him, if you wish.
5. Read DNB Stories.
Did I hear you say huh? Pull down your lips!
You might not know it, but DNB Stories can help you in ways you can't even imagine. Need I say more? Read our stories and enjoy yourself. You can even write him a twisted ode and send to us. We will publish it for you.
So have fun, girl, and remember, you don't need to regret it—you just have to do something better with it.

Every break-up is a call for renovation. So repair and refurbish yourself, and come out a shining star!
Acclaim:

Gloriah Ezeh has gone through over 75 heartbreaks. After completing a 6-month training course in martial arts and hand-to-hand combat, she is now a breaker of hearts!